The success of our company relies on the strengths of our employees. At NUITEQ, we take pride in combining our Swedish heritage with the influences of Asian, Latin American and North American cultures to create a unique office environment.
We want to showcase our amazing team members, and this week, we'd like to introduce you to our Video Editor, Felicia Ignberg.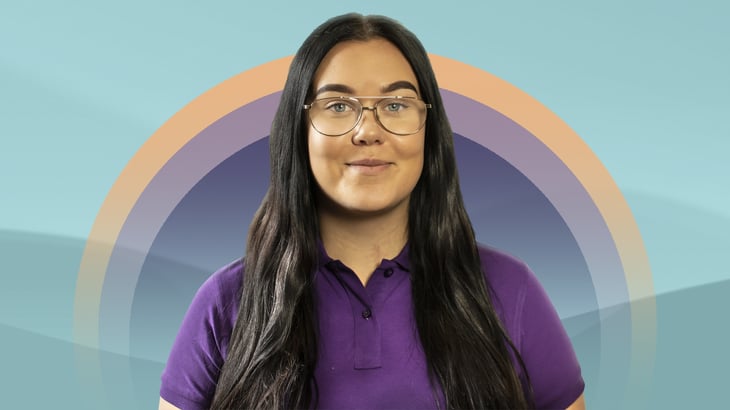 Q: Hi Felicia, please tell us a bit about yourself.
A: My name is Felicia Ignberg, and I am 19 years old. I was born and raised in Skellefteå, Sweden. I currently live with my boyfriend in a cozy apartment we just started renting.
As a child, I drew a lot of pictures to express myself until the day I found my parents' old video camera and started filming on that one instead. And from that day on, I knew that film was what I wanted to do when I grew up.
In school, I studied a program called "Estet and Media," focusing on film and television production. During my studies, I had the opportunity to try everything from radio and graphic illustration to filming short movies; and I was always passionate about expressing myself through video.
I am a curious person, always wondering about how different things work and why they exist as they do. I like to explore new things and places.
Q: What can you tell us about your role in the company? What do you like most about your job?
A: I work as a video editor. That means I edit videos for the company's youtube channels and create appealing images. My favorite part is that I work with what I love, which is to be creative. I know that every day won't be the same. And sometimes, I get to try new things that I didn't learn in school, and learning new things is always fun.
Q: What motivates you to succeed in your role?
A: What motivates me is that I want to develop my editing skills and myself as a person. I want to try new challenges and find creative ways to solve them. I think that challenges offer opportunities to learn.
Q: How do you occupy your free time, what are your passions, etc.?
A: In my free time, I am very active, socially and physically. One of my favorite things is to go on long walks in the woods with my partner and his dog and, at while there, taking a lot of pictures. Another thing I love is gaming; it doesn't matter if it's on a console or computer. Some of my favorite games on Ps4 are The Last of Us, Uncharted, and Little Nightmares. On the computer I enjoy The forest, Sims or CS go.
Q: Where would you like to travel to in 2020?
A: My favorite place to travel is Crete, in Greece. I was there three years ago with my whole family for a week. Beautiful place, and the food there was amazing. I definitely want to go back.
Q: What's your favorite food?
A: My favourite food is "sambal chicken"; it is basically chicken in a spicy sauce served with rice. I prefer it being served with some greek salad too.
We're always looking for talented people to join our team. If you want to be part of a creative and innovative group of people in a fun and rewarding environment, don't hesitate to contact us by clicking the button below: