Skellefteå, Sweden 31 May, 2018 - NUITEQ®, the creator of award-winning multitouch collaborative software solutions, debuts its new lightweight collaboration solution, Stage, today.
Get Rid of the Pain and Frustration of Difficult Meeting Access
Setting up a meeting can be frustrating and time-consuming. Many collaboration tools require users to download and install apps and/or plugins, and some "solutions" require users to deal with complicated firewalls. This makes setting up a meeting complicated and team productivity is often affected.
Stage makes real-time collaboration hassle-free and instant, as it's supposed to be.
Stage is a collaborative workspace designed for both on-site and distributed teams. Its clean interface and intuitive functionalities constitute a tool that makes collaboration easy and work more efficient.
On its infinite workspace, meeting attendees can annotate, chat, and share files, documents, and images on the fly. At the same time, team members can make voice and video calls.
Workspaces can be saved as PDF's, stored on your computer, into the cloud or directly shared by email with colleagues.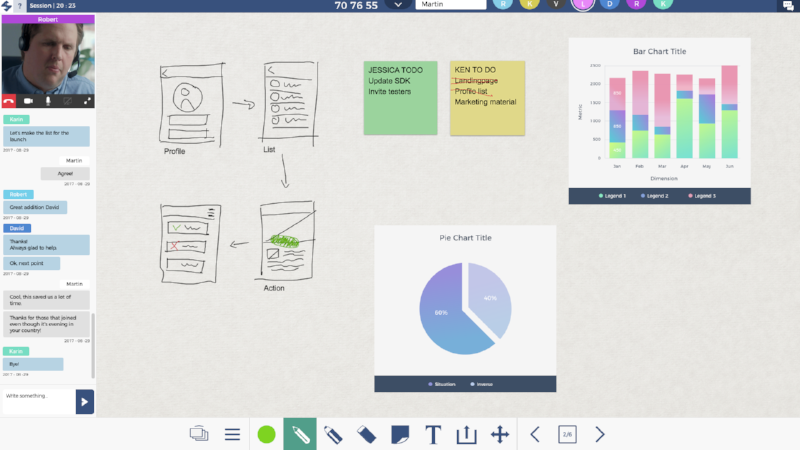 No Download Needed
Join a meeting in 3 easy steps:

Guest participants don't need a Stage account to join a collaboration workspace.
To join a stage meeting, simply go to stg.live, enter the code provided by the Stage collaboration workspace creator, and you're in!
You need a Stage account to create a collaboration workspace. Contact us at mail@nuiteq.com to setup a Stage account.
Due to its simplicity, Stage has become a go-to tool here at NUITEQ. Meeting our overseas colleagues has never been easier.
Give your team, regardless place and time, the power to share and explore ideas in real-time.
Get your team together, improve productivity, and build better products with Stage:
For more information check out the Stage Support Page.
About NUITEQ®

NUITEQ® is a pioneer in collaborative touchscreen software that enables natural interaction. The company is re-imagining and redefining education, meeting room & entertainment technology. Its software suite of collaborative apps helps to attract audiences, engage them and leave memorable impressions. The Snowflake software is used in over 70 countries. NUITEQ's vision is to empower educators, business professionals and companies in their day-to-day work through the use of touchscreen technology.

For more information, visit www.nuiteq.com.

NUITEQ® and Natural User Interface® are registered trademarks of Natural User Interface Technologies AB in Sweden, EU, and USA.