Integrated studies combines curriculum from two or more disciplines, allowing students to see how ideas are connected. Teaching in such a contextual manner promotes collaboration, critical thinking, and knowledge retention. - Edutopia
21st Century initiatives require teachers and students to explore and share knowledge in many exciting ways, and use a range of technologies to do so. Integrated teaching and learning strategies have become the norm in schools that have adopted Problem and Project based learning, STEM or STEAM instructional strategies. Teachers looking for ways they can plan technology-supported thematic instructional units to successfully integrate content from two or more disciplines.
NUITEQ®'s Snowflake MultiTeach® provides teachers and students with a framework that can support integrated learning. It provides an engaging way to explore and share content through a range of media formats. Lesson games can be created to reinforce concepts from more than one discipline, and be accessed at the same time on the screen, using the Zones feature.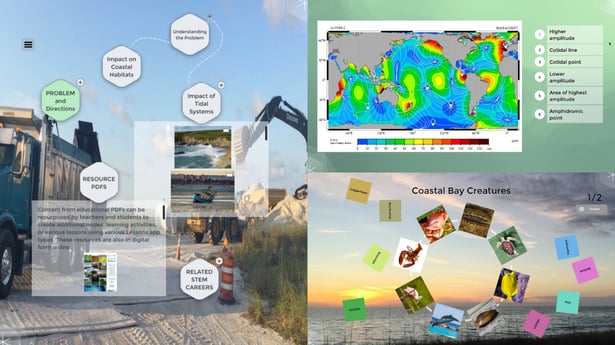 The above screen-shot shows how a Nodes project based on the topic of beach erosion can incorporate content from more than on subject. By using the Zones feature, the screen can be divided into sections, allowing students access to interact with a range of content at the same time. A student guide embedded within the Nodes project provides guidance for students through this process.
The following video provides a quick demonstration of several features of Snowflake MultiTeach® that support instructional goals from more than one discipline.
Want to learn more about collaborative displays and software?
Contact a representative from NUITEQ® by clicking the button below, and you will be connected to someone who can assist you.
RESOURCES
Effective Strategies for Interdisciplinary Teaching
InTeGrate, 2016
Change it Up With Integrated Learning Day
Samantha Pack, Edutopia, August 22, 2016

Edutopia's Integrated Studies Resources and Videos
Edutopia

Interdisciplinary Learning Pinterest Board
Sharyn Sweets

Gulf of Mexico Curriculum
Deep-C Consortium