Lynn Marentette, M.A., Sp.A.
K-12 Technology Specialist at NUITEQ®
"When students learn through arts integration, they are engaged in experiences in which they actively build and demonstrate their understanding of both the art form and the other curriculum area"
– ArtsEdge, Kennedy Center
STEM (Science, Technology, Engineering & Math) subjects, by nature, are great ways for teachers to integrate new technologies into the classroom - and beyond. Walk by a classroom, and you are likely to see that the students are engaged, interested, happy… and learning from hands-on experiences.
Look closer, and you'll see the same joy of learning taking place in classrooms where STEM projects are integrated with the arts. In these classrooms, students are collaborating with one-another -- making models, drawing, creating digital stories, rehearsing re-enactments, or giving their final presentations. Hands-on activities are blended with a wide range of creative and collaborative technologies.
"Putting the A into STEM" is a concept worth spreading, and for good reason.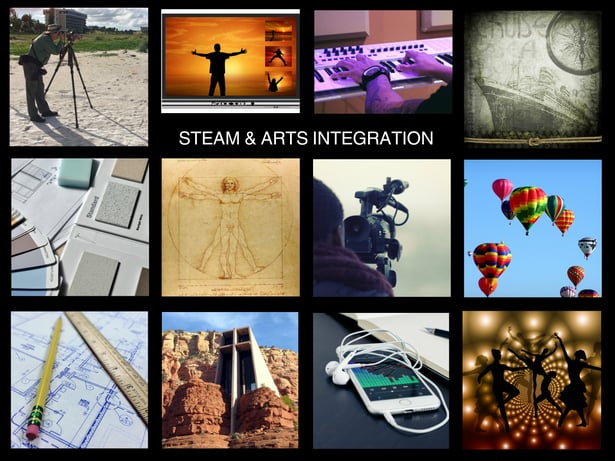 What do we know about arts integration, STEAM, and collaborative learning?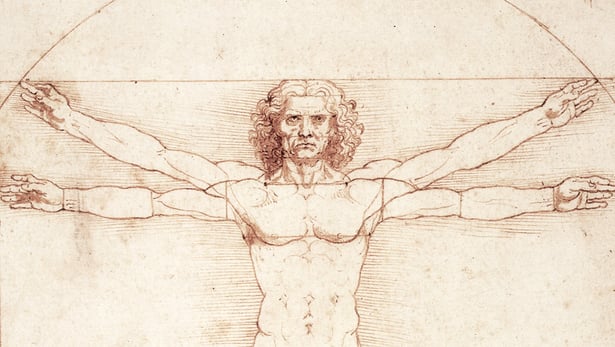 Arts integration can increase student engagement and achievement. (Vega)
Arts integration supports thinking, learning, visualization, and creative processes, and can improve long-term memory of concepts. (Rinne et al.)
Integration of the arts with more than one content area can make learning meaningful to students who are easily disengaged with traditional methods of instruction. (Quigley)
Integration of music can support communication, collaboration, and creativity among students. (Naithrem)
Collaborative technologies can support STEAM-based instruction and student understanding of multi-disciplinary content. (Yooun et al.)
How does this work with collaborative problem-based learning projects?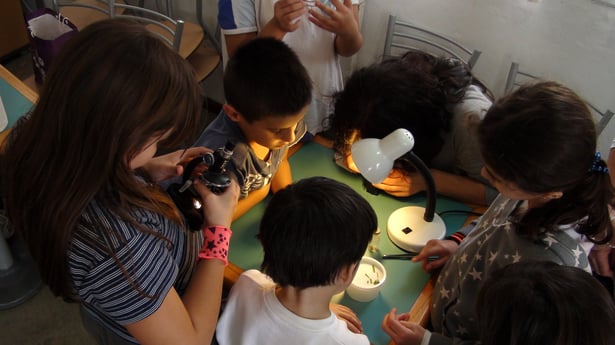 Teachers can plan and implement cross-disciplinary instructional units based on themes that align with arts and subject matter curriculum standards. Here are a few examples:
The life and work of creative thinkers and inventors:
- Students study creative thinkers and inventors from different fields of study, walks of life, and eras, and learn about problems they challenged themselves to solve. The focus is not limited to the famous. Students can learn about the creative thinkers and innovators close to home - those who are working in arts centers, nature centers, architectural and engineering firms, local universities and schools - even neighbors and family members.
Climate and weather systems:
- Students explore how weather and climate are depicted in art, literature, film, music, exploring the impact of climate and weather on ecosystems, animals, and habitats.
- During the course of the instructional unit, students use art forms to demonstrate their understanding of concepts.
-> Create dances that represent weather system such as the development of a tornado or hurricane, tsunami, or hail storm, and create the musical accompaniment.
-> Create models of weather systems through painting, sculpture, dioramas, Claymation, or animation.
Math + Art
- Students can learn to use kid-friendly programming environments such as MIT's Scratch to create art-based math examples and simulations.
- Students can learn about math concepts through planning and constructing models of their classroom, school, and neighborhood, and use these skills to create models of their "dreams" - homes, parks, schools, factories, and so forth.
Teachers can integrate creative thinking routines to scaffold, structure, and guide their students as they engage in STEAM projects. There are many good tools for supporting individual and collaborative thinking processes:
Thinking Routines, such as Artful Thinking (Harvard's Project Zero)
Design Thinking (IDEO, Stanford University,)
Collaborative concept mapping to explore, generate, and evaluate ideas and concepts.
Teachers can integrate technology and software to support collaborative STEAM projects:

• Provide students with links to get them started with on-line research and learning:
- Primary sources for gathering facts, such as digitized manuscripts, works of art, etc.
- Educational websites -for use in teacher and/or student-designed web-quests and virtual field trips.
- Online educational games and 3D worlds.
• Include activities that require students to develop technology skills used by real-life people who work in various arts-related fields, such as digital photography, videography, game making, music creation, and so forth.
• Alternative Reality (AR) activities, using tablets, mobile devices -students can create their own AR activities to share what they've learned with their peers.
• Infuse digital storytelling into group activities. For example, students can use video to document experiments, demonstrate concepts, or capture interviews. This digital content can be incorporated into final presentations, and provide another means of communicating their learning, findings, or solutions to problems.
Teachers can plan to link STEM and STEAM activities with real-world experiences, using close-to-home resources.
Items found in and around the home; backyard nature
Grocery stores, hardware stores, landscape nurseries, studios, businesses
Community playgrounds and recreation/nature centers
Museums, historical sites, points of interest
Public library
Community improvement project sites
Integrate the use of multi-user interactive displays for student collaboration, project planning, and presentations.
The new interactive high-definition displays (and tables) support simultaneous interaction between two or more students and come with collaborative, multi-user software. In many cases, software bundled with the displays can play well with a range of tablets and mobile devices, supporting collaboration beyond the larger screen.
Software such as the Nodes app, concept-mapping and presentation software found in NUITEQ's Snowflake MultiTeach, can provide students and teachers with multiple means of exploring and learning about STEAM-related topics. Most importantly, it supports multiple ways for students to share ideas and create interactive presentations.
If you are looking more information about STEAM, arts integration, and collaborative learning, the following references and resources will provide you with a good start.
REFERENCES AND RESOURCES
A Research Based Approach to Arts Integration
Vanessa Vega, Edutopia, 6/14/16
Infogram: Middle School Teachers' STEAM Perspectives
Cassie Quigley, Clemson University
How Music Education Powers the STEAM Movement
Richard Naithram, NEA Today, 7/16/14
ArtsEdge, The Kennedy Center
Yooun, F.S., Hing, T.C., AW, I. Collaborative Thinking Routines in 1:1 Computing Learning Environments Educational Technology Division, Ministry of Education, Singapore.
Rinne, L., Gregory,E., Yarmolinskaya, J., & Hardiman, M. (2011). Why Arts Integration Improves Long-Term Retention of Content. Mind, Brain, and Education, 5(2), 89-96(8).
How to MultiTeach®: Introduction to Snowflake MultiTeach® Nodes App
Lynn Marentette, NUITEQ® Blog