Do you want to check for student understanding in both the classroom and remote settings? Poll is a student response system within the NUITEQ Snowflake online learning platform that allows teachers to ask students questions and have them reply using different means of representation in accordance with the Universal Design for Learning guidelines.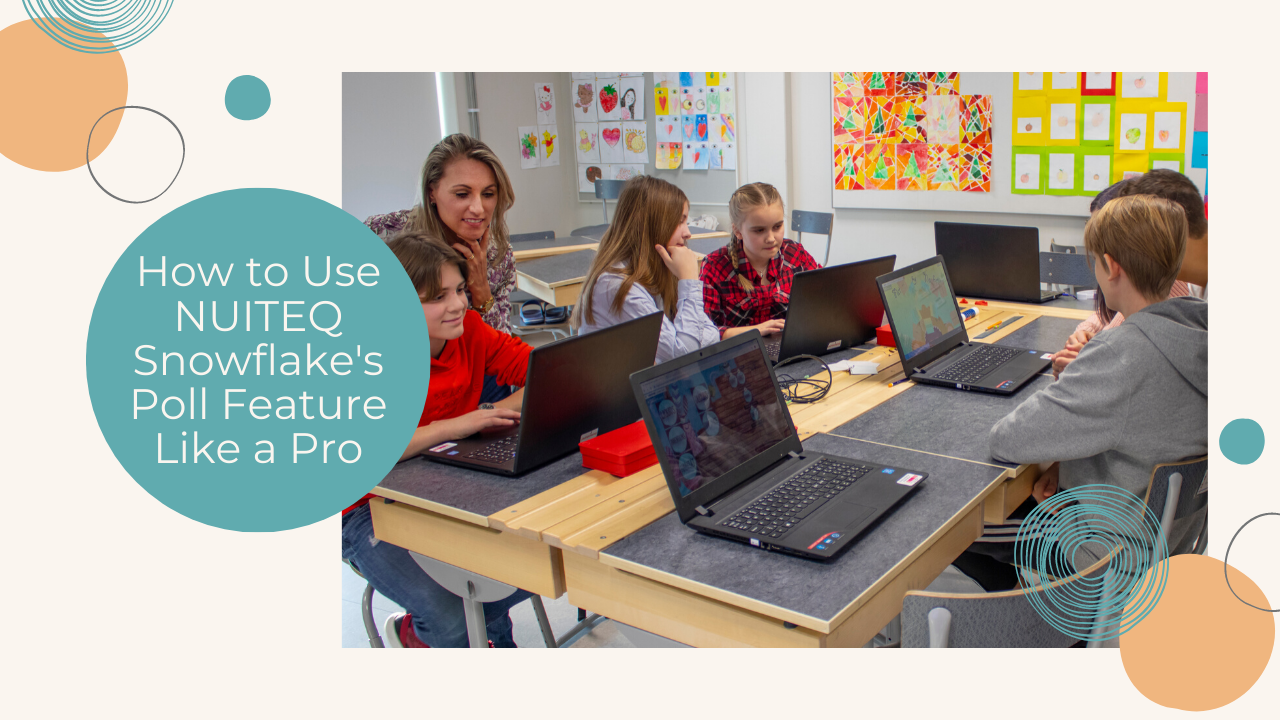 We've decided to break down one of our most popular features to help you better understand how to use Poll like a pro.
Why is Poll useful?
Snowflake lesson activities are designed to scaffold certain skills while also giving students an opportunity to build connections and process the material they are being taught. One way to foster student understanding and improve student engagement is by using Poll which allows teachers the ability to monitor progress and to give students personalized feedback. Students can express their opinion and answer in a timely manner and have their voices heard. Poll is compatible with any device connected to the internet and doesn't require to be downloaded or installed. Students can answer on their own devices and can join a Poll using a QR code or go to ansr.it and enter the code which the teacher will provide. Teachers can display Poll on their dashboard using an interactive panel and also have visibility over who joins. A great thing about Poll is that if a student loses their internet connection or needs to step away for a few minutes, they can join back at any point using the code provided.
Multiple choice template
Poll allows teachers to give students up to five different answers to choose from. Students will be able to see if they answered the question correctly, and if they answered incorrectly, students will be able to see what the answer should have been. Teachers can see how many students as well as which students have participated and can decide whether to include a timer. If a timer is included, Poll begins when the teacher presses "begin." This feature is great for allowing visibility over the responses and can help teachers assess student understanding and participation.
Yes or no template
This particular template is a very straightforward, useful option. Teachers can replace yes or no with true or false options if they deem it more fitting. Polls are great for real-time, student responses and a very efficient way to gauge how comfortable students are with the content they're learning. Once again, teachers can decide whether they would like students to answer within a certain timeframe and can choose whether they wish to display all answers or just a select few.
Students can use text to respond to Poll questions. Answers will be displayed but the teacher can decide to remove answers if they have too many emojis or if a student answered inappropriately, for example. All answers are anonymous so no names will appear but teachers can see who submitted an answer. Once ended, a summary is then received and students receive a notification to inform them that Poll has ended. This particular template allows students to give more detailed answers and is a valuable tool to check student understanding by asking students to explain a concept in their own words. Once complete, teachers can download the answers as a csv file.
Poll also allows students to send an image in response to the question posed. Teachers can ask students to find and share an image of a specific shape or animal to see if they understand what is being asked. This is a fun way to test their understanding and boost participation. Since students learn differently, this particular template is great for allowing participants to express themselves while simultaneously encouraging students to research and exercise their resourcefulness.
Text with image template
Similar to the image template, students are given the opportunity to respond to Poll by sending an image with annotations. Most teachers can agree that all learners need to be challenged but that may not necessarily be in the same manner. Personalized learning allows teachers to take into account how they will engage students, how they will present the material and which opportunities will be created for students to show what they are learning. By allowing students to submit their answer using the "text with image" template, students are able to unleash their creativity while also showcasing their understanding.
Yet another way for students to express themselves creatively while building connections and developing certain skills, this fun template gives students the tools to draw their answers visually. Since learning barriers do arise when a one-size-fits-all model is used in teaching, Poll helps significantly reduce such learning barriers by offering options that encourage students to identify and explore both personal and academic goals.
Whether a straightforward yes or no question or a more creative approach to testing student understanding, Poll allows teachers to monitor student comprehension and give feedback in classrooms and remote settings. Building your own Poll is similar to creating Snowflake lesson activities; teachers have the freedom to personalize the background and font as well as decide which answers to display. This popular feature encourages students to get excited about learning and to let their voices be heard by having six different templates to choose from. Since no two students are the same, Poll enables teachers to meet the varying learning needs, strengths, and interests of students.
Looking to use build your very own Poll? Try NUITEQ Snowflake and gain access to this fun feature for FREE on Snowflake.live.