Teachers have always had a valuable role in society. They play an essential role in the development of students, and they often become their role models. Working closely with parents, they shape the mindset of future generations.
But the way the education sector evolved in recent years, with the introduction of technology in the classroom, made it such that a need for teachers occupying different roles inside companies was born. We often see this need growing in companies that develop Educational Technology software.
At NUITEQ®, we have a Global Content Department consisting of teachers, who make sure the educational content in our software is standards-aligned, and any teacher can easily use it in their classroom, regardless of the age of their students or the subject(s) they teach.
Today, we'd like you to meet an educator from the NUITEQ team, Education Technology Specialist, Myrto Pitsava.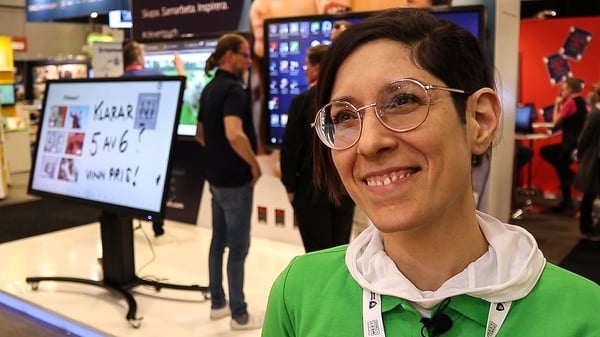 Q: Hi, Myrto. Please tell our readers a bit about yourself.
A: I am a preschool Teacher from Greece. I have been living in Sweden for the past 14 years, the last six years of those in Skellefteå. I have a decade of experience as a teacher, I have had an interest in technology since I was a teenager and even studied a little web design a few years ago.
Q: How about your role at NUITEQ? What is it, the best part of it, and what do you like the least about your job?
A: I am an Education Technology Specialist at NUITEQ. My role is wonderfully varied and no two days are the same! Among other things, I create lessons that other teachers can download and use in their work; I go out to schools to meet other teachers and give them tips on how to use Snowflake and Lessons Online, and much more.
Q: What motivates you in doing your job?
A: We live in a world that changes rapidly. I believe that schools have a duty to help their students adapt to this rapidly changing world, especially when it comes to using digital tools, as it is a question of democracy. Otherwise, the less economically privileged children risk being left behind. I also believe in providing schools with the right digital tools to succeed in this duty, and in making it as easy and time-efficient as possible to do so. Nothing makes me happier than getting a smile from a teacher that has discovered how fun and simple it is to create engaging lessons for their students with Snowflake or Lessons Online!
Q: What do you enjoy doing in your free time?
A: In my free time, I enjoy a variety of hobbies. My biggest passion is running, and I do as much of that as I can get away with without getting injured. I also like reading, watching movies, spending time with good friends, dancing, skiing, working on my Spanish and much more.
Thanks, Myrto, for sharing this with us, and thank you for reading. If you want to learn more about NUITEQ and the team, don't hesitate to contact us by clicking the button below: