At NUITEQ®, we value all our team members, because we truly believe that people are the most important asset of a company. Obviously a close second in line are our customers and partners, without them we wouldn't exist. In order to nurture our relationships with our customers and partners, we've put together a strong Business Development team. The team oversees customer relationships and aims for them to be successful, because that means that in return NUITEQ is successful.
Today, we'd like to introduce you to another member of the Business Development team, Brian Collins.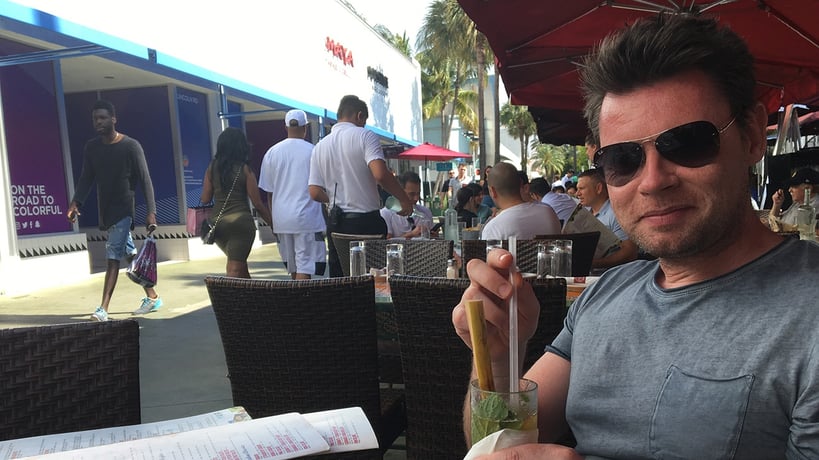 Q: Hi Brian, tell us about yourself.
A: Hi, my name is Brian and I'm originally from Dublin, Ireland. I have been living in Sweden for the past 12 years with my girlfriend, Tess, and our recent addition, "Uno" the cat.
Q: What is your role within NUITEQ? What's the best part of it and what would you consider the least favorite aspect of your job?
A: My role at NUITEQ is primarily to develop Business partnerships with identified partners around the world. This involves being able to quickly understand our partner's businesses, and markets, in order to ensure a successful and close co-operation.
The diversity and different relationships make the role extremely dynamic and exciting.
It's not easy to identify a least favorite aspect, but if I had to point to something it would be that the Business Development role requires a lot of patience. Markets and partners are at different levels of development, and sometimes a new potential partner will need a lot of time to fully appreciate the true strength our solutions can offer to their business. Once that realization is reached then the patience and persistence will always be rewarded with a trusting relationship and close co-operation.
Q: What motivates you in doing your job?
A: We have a very special and strong team at NUITEQ and we really love our product. Seeing our software being used in schools, by students, and our goal to keep improving our solutions, based on our partner's feedback, to ensure that our products are benefiting both our partners and today's students is a huge motivation for all of us at NUITEQ.
I also really enjoy meeting people and getting involved in our partners businesses. This ensures that my job is always evolving and exciting.
Q: Tell us about what occupies your free time.
A: My free time depends a little upon the time of year. I enjoy training indoors in the winter, and watch way too much football on the TV. I spend a lot of time cycling in the summer which has been a big passion since I was very young.
It's fair to say I am pretty obsessed with Indian food, and have spent a lot of time learning how to make it given the lack of an Indian restaurant here in Skellefteå, a classic case of 'If the mountain will not come to Muhammad, then Muhammad must go to the mountain'.
I love traveling, and always try to make time to see a city and get a feel for its people even if it's only on a short business trip. I try to get "home" to Dublin a couple of times a year and catch up with family and friends.
Thanks Brian for sharing this with us, and thank you for reading this. If you want to learn more about NUITEQ and the team, don't hesitate to contact us by clicking the button below: