As you can read here, I'm part of the 500 Startups' Geeks On A Plane East Asia tour, an invite-only tour for startups, investors, and executives to learn about high-growth technology markets worldwide.

This is the second post in a series.
Day 5, Shenzhen China
Today we visited Zowee Technology, a publicly traded OEM (Original Equipment Manufacturing) / ODM (Original Design Manufacturing) manufacturer that researches, develops and manufactures networking and communication products, consumer digital products and handset products including tablets, iPod/iPhone docking stations, airplay docking and Wi-Fi-/3G routers/adapters.
The 1 million square foot factory space has 3000 employees and was quite impressive.
After a great lunch hosted by Zowee, we took the bus to Big Salad's Startup Salad event, a geek-fest where we could network with 1200+ local geeks.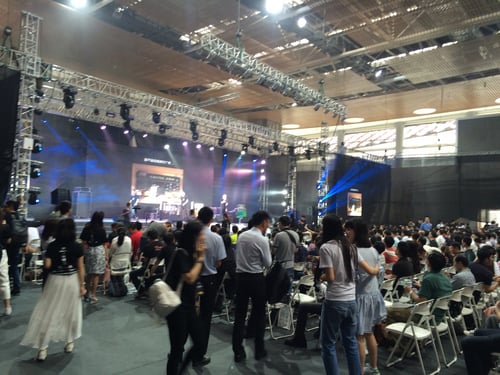 Big Salad provides an international stage for well-prepared and disruptive entrepreneurs. Big Salad is not a traditional conference, think lots of cool music :) Big Salad is produced by Startup Salad, a global startup community lead by local community leaders.
500 Startups' Founding partner Dave McClure also gave a keynote speech.
In the evening we attended an invite-only seafood dinner, hosted by Startup Salad and .CO, which was great fun.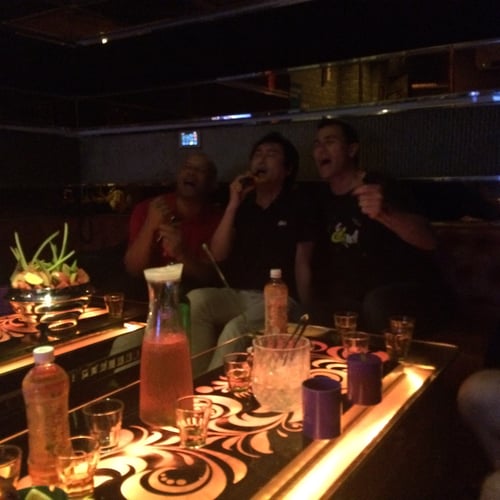 There might have been some karaoke as well later that evening :)
Day 6, Shenzhen China
In the morning we took the bus to a hardware pitch event at JD.com.
JD.com (a Chinese e-commerce giant) also has a smart-hardware accelerator called JD+.
I was quite impressed by the companies that pitched. Some really innovative products that had great teams behind them. One of them had even raised 20 M USD.
Afterwards, we had a nice Chinese lunch and went over to DJI's flagship store.
DJI is the largest drone manufacturer in China and the market leader in easy-to-fly drones and aerial photography systems. DJI quadcopters, like the Phantom are the standard in consumer drone technology.
Their products looked gorgeous and we were given an outdoor drone demo and we of course took a group selfie with the drone.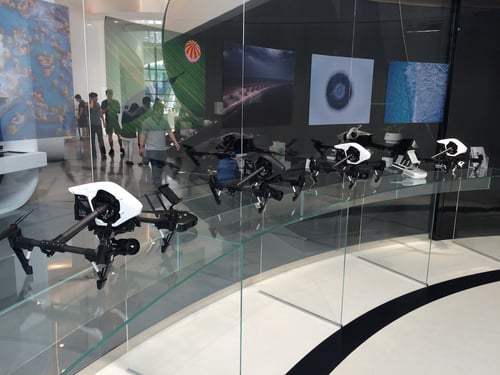 After the DJI visit, we went back to the hotel to relax, get some work done and freshen up.
In the evening we headed over to Hardware PAR-TAY, hosted by Shenzhenware, Emielab and Seed Studio.
Shenzhenware is the biggest hardware/maker vertical community, network and media in Shenzhen. They have more than 12,000 active members and 2,000 enterprise members on their online platform.
SEEED Studio ­ Seeed is a hardware innovation platform for makers to grow inspirations into differentiating products.
EmieLab ­ A hardware accelerator founded by EMIE, a design­oriented electronics company, focused on developing unique and beautiful electronics such as portable chargers, smart wearables and more.
Day 7, Shenzhen China - Taipei, Taiwan
In the morning we checked out from the hotel to take the plane from Shenzhen to Taipei, Taiwan. It was only a short flight.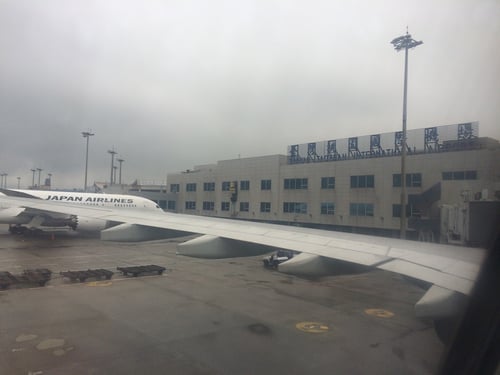 Image: Landed at Taipei, Taiwan airport.
Taipei, Taiwan –Taipei, the modern metropolis of Taiwan, follows as Asia's 2nd richest city per capita. It's an economically pioneering city, an East Asian transportation hub, and now leads the world in some sectors of electronics manufacturing and information technology.
After we arrived at the hotel, unpacked and freshened up, we walked to the tallest and highest-use green building in the world, the Taipei 101.
Taipei 101 is a landmark skyscraper in the Xinyi District, Taipei. The building was officially classified as the world's tallest in 2004, and remained such until the completion of Burj Khalifa. In 2011, the building was awarded the LEED platinum certification, the highest award according to the Leadership in Energy and Environmental Design (LEED) rating system, and became the tallest and largest green building in the world.
We went up to the 83rd floor to visit Leopard Mobile, the Taiwanese arm of Cheetah Mobile Inc., a Beijing based mobile software maker.
After listening to a presentation by David Wu, Chairman of the company, we listened to Anita Huang, Taiwan Startup Stadium Captain, she provided an overview of the ecosystem.
After visiting Leopard Mobile, we went up several floors to have an amazing Italian dinner with Leopard Mobile Executives.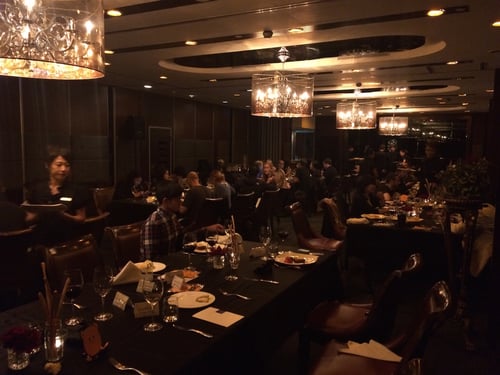 It was such a priviledge to dine in such a unique location with such an amazing view.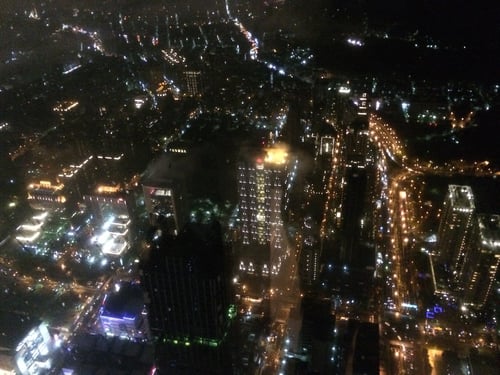 Image: Amazing view from the 86th floor of the Taipei 101.
To be continued...
Harry, CEO NUITEQ®