This is the first post in a series about my experience with Geeks On A Plane, an invite-only tour for startups, investors, and executives to learn about high-growth technology markets worldwide.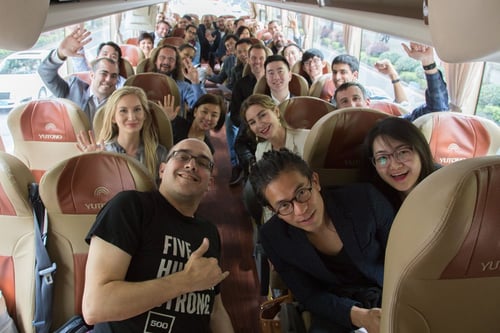 Image: Geeks On A Bus
Since I was a kid I loved traveling. I enjoy learning about different languages, experience other cultures, food and learn about the habits and behaviours of local people. I guess this comes from my interest of how people interact with each other.

I have a particular interest in the Asian region for various reasons:
- NUITEQ® has customers and partners in almost every Asian country
- I've studied Chinese Mandarin for a short while, just for fun, on the side
- I believe the rest of the world can learn a lot about behavior and respect, looking at Asia
I'm also interested in business accelerators, business incubators, venture capital, angel investing, entrepreneurship, technology and innovation.
NUITEQ® and I participated in Born Global, which is an accelerator program for ambitious Swedish startups that aspire to go global.
We also participated in the Tech Incubator (TINC Silicon Valley) program, which is an intensive 4-week accelerator program for tech startups to validate their business model and product market fit for global scale with reduced risk, time and cost to market.
As I enjoyed taking part in both of these programs and having lived and worked in Palo Alto, Silicon Valley for 4 weeks, I got very excited when I heard about the Geeks On A Plane East Asia Tour.
Organized by 500 Startups, Geeks on a Plane (#GOAP) is an invite-only tour for startups, investors, and executives to learn about high-growth technology markets worldwide. Travel by planes, trains, and automobiles to the most exciting international startup scenes with the sole mission of uniting geeks and exploring cross-border opportunities. The result: a lifelong bond with fellow travelers, a wealth of new friends and business contacts in exploding technology markets, and a stronger appreciation for the cultural and economic ties that bind us globally.
This looked like a bucket list item for me, so I applied to participate and thankfully was accepted as the only person from Scandinavia to join.
This trip would make me experience exciting cities and countries that I had never travelled to before, including Hangzhou (China), Hong Kong, Shenzhen (China), Taipei (Taiwan) and Tokyo (Japan).
I left good old Skellefteå in the North of Sweden on Sunday the 3rd of April and I arrived the next day in Hangzhou China.
Hangzhou, China –Hangzhou, the capital of China's Zhejiang province, is an emerging tech hub in China. It is home to known tech giant Alibaba, the world's fastest growing e-commerce market. There has been a big push to support startups and tech innovation with the Hangzhou government and new high tech investments. The local government has planned to build ZhejiangHangzhou Sci–Tech City (Haichuang Park), a new venture platform to cultivate industries, such as electronic information, biological medicine, new energy and materials, culture creativity etc.
Day 1, Hangzhou China
We visited internet giant Alibaba, the Chinese version of Amazon or eBay.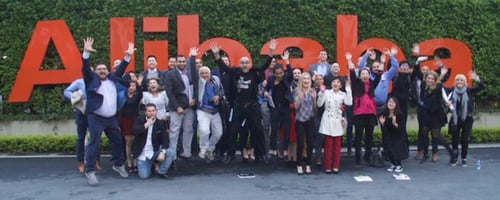 We're so excited ;P
It was particularly interesting to see how big the company has grown over the years and how much the Chinese people appreciate what Alibaba has done for China and it's people.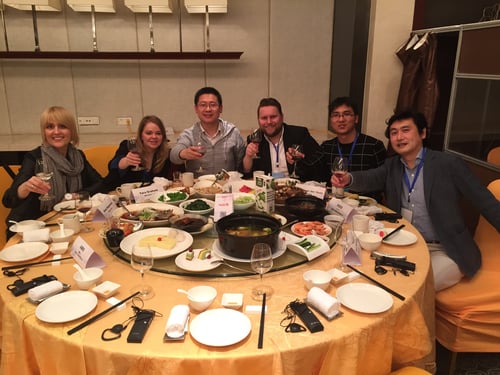 We wrapped up the day with a nice Chinese welcome dinner, that was hosted by the Hangzhou government. During the dinner, there was a presentation of the Hangzhou Ecosystem. Things are happening here.
Day 2, Hangzhou China
We visited Hangzhou Future SciTech City aka Dream Town, where we met amongst others accelerator Beehive. We met up with entrepreneurs and mentored them in several rapid fire sessions. We ran into Jack Ma, CEO from Alibaba, which was a fun surprise.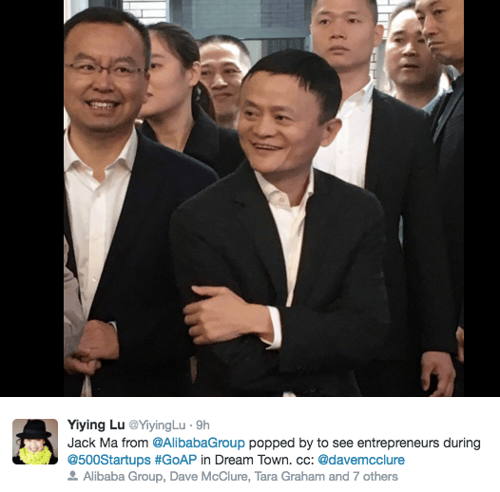 Afterwards we went on a private West Lake boat tour, which was a relaxing experience to balance the agenda. The great thing about GOAP is, that there is a great balance between business and leisure, so it is not only networking and attending presentations, which is what makes it so nice. It is an excellent overall experience.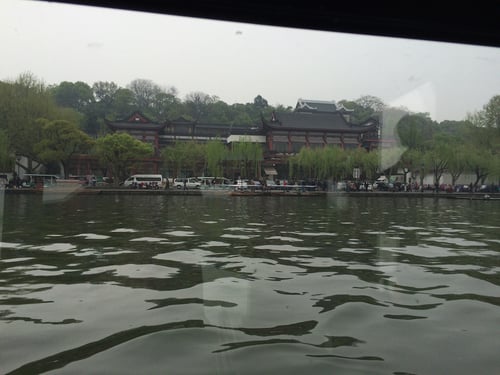 The boat trip was followed by a visit to unicorn Mogujie, a company that grew from 1 to 200 employees in 2 years and has a 1,7 billion USD valuation. We wrapped up the day with an amazing investor dinner, hosted by West Lake Ventures. We spent several hours on the bus and it was so worth it, an amazing day.
Day 3, Hangzhou, China - Hong Kong

On the third day, we flew from Hangzhou China, to Hong Kong.
Hong Kong, China – Hong Kong is described as a place where "East meets West," reflecting the culture's mix of the territory's Chinese roots with influences from its time as a British colony. Since Hong Kong is the fourth largest capital market in the world, Thirty-six of the world's 100 tallest residential buildings are in Hong Kong.

More people in Hong Kong live or work above the 14th floor than anywhere else on Earth, making it the world's most vertical city.
In the evening we attended a presentation to learn more about the Hong Kong Ecosystem. Afterwards we had dinner at PRE-MONEY Hong Kong VIP dinner & investor program, which was produced by 500 Startups & Cyberport.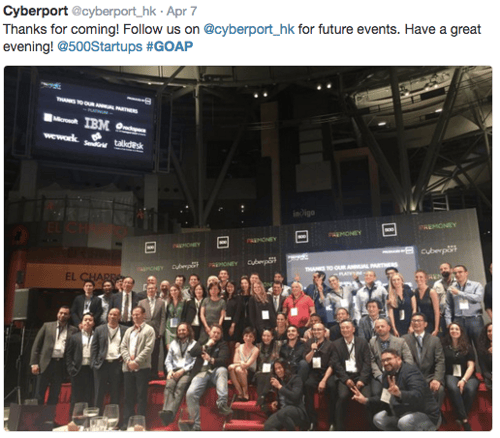 The event was designed for investors by investors and it brought together 120+ VCs, angels, portfolio managers, corporate strategics & LPs to have conversations and debates about disruption in venture capital, and how it's affecting the markets in Silicon Valley, Hong Kong and China more broadly.
Day 4, Hong Kong - Shenzhen China
In the morning we went with a group to Victory peak, which has a great view over the city of Hong Kong.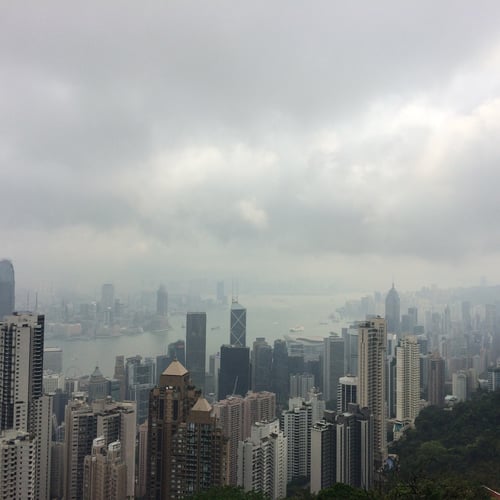 After Victoria Peak we visited Brinc.io. They are the world's first end-­to-­end integrated platform designed to support global IoT entrepreneurs by accelerating IoT startups from concept to sustainable commercialization. Offering a new blend of acceleration, product development and sales, Brinc supports today's global IoT entrepreneurs at all stages. Brinc.io is led by a dedicated team of in­-house experts that combine the best from accelerators, consultancies, service providers and distributors, Brinc enables IoT founders to focus on building their company and next generation of smart devices.
After a nice session at Brinc.io with big pizza slices for lunch, we drove to Shenzhen to meet with Tencent.

Shenzhen, China – The tech "capital" of China and known as the hardware capital of the world, Shenzhen has the largest concentration of China's factories. It is home to 15 million people and the top electronic companies such as Hauwei, ZTE, Lenovo, Oppo, and TCL reside here with the world's biggest electronic market in the heart of Shenzhen. For hackers and entrepreneurs, this is a technological nirvana.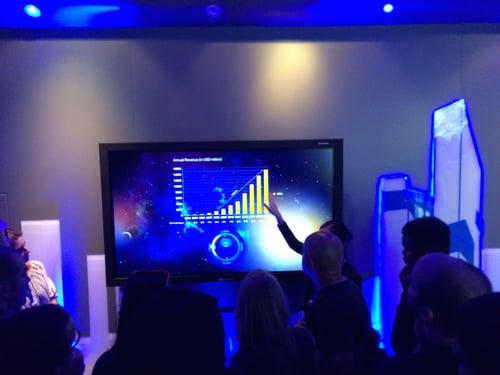 Yes! Touch screen technology to present your corporation, that's the way to do it :)
Tencent is China's Internet giant and also WeChat's developer. Tencent runs an accelerator program and has a billion­ dollar investment in China's biggest online provider of on­demand services.

To be continued...
Harry, CEO NUITEQ®