I'm proud to say that I was part of the 500 Startups' Geeks On A Plane East Asia tour 2016 (and yes I got the t-shirt ;) ), an invite-only tour for startups, investors, and executives to learn about high-growth technology markets worldwide.
I feel very happy that I checked yet another item on my bucket list and this experience was definitely in the top 3, alongside participating in the Born Global program and the Tech Incubator (TINC) program, during which I lived and worked in Silicon Valley for 4 weeks.

This is the fifth and final post in a series.
Post one you can find here.
The second post you can find here.
The third post you can read here and the fourth post can found here.

I'll mix up this blogpost randomly with some pictures, to give you some impressions.
500 Startups is an early-stage venture firm and accelerator founded by Dave McClure and Christine Tsai.
Who participated?
Dave McClure is an entrepreneur and angel investor in the San Francisco Bay Area. In addition to that he is also CTM (Chief Trouble Maker) at 500 Startups and he would join us on this trip, together with about 50 Geekuent Flyers and geeks.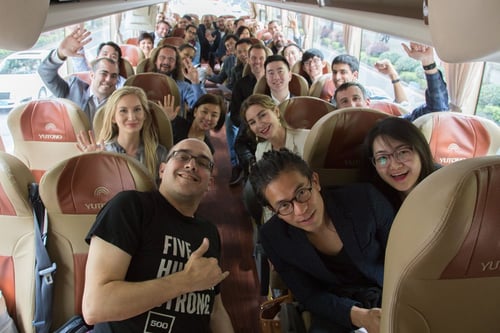 Image: Geeks on a bus #goap #500strong :)
I was the only person that was selected from Scandinavia and several other countries were represented as well, such as Germany, India, Russia, Ukraine, Saudi Arabia, Japan, Hong Kong, Turkey, Israel, Canada, Taiwan and a couple of more countries. The US was predominantly represented with most people coming from the Silicon Valley area.
So there was a very interesting mix of people on board from different countries with different cultural backgrounds as well as professional backgrounds, all with their own success and failure stories.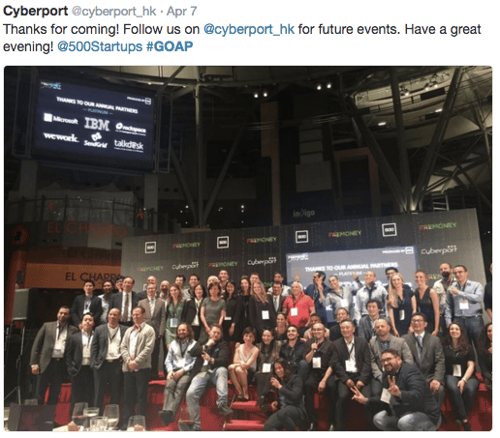 Image: Us geeks at the PRE MONEY VIP dinner in Hong Kong.
Some participants were successful entrepreneurs turned angel investors, others were investors, Limited Partners (LPs) or active CEO's.
Most participants at one time ran a successful business and made one or multiple exits, so it was very exciting to hear their stories.
Many entrepreneurs want to do well with their company and be financially successful. I had the feeling that the financially independent people on this trip think that money isn't the most important thing in life. Of course money doesn't hurt and my dad used to say, I don't have to swim in money, but it is nice to dangle your feet in it. I think most of the people on this trip cared more about learning, self development and as James Riney, partner at 500 said, "I value experiences over money".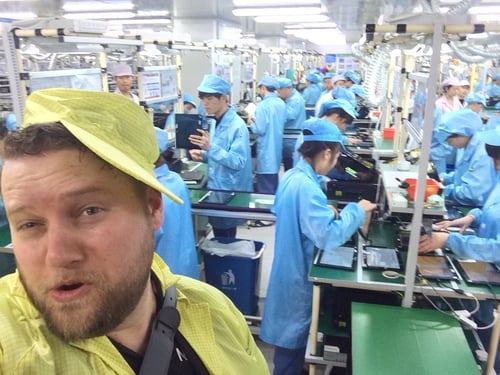 Image: Failed selfie at the Zowee factory in Shenzhen, China
So the group of people were very down to earth, humble and fun to hang out with, so I felt very blessed to travel with them.
Where did you travel?
I started my trip on the 3rd of April from Skellefteå, North Sweden, traveled via Stockholm and Beijing China, to Hangzhou. Hangzhou would be the start of the Geeks On A Plane trip.
After having spent several days in Hangzhou, we flew to Hong Kong. Accordingly we drove by bus back to Shenzhen in China. Having spent several days in Shenzhen, we flew to Taipei in Taiwan and after a couple of days there, we flew to our final destination Tokyo in Japan.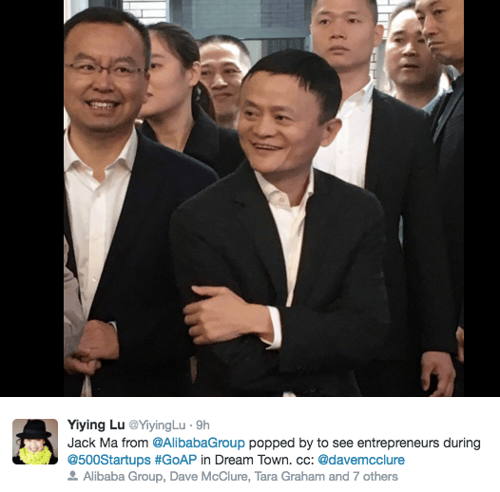 Image: Surprise visit from Alibaba CEO Jack Ma, milestone! :)
GOAP would officially end on the 17th of April. There was also going to be an unofficial stop in Singapore for a couple of days afterwards, with mostly touristing, but I decided instead that I would go ahead and meet one of our partners in Seoul, Korea.
So in 2 weeks we hit two cities in China, Hong Kong, Taiwan and Japan.
Hangzhou, China –Hangzhou, the capital of China's Zhejiang province, is an emerging tech hub in China. It is home to known tech giant Alibaba, the world's fastest growing e-commerce market. There has been a big push to support startups and tech innovation with the Hangzhou government and new high tech investments. The local government has planned to build ZhejiangHangzhou Sci–Tech City (Haichuang Park), a new venture platform to cultivate industries, such as electronic information, biological medicine, new energy and materials, culture creativity etc.
Shenzhen, China – The tech "capital" of China and known as the hardware capital of the world, Shenzhen has the largest concentration of China's factories. It is home to 15 million people and the top electronic companies such as Hauwei, ZTE, Lenovo, Oppo, and TCL reside here with the world's biggest electronic market in the heart of Shenzhen. For hackers and entrepreneurs, this is a technological nirvana.
Hong Kong, China – Hong Kong is described as a place where "East meets West," reflecting the culture's mix of the territory's Chinese roots with influences from its time as a British colony. Since Hong Kong is the fourth largest capital market in the world, Thirty-six of the world's 100 tallest residential buildings are in Hong Kong.

More people in Hong Kong live or work above the 14th floor than anywhere else on Earth, making it the world's most vertical city.
Taipei, Taiwan –Taipei, the modern metropolis of Taiwan, follows as Asia's 2nd richest city per capita. It's an economically pioneering city, an East Asian transportation hub, and now leads the world in some sectors of electronics manufacturing and information technology.
Tokyo, Japan – The world's most populous metropolitan area with a population of 37.8 million people, Tokyo has a growing startup scene. Plus, companies like Sony, Panasonic and others already dominate the game console, mobile phone, household electronic and wearable tech markets. The character of the city is juxtaposed by new futuristic towers and old temples and shrines.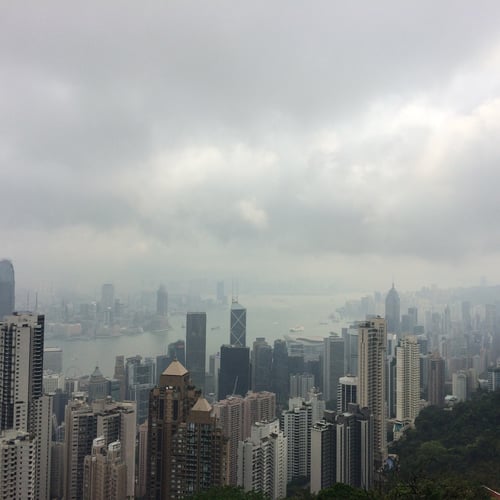 Image: Taken from Victoria Peak in Hong Kong.
What did the agenda look like?
April 5 – 7: HANGZHOU, CHINA / Visit Alibaba, Hangzhou Future Sci-Tech City, West Lake
April 7 – 8: HONG KONG, CHINA / Victoria Peaks, dinner & drinks w/ top-tier VCs
April 8 – 11: SHENZHEN, CHINA / Big Salad Startup Roadshow, IoT companies
April 11 – 14: TAIPEI, TAIWAN / Leopard Mobile, Taiwan Startup Stadium (TSS) Event, GOGORO HQ, Hardware Startups global challenge & mixer
April 14 – 16: TOKYO, JAPAN / Tokyo Tower, EGG Japan, DMM.Make, local fish markets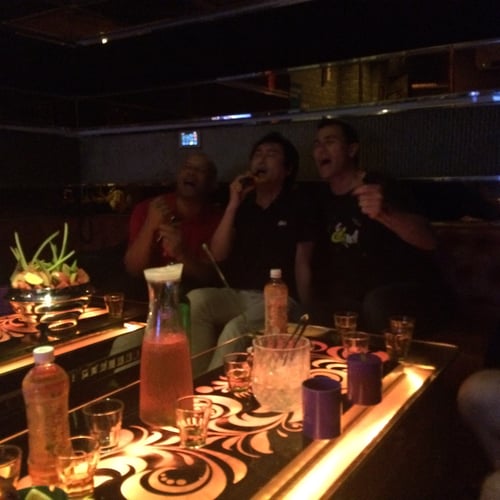 Image: When you are in Asia, this is bound to happen, karaoke time :)
What was great about this trip?
In no particular order:
- Organisation / communication
The 500 crew did such an amazing job when it comes to the organisation of the trip. Before the trip even started we were so well informed on everything that we needed to know such as:
Business practises (hand shakes, what to do, what to avoid and other useful tips)
Visa, flight info, passport, currency exchange, weather, recommended packing list, staying healthy, tipping, wifi access, common phrases, contacts, overview of the participants etc.
Honestly they couldn't have done a better job, every little bit of info was provided. Every day there were printed agenda's available and we were kept up to date continuously in real time on Whatsapp on any changes etc.
500 also made sure everyone successfully got through immigration and customs and that the meet ups / group gathering was easy.
We always had nice bottled water on the bus and snacks, but more important than water and food, we had access to free WIFI. We were pretty much WIFI covered most of the trip, at events and even on the bus.
Hats off to the 500 crew for making the trip so smooth, really incredible, there was not one noticeable hickup, at least not from my perspective.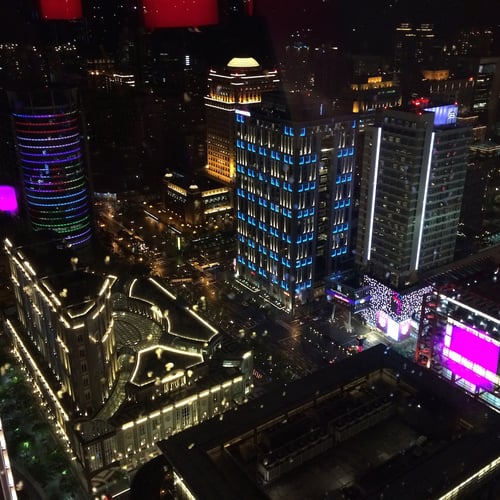 Image: View from the top level of our hotel in Taipei, Taiwan
- Accommodation
The accommodations were superb. We stayed in 5 star hotels in every single city with great breakfasts, gorgeous views, the top rated hotels in the city. This was very much appreciated, because a comfortable accommodation, has such a big impact on the trip and the overall experience.
- Program
The program was extremely well balanced. We attended business presentations, events and did a lot of networking. At the same time, it was balanced out with some touristing and leisure time to for example see some nice buildings, enjoy local foods and explore shopping areas.
We were also given enough time to relax, freshen up and get some work done after a flight or a long bus trip. This was also much appreciated as otherwise it would have been pretty exhausted as some days were 12+ hours long.
- Friendships
One of the biggest plusses is all the new friendships that were created. We had so much fun together and we shared many great experiences, so that I feel that we share a life long bond together. I now have many more friends in different countries around the world that I know can ask for a favor and I am keen to help them out in any way that I can as well.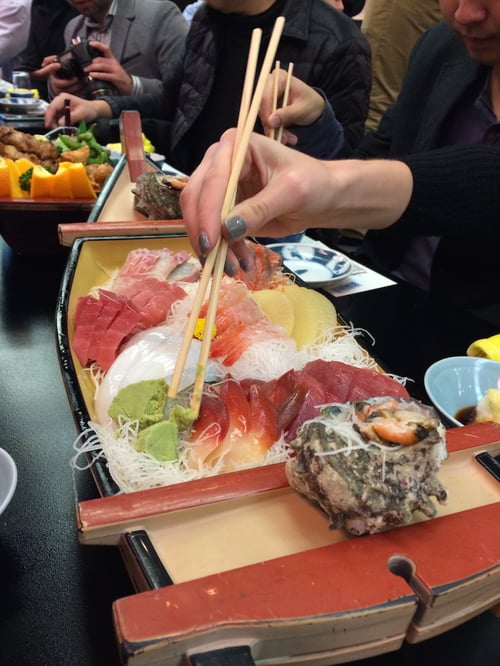 Image: Eating super fresh Japanese sushi on a boat, while touring the river in Tokyo, Japan
What to improve?
I highly recommend angels, investors and tech entrepreneurs to go on a GOAP trip in the future if you have the chance, as it will really enrich your life. However it is always good to point out something that can be improved as well and I think many people agree with me on this point that it would have been nice if we could have stayed one day longer in Hong Kong as it was a bit of a short visit.
Other than that I don't think that there was anything that could be improved.
Take aways / things I learned
- Dave McClure is actually a great singer!

Yes there are more take-aways :)

- Experiences are more important than money
- Due diligence in Japan is tougher than in the US
- Smoking is illegal in some cities in China, but almost nobody cares. I believe also that all other places we visited, people smoke in public spaces, such as restaurants and bars, which is not something that I'm a fan of.
- People in Hong Kong, Taiwan and Japan, I feel in general are better in English than in China (not trying to offend anyone here, just sharing my perception)
- Be thankful for what you have. I enjoyed some amazing views from the rooftops of cities, it made me feel blessed and lucky.
- Pollution is a big issue in some Chinese cities
- Asian food is amazing
- Taiwan used to be controlled by the Dutch
- Eating with chopsticks is now almost as easy as eating with knife and fork :)
- The tap water in Japan is better than in China
- It is easier to go viral in China than in other countries
- As a foreigner you will never really truly integrate in Japan
- Shenzhen grew from a small place to a massive city in a very short time
- Of the cities that we visited, Hong Kong has the most expats
- Jack Ma from Alibaba is very much respected as he created so many jobs for the people
- Hong Kong has beaches and it is only a 30 min drive from the city
- Hand out your business card with two hands and receive somebody else's business card with two hands, state their name and title. If you are seated at the same table as them, leave their card on the table till you leave and never put somebody else's business card in your back pocket.
- Never plant your chopsticks straight up in the food and leave it there, this is a sign of death and very offensive.
- Number 4 and 7 are unlucky numbers and number 8 is the lucky number in China.
- When you are in China, make sure you have an English side and a Chinese side on your business card.
- As in many different countries, local people really appreciate it, if you just learn a couple of simple words, such as "hello", "thank you" etc.
- The rest of the world world can learn a lot from the Asian world when it comes to etiquette, respect and habits.
- Drones are cool, but it will just be a matter of time that a commercial airliner will crash and kill many people because of it. This stuff needs to be regulated fast, before many innocent people die.
- Trying to coordinate activities and sync with people can be challenging, so don't be surprised that if you loose the group, you might not find people again, or people going their own directions or changing their mind last minute.
- Asia's history is long and there are so many beautiful artefacts that have been preserved
- Most things are cheaper in Asia, compared to for example Sweden, Holland or the US, such as food, drinks and most products. An exception is the Louis Vuitton store. The pricing is much higher compared to for example Sweden.
- Many big cities in East Asia are in very close proximity of each other, only 1-2, max 3 hours away by flight
- 5 stars hotels are awesome, just in case a smart guy like me, leaves his toiletry bag at home, so thankfully toothpaste, a toothbrush etc were all available in the room :)
- The temperature is great this time of the year
- Make sure you bring a tiny umbrella, in case you visit one of the cities that it often rains in
- Despite not having take one, massages are very common and popular in Asia
- You have to pace yourself on a GOAP trip, it is 2 weeks of meetings, siting on planes, busses, walking, listening, networking etc. This takes a lot of energy, so it was important to take some good nights rest.
- In some cities, they will fine you if you cross the street while the red light (thankfully not talking based on experience). This was something that our guide clearly instructed us on.
- Some cities have camera's installed in public spaces everywhere.
- Taiwan has very low crime numbers and a relatively little number of police officers.
- Asia has many cool tech companies
- People are super friendly in Asia
- In Asia you don't see many public (if any) trash cans.
- In Taiwan they pick up the trash 4-6 times a day.
- Japan used to rule Taiwan for a while.
- Karaoke video footage needs some serious make-over, most of it looks like it is from the 80's :)
- Giving a tip is offensive in Japan.

I'm sure there are more take-aways, but I'll leave it at this for now.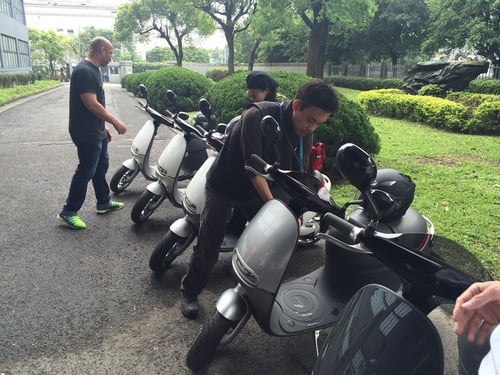 Image: Test driving an electric scooter at Gogoro

Some of my personal favourite experiences during this trip:

- Listening in on Dave, when he talks about investment and technology, he dropped so many gold nuggets of info, can listen and learn from him for hours.
- Learning how to make my own Japanese sushi
- Trying all the different Asian dishes
- Hanging out and laughing with my new friends. My buddy Vitaly made me laugh so hard this one time, that I literally almost passed out from the endorphins shooting to my brain.
- Learning from the events and networking with interesting new contacts
- Visiting tech giants such as Alibaba
- Meeting Jack Ma, CEO of Alibaba
- Boat tour on the river in Tokyo, while eating fresh Japanese sushi, while listening to Dave singing karaoke
- Boat tour in Hangzhou
- Playing with beach balls at one of the speaker events
- The views of the different cities from high points (mountain or buildings)
- Dining on the 86th floor of the Taipei 101, with stunning view
- See Vitaly play with his drone on Victoria Peak in Hong Kong and taking drone selfies
- Visiting the manufacturing facility of Zowee in Shenzhen
- Seeing drones in action at the flagship store of DJI in Shenzhen
- Seeing the assembly line at Gogoro and take an electric scooter for a spin
- HTC Vive virtual reality experience, mind blowing stuff
- Seeing traditional Chinese buildings
- Negotiating prices in shops, markets etc
- Extensive western breakfasts in the hotels
- Luxury 5-stars hotels made this trip extra enjoyable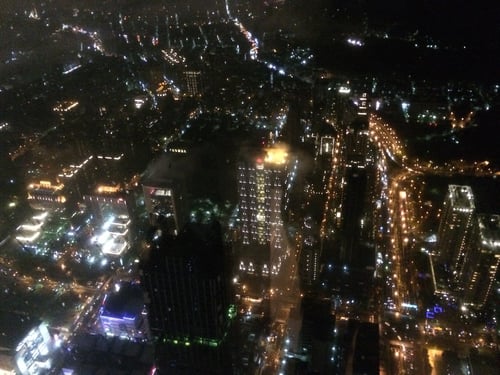 Image: Dinner on the 86st floor of the Taipei 101 tower in Taiwan

A big thanks again to Dave McClure and the 500 crew that made this trip possible. I'm very appreciative of the fact that I was given the opportunity to experience this mind blowing Geeks On A Plane trip.
Yours sincerely,