I'm part of the 500 Startups' Geeks On A Plane East Asia tour, an invite-only tour for startups, investors, and executives to learn about high-growth technology markets worldwide.

This is the fourth post in a series. Post one you can find here, the second post you can find here and the third post you can find here.
Day 10 Taipei, Taiwan - Tokyo Japan
I woke up at 5 AM, took a quick shower and at about 6 AM we headed towards the airport by bus.
For whatever reason, I thought it would be a 4 hour flight, so when we arrived in Tokyo after about 2,5-3 hours, I was happily surprised. The flight was quite smooth, as I had extra leg space and dozed off easily due to the lack of sleep, so it was all good :)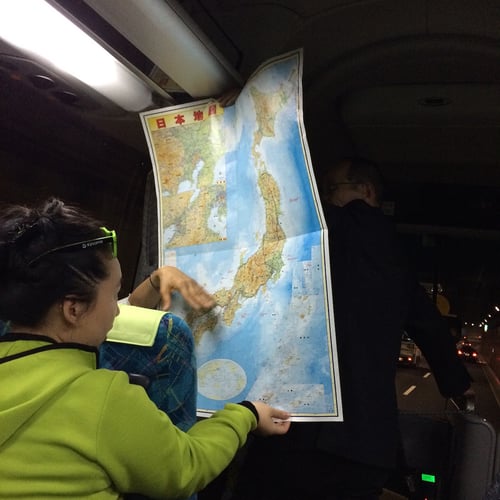 Image: On the bus from the airport to the hotel, exploring the map of Japan.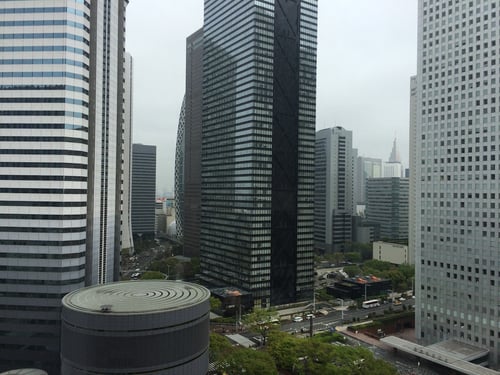 Image: Lovely view from my hotel room on the 21st floor of the Hilton in Tokyo.
Just after lunch we arrived at the hotel in Tokyo, where I unpacked, freshened up, worked a bit and relaxed. After a few hours we headed to the river, where a boat was waiting to take us on an amazing tour on the river.
Image: Eating super fresh sushi on a boat in a river in Tokyo, it doesn't get much better than this.
On the boat we had a tasty dinner and we were given insight into the Tokyo ecosystem. Before we left the boat, we enjoyed some karaoke. PS: Dave McClure actually has a good signing voice!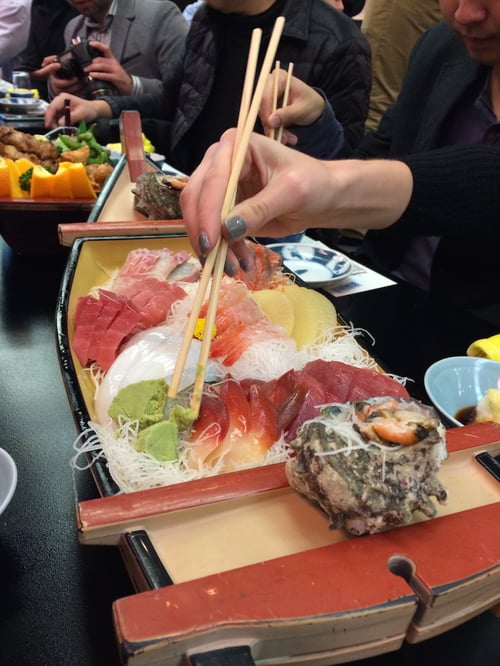 This great experience was hosted by Mistletoe. Founded by Taizo Son, a Japanese serial entrepreneur and investor, Mistletoe is a hub for startups and the entrepreneurial ecosystem in Tokyo. It provides learning opportunities for entrepreneurs, facilitates startup communities, invests in and supports startup companies and venture capital firms.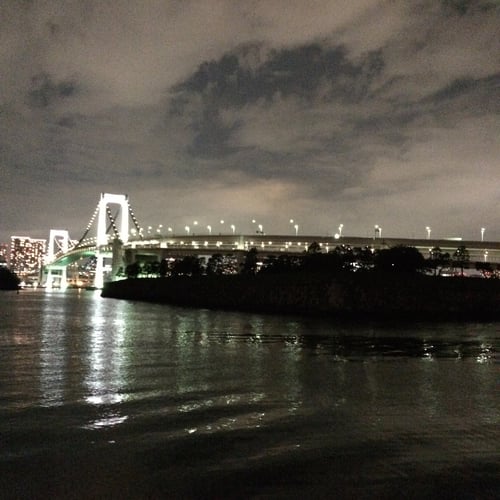 Image: The view from the top deck of the boat was gorgeous. Tokyo by night is pretty amazing.
Afterwards some of us headed out to Golden Gai. The Golden Gai district in Shinjuku is a huge network of alleyways lined with teeny­tiny bars, some that have room for only four customers. There are themed bars, fancy bars, dingy bars and plain, middle­of­the­road bars.
Day 11, Tokyo - Japan
I had been sleeping 4-5 hours on average the last 10 nights. Often when I got back to the hotel, I got into workaholic mode and before I would notice it, it would be 2 or 3 AM. I decided to take a long sleep, skip a couple of activities, recover a bit and get some work done instead.

The excellent 500 Startups crew had arranged a sushi eating breakfast opportunity at Tokyo's iconic Tsukiji's fish market, but unfortunately I missed that.
The market handles more than 400 different types of seafood from cheap seaweed to the most expensive caviar, and from tiny sardines to 300 kg tuna and controversial whale species.
Another activity that I skipped was to play with professional machines and tools, used to make hardware prototypes at IoT themed shared office DMM.make and afterwards there was the opportunity to explore Tokyo's colorfu Akihabara district.
Akihabara, nicknamed Electric Town, is a shopping district for video games, anime, manga, and computer goods. Icons from popular anime and manga are displayed prominently on the shops in the area, and numerous maid cafés are found throughout the district.
It was a shame to miss these activities, but I really needed to recover and get some work done, as most days were quite long, so I didn't always get to finish the things I wanted to do work wise.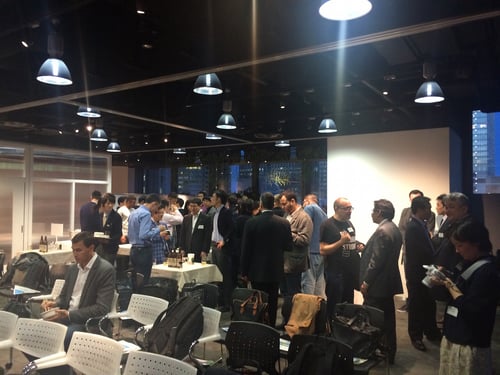 Late in the afternoon I was back in action again with the group. We attended a dinner event and panel discussion about what to keep in mind when starting a business in Japan, which was hosted by EGG Japan.
EGG JAPAN is a platform for business growth and is located in Marunouchi, Tokyo, one of the world's premier business districts.
The food was absolutely beautiful and the discussions were also interesting.
The agenda looked as follows:
6:30­ - 6:50 PM: Entering Japan, A Black Box
Japan Country Managers discuss their challenges launching in Japan Panelists
Katsunori Furuichi, President & Representative Director, Box Japan Kengo Horiuchi, Director of Marketing, Treasure Data, Inc.
Doug Chuchro, Representative Director, Fastly K.K.
Moderator: James Riney, Head of 500 Startups Japan
6:50 ­- 7:10 PM: Born In Japan, Raised To Go Global
Japanese startup founders discuss their experiences trying to build a global company from Japan
Panelists:
Matthew Romaine, Co­Founder & CEO of Gengo
Ryota Matsuzaki, Founder and Chief of Kibidango, Inc.
Moderator: Tim Romero, Tokyo­ based innovator, author, and entrepreneur
7:10 -­ 7:30 PM:
Challenges and opportunities in cross border M&A
Paul Ford, Partner, KPMG FAS Co. Ltd.
7:30 ­ - 8:30 PM:
Networking
Day 12, Tokyo - Japan

Some people might claim that the the previous evening became a late session and I will deny all allegations :) It was however fair to say that I sadly skipped the visit to the Asakusa district and buddhist temple in the morning on the 12th day.
Asakusa is a district in Tokyo, famous for the Sensō­ji, a Buddhist temple dedicated to the bodhisattva Kannon and several other temples. There is a nice view of the Tokyo Sky Tree.
After a decent night rest we headed to an event hosted by NIKKEI, the most influential Japanese business journal, where a discussion was held called "The hard things about hardware".
The agenda is listed below:
1:45 ­- 2:15 PM
"How To Start a Startup, The Essence of Innovation... and More!" Keynote by 500 Startups Founder, Dave McClure
2:15 - 2:45 PM "The Hard Things About Hardware"
Moderated by James Riney, Head of 500 Startups Japan
Ken Tamagawa­san, Founder & CEO, SORACOM, INC (IoT)
Max Hodak, Founder and CEO, Transcriptic
Yuka Kojima, Founder & CEO of FOVE: Eye­tracking VR Headset Shunsuke Aoki, Founder & COE, Yukai Engineering, "Family Robot"
2:45 PM
Networking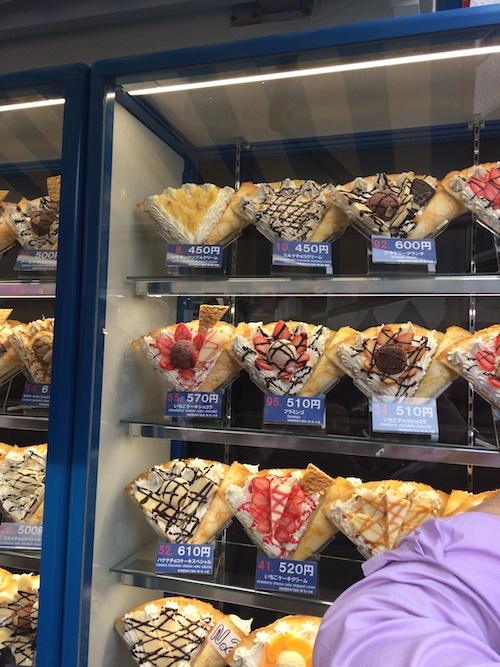 After the NIKKEI event we headed to Ginza, a shopping area and of course I had to try one of the lovely street desserts.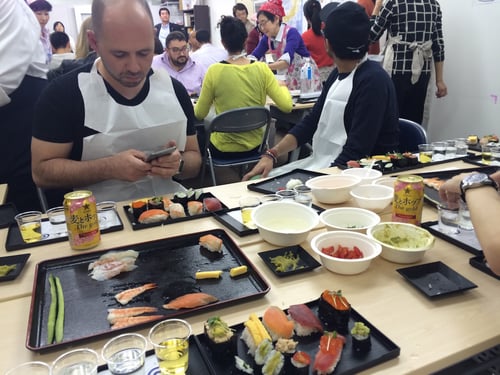 We wrapped up the day with an fun and memorable sushi making experience, where we were educated on how to make your own Japanese sushi.
I was very happy with my own creation, which also tasted pretty great, except for some pieces that I had overloaded with too hot ingredients that made my eyes go watery and my face became as red as a lobster, but there was sake to put out the fire ;). I loved this experience of creating a traditional Japanese sushi dish.
To be continued...