Held annually on March 21st, World Poetry Day celebrates poetry in all its forms: the reading, writing, publishing and teaching of poetic expression. A form of literature that typically uses aesthetic and rhythmic qualities of language to evoke meaning, World Poetry Day is celebrated in classrooms around the world as a way to teach students about the earlier texts of poets such as William Shakespeare, E.E. Cummings, Emily Dickinson, and many more.
Declared by UNESCO in 1999 as a way to support "linguistic diversity through poetic expression and increasing the opportunity for endangered languages to be heard," World Poetry Day is a tradition honoring poets from around the world and is a way to foster creative expression between poetry and other art forms such as dance, music, theatre and painting. It is also a way for students of all ages to express themselves creatively irregardless of status, race or religion and to learn about other languages and cultures.
Poetry connects people by relating to what we share in common such as shared values, and can be used as a powerful tool to inspire dialogue and break down barriers. Teachers in our Global Content Department created these engaging Snowflake Lesson Activities that you can use in your classroom to facilitate personalized learning, just in time for this year's World Poetry Day: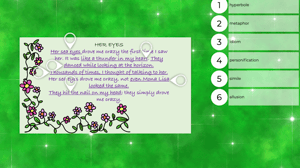 How do I get the lesson activities?
Access the NUITEQ Snowflake lesson activities for FREE on snow.live. Click the images above, sign in, and start using them.
Not yet a snow.live member? Sign up for the free trial!
How can I use the lesson activities?
When you have a NUITEQ account, you and your students can use them on any device, such as a touchscreen, laptop, Chromebook, or tablet with an internet connection. Just press play to begin.
If your classroom uses technology such as interactive screens, download the lesson activities from snow.live to your computer and use them in Snowflake on your classroom's large touchscreen display. Open the Lesson Activities app and import the lesson activity you want to use.
If you want access to other ready-made lesson activities, browse snow.live, request them on Facebook, on Twitter, or email us at mail@nuiteq.com.
Need more interactive content for your classroom? Get in touch with us by clicking the button below: