Skellefteå, Sweden, June 7, 2021 – NUITEQ®, a collaborative software company that enables educational institutions to add value through smarter human interaction, announced today a new release of NUITEQ Snowflake, the remote learning solution that allows teachers to transform education and provides students with the platform they need to be able to learn anytime, anywhere.



Before looking into what's new in the online version, we'd like to inform you that if you're also a NUITEQ Snowflake desktop version user, you must update to the latest Snowflake version for the lessons syncing to work. You can still use the desktop version as usual, even with lessons from the Snowflake Community. However, if you use the feature of syncing your own created lessons from the online version to the desktop version, you need to update the desktop version.


Here's what's new
Drastically faster performance - database architecture and infrastructure
Given the tremendous increase in the number of users and the usage of NUITEQ Snowflake around the world, we are excited to share that we have completely redesigned and re-engineered the database architecture and infrastructure. To support the growth, we have migrated to a more reliable, scalable and better performing system.
Fantastic performance improvements can be experienced when searching, editing and playing lessons. During our Quality Assurance tests, we recorded up to 59,11% faster performance, of which we are extremely proud and happy that our users will be able to enjoy this.
Teachers can now unsend a lesson activity that was previously sent to a student
Sometimes a teacher might send a lesson activity to one or several students only to discover it was the wrong activity or that changes still needed to be made to it. To make the life of teachers even easier we have now added on the "Review progress" page an option allowing them to unsend lesson activities that they have previously sent out to students.
Added the ability for a teacher to see and download account information of students added to the system without an email
This allows teachers to view and download the account details of students who have a NUITEQ Snowflake account without an email address. The information can be exported in a .CSV file.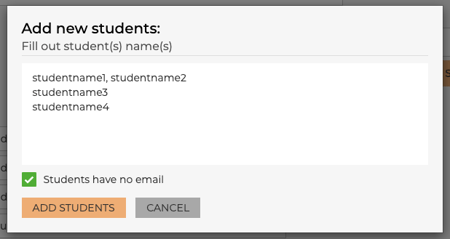 The bad word filter checks the lesson activity title, description and keywords for inappropriate words before uploading it to the Community. This also applies to editing the lesson activity information of a previously shared lesson activity.
When adding or editing standards of a lesson activity, the system automatically tags related standards.
This automatic functionality is great for saving teacher's time when navigating through all the standards they can choose from.
Teachers can now connect a NUITEQ account with Classlink and automatically synchronize teacher, class and student information
This allows school districts that are using Classlink, to connect their master NUITEQ Snowflake account with Classlink. Note that this feature will be rolled out gradually, which means that only certain accounts will have access to it immediately. The aim is for all accounts to have it available in a couple of days.
On the "Students" page, the most recently received lessons will be now displayed on top once a student logs in
Added pagination to the "Shared lessons" page
Pagination means that the leson activities on the Shared lessons page are split into multiple pages, which optimizes the loading of the page.
Updated the interface for adding standards
Updated the "Creator" status on the Snowflake Community
When searching content in the community, the choices were changed to NUITEQ Content, which is standards aligned content that contain lesson plans and supplemental worksheets, and NUITEQ Teachers, which is other content developed by members of the NUITEQ Team and may not contain supplemental materials.
Various bug fixes and general improvements.
Previously released features you shouldn't miss:
The ability to add a video to a lesson activity's information section
Teachers can now also upload a video from their computer. This comes in addition to adding videos from YouTube to the information section.
The ability to tag a language to a lesson activity's information section
The ability to add a video item to a list
Teachers can now add a video to a list either by uploading it from their computer or by recording one. This video can then be placed anywhere on a list. This way, you can for example start a list with a recording of instructions about how to use the list, have a video (eg in sign language) that explains a certain term followed by a pdf expanding on the term and a lesson activity about it, and much more.

Overall, this gives teachers more flexibility and provides multiple means of representation according to the Universal Design for Learning guidelines.
We believe the new features in Snowflake will further help teachers with engaging students, whether they're attending classes from home or the classroom.
You can check the history of all the Snowflake release notes here. For more information, check out our Support Page.
Do you feel like something is missing? Any feature you'd like to see in a future release? Let us know by getting in contact.
About NUITEQ
NUITEQ® is a collaborative software company that enables educational institutions to add value through smarter human interaction.
Designed to support distance learning, digitalization and productivity, Snowflake, NUITEQ's educational software solution enables educators to enhance interactive learning. It helps reduce lesson planning time, offers the tools needed for personalized learning, and provides a safe environment for authentic feedback in a collaborative setting.

Our award-winning software solution is used by customers in over 70 countries.

For more information, visit www.nuiteq.com.

NUITEQ® and Natural User Interface® are registered trademarks of Natural User Interface Technologies AB in Sweden, EU, and the USA.