Are you excited about the CUE (Computer-Using Educators) conference coming up this spring? We sure are!
Spring CUE has been the go-to event for educational innovation for almost 40 years. During the conference, you can discover the latest and greatest in educational technology and school innovation, get inspired, and meet other teachers that use technology in their classrooms.

With this occasion, our Global Content Department, composed of Teachers/Educational Technology Specialists, designed this original, ready-to-use activity, aligned with the California state standards.
Use this example in your lesson plan as it is or edit it to fit other standards or grades.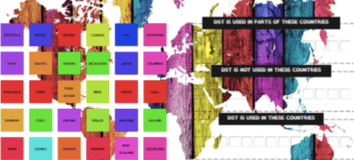 You can try out this lesson right now, or visit the Clear Touch Interactive Booth at CUE 2019 (13-16 March) to test them on Clear Touch Interactive touch screens.
How do I get the lessons?
Get the lessons for FREE from the MultiTeach® Lessons Community. Click the images above, and then you can download the lesson to your computer. You can also find these lessons on Lessons Online (30-days FREE trial available), by typing their title in the search field.
How can I use the lessons?
If you've downloaded the lessons to your computer, you can use them in Snowflake MultiTeach, on your classroom's large touchscreen display. Open the Lessons app and import the lesson you want to use.
When you have access to the lessons in Lessons Online, you and your students can use them on any device, such as a touchscreen, laptop or tablet with an internet connection. Just press play to begin.
If you want access to other ready-made lessons, browse the MultiTeach Lessons Community, request them in our Facebook group, on Twitter or email us at mail@nuiteq.com.
Need more content for your classroom? Get in touch with us by clicking the button below: