Helping our community grow is our way of giving back. We often sponsor those in need, when the cause is in line with our beliefs. When we learned from our English friend, Theresa, that she was looking for support, to be able to join a volunteer program of the education charity FACE Nepal, we wanted to help her.
FACE's volunteering program has various projects in which people can be involved, depending on their background and qualifications. Due to Theresa's profession as a nurse, she has been asked to design a teaching workshop to help children understand basic hygiene techniques and the correct way in which this can be achieved, for a disease-free future.

"The topics regarding hygiene include, understanding how disease spreads, the importance of correct hand washing techniques and superficial wound management to name but a few. This is of huge importance and benefit in the small villages that these children live in.", says Theresa Robinson.
NUITEQ supported Theresa with over a third of her travel expenses.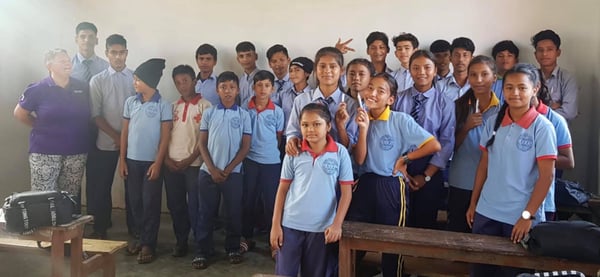 We recently got in contact with Theresa to learn more about her experience. Read her inspiring story below to learn more.
Q: Please, tell us a little bit about your background (profession) and what triggered you to go to Nepal
A: My name is Theresa and I am a cardiac nurse with 14 years of experience. I am currently working as a prison nurse in a high-security prison, which I find both exciting and challenging. My cardiac experience is invaluable, working there, as we have a very aging population within the prison with many chronic cardiac conditions.
My first thought regarding going to Nepal was back in January when my cousin, who works for FACE Nepal, explained to me that she was going out there in October, which she does every two years. It has always been a dream of mine to go abroad to help a charity. I asked if it was possible for me to go along to help out with the charity and so the start of the adventure began!

Q: What were you doing exactly in Nepal?

A: It was decided that due to my background, teaching first aid and the importance of handwashing, to stop the spread of infection within the villages, would be an ideal project for me.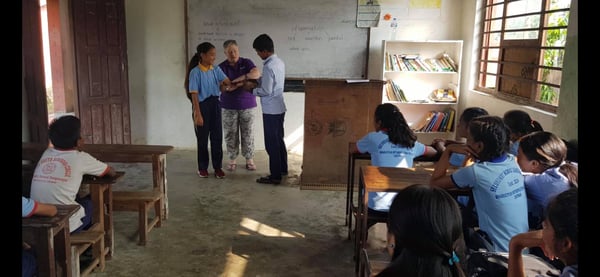 Q: How long were you there?
A: We were in Nepal for four weeks, and for some of that time we grabbed the opportunity to do some sightseeing. We visited the schools that FACE Nepal sponsors in order to deliver our teaching sessions.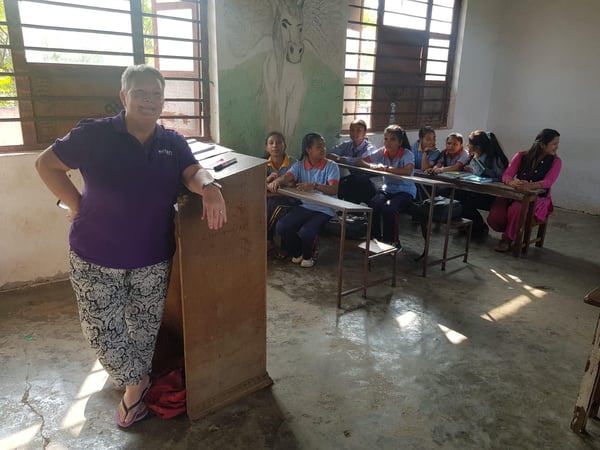 Q: Is there anything else that you'd like to share?
FACE Nepal (Friendship Association for Community Education, Nepal) is a non-governmental, non-profit organization, established by local community representatives. FACE Nepal's primary aim is to support the education and health of the local community.

Most of the children we have been teaching, speak very good English and have embraced our teaching sessions with enthusiasm and excitement. After each session, it became evident that these children, all aged between 6-16 years, had very much benefitted from the lessons we provided.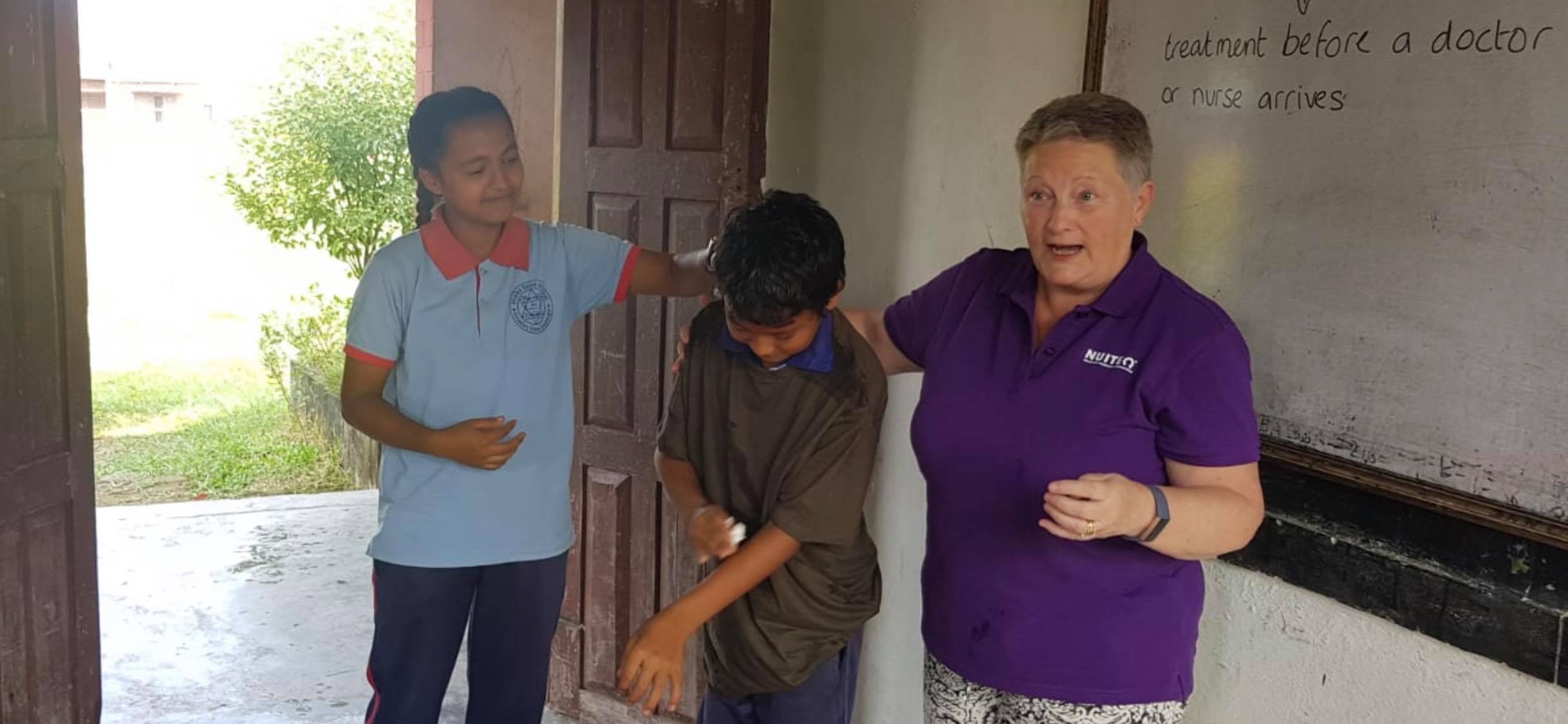 The living conditions I have experienced while staying with my host family, have been very challenging for me! There is no hot water, so daily showers are very cold, and the toilet is a hut with a hole in the ground. I have daily visitors to my room, consisting of geckos (small lizards), which eat all the bugs and spiders, so not such a bad thing really. The bed is a piece of hardboard with a sponge on the top, so not comfortable at all.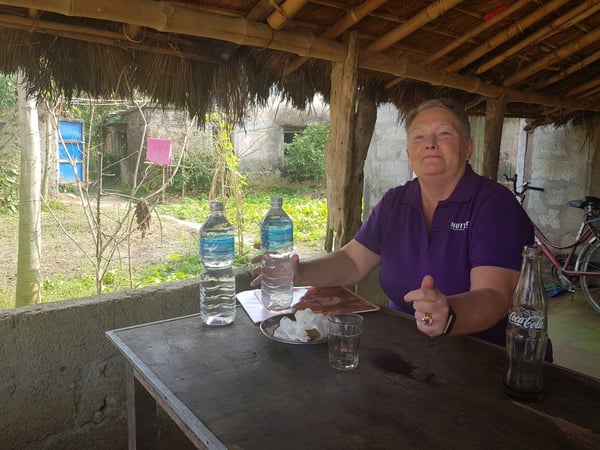 Dal bhat is the staple food in Nepal, so for breakfast, we had dal bhat and our evening meal was dal bhat. This consists of boiled rice and lentil soup. There is nothing else to eat, no other choice of food, unless we are lucky enough to have a bit of pickle or a bit of 'chutnee' which is a spoonful of very spicy sauce you can mix with your lentil soup for a bit of flavour.

My initial plan was for this to be a once in a lifetime experience, however regardless of the poor living conditions I have endured, the pupils, the people, and the country have captured a piece of my heart and I now wish to help these very friendly, deprived people as much as I possibly can and hope that in two years I will be returning to this beautiful country to help make a difference!

I would like to take this opportunity to thank NUITEQ for their support and generosity and very much appreciate their help in making one of my dreams come true!
If Theresa's story inspired you and you would like to volunteer, get in touch with FACE Nepal. Let us know about your project by getting in contact.
About NUITEQ
NUITEQ® is a collaborative software company that enables educational institutions to add value through smarter human interaction.
Designed to support digitalization, productivity, and augmented learning in schools, Snowflake, NUITEQ's educational software solution enables educators to enhance interactive learning. It helps reduce lesson planning time, offers the tools needed for personalized learning, and provides a safe environment for authentic feedback in a collaborative setting.
Snowflake empowers digital natives' expressive learning through memorable digital storytelling.
Customers in over 70 countries have chosen the award-winning Snowflake software.
For more information, visit www.nuiteq.com.
NUITEQ® and Natural User Interface® are registered trademarks of Natural User Interface Technologies AB in Sweden, EU, and the USA.