This school year is like no other; to keep education running, many school districts have had to quickly adapt to new ways of learning and teaching, mainly done digitally.
As a result of this unprecedented push on distance learning and teaching, some schools have struggled with keeping students engaged and teachers up to date with the new technology they need to use to continue their instruction. Other schools or school districts are better prepared and even pride themselves with technological fluency.
We recently got in touch with Joe Kuzo, Director of Technology for the Quakertown Community School District, US, to learn more about the integration of technology in his school district. We learned some valuable distance learning lessons from him that we hope can benefit your school.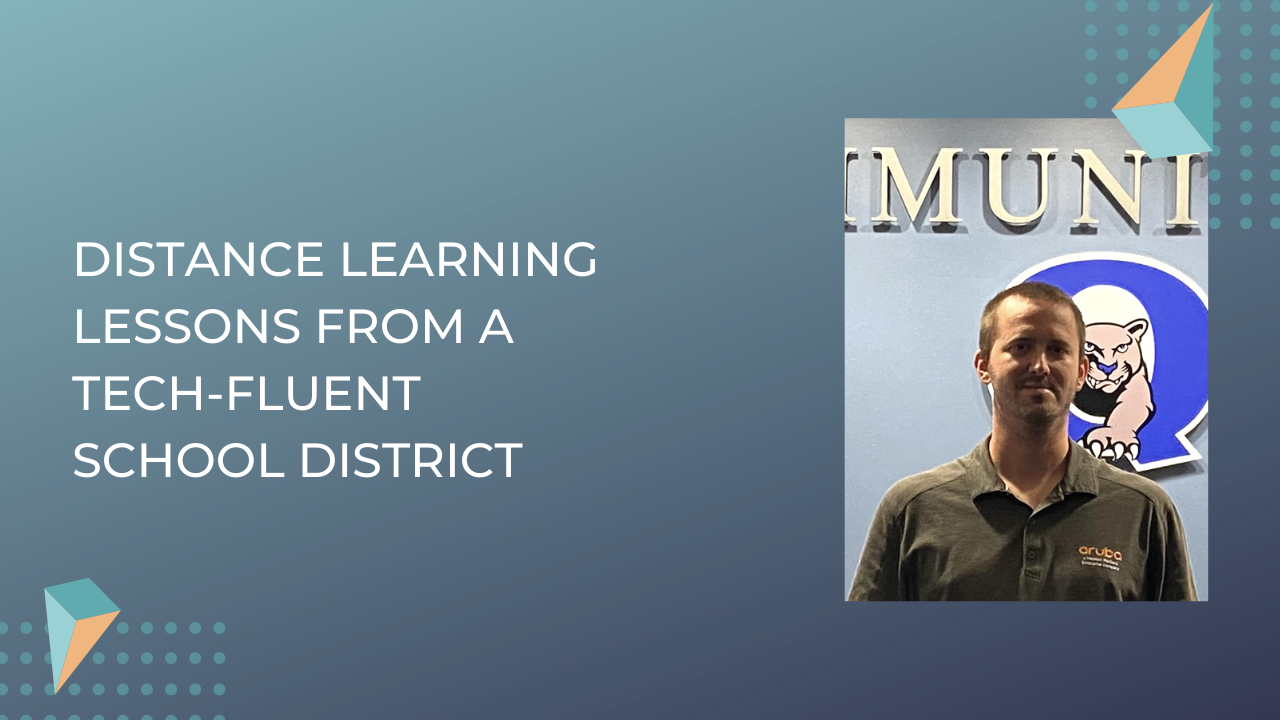 Can you describe your role?
I'm currently the Director of Technology for the Quakertown Community School District. I oversee the entire department from infrastructure, budgeting, policy, student/staff support, etc.
To what degree are digital tools implemented in your school district?
We have been a technology-driven district for many years. In fact, about ten years ago, we began our own completely virtual school allowing our teachers to create their own curriculum and allow our students to take some to all classes online at home. We have since stopped the program, but it has allowed us to seamlessly transition to virtual learning during COVID-19 due to having the technology resources already in place.
For what purpose do teachers in your school district use digital tools?
Now more than ever, it's to bridge the learning environment gap between in-person and virtual learners. Whether using Google Meet, Classroom, Canvas, NUITEQ Snowflake, etc., it's about finding the best tools to create a learning environment that is seamless for all learners.
What is your experience (if any) with NUITEQ Snowflake and how do you think it benefits the schools in your district?
We have one building using NUITEQ Snowflake for over a year and another building that just began using it. Due to the amazing licensing partnership between NUITEQ and Clear Touch, I plan to roll out NUITEQ Snowflake to all our teachers so they can utilize the web version of the platform. Eventually, we will get Clear Touch in every classroom and they can utilize the full NUITEQ experience.
How would you rate the comfort level of the teachers at your school district when using digital tools?
Like anything, it ranges, but the important part is that I constantly see teachers trying new things. They may not always work as planned, but they continue to impress me, especially in this new COVID-19 environment, with their use of digital tools.
How many hours of professional development per semester does your district offer teachers when it comes to digital tools?
We have offered a full day of training at the start of each of the past two years, specifically on using NUITEQ Snowflake and Clear Touch panels. There is constantly PD available on digital tools on an as-needed basis, but nothing is required per se. Our teachers have had their own district-issued laptops for over 23 years and currently, they each have two district-issued laptops, so technology and tech integration isn't new to us. We have been at the forefront of technology for many years. We were, I believe, the second school district in Pennsylvania to go full 1:1 ages ago.
How do students react to using digital tools and what effects did you observe in them long-term?
Students seem to enjoy using the technology on a day to day basis, so long that it's engaging and not simply using a digital tool as a substitute if we refer to the SAMR model.
Are some students reluctant to use digital tools? If so, how have you and the teachers in your school district dealt with this?
Students are expert users in technology, so what may seem engaging to teachers, students may find boring. This doesn't mean they won't use it, but students have grown up in the age of technology and we are just trying to keep up with them.
What methods are used in your school district to ensure that each student gets what they need to learn according to their unique needs?
Each student is provided their own device beginning in Kindergarten. We have a robust online learning platform. Expectations are clearly laid out.
What challenges do you as Director of Technology face?
Currently, the largest challenge in the COVID-19 world is supporting all these devices, which in the past came into our district and now may not. Scheduling parents to come in for support has been extremely time-consuming, but they are our number one stakeholder, so we need to continue to work hard to meet their needs. The other big struggle is items that were ordered in June, like Chromebooks, are still not here even though we were told they would be here by now.
What benefits do you think digital tools can bring to remote learning situations?
Digital tools have shown the ability to bridge the gap between virtual and in-person. Using tools like Google Meet and technology like Clear Touch panels paired with NUITEQ Snowflake allows teachers to share their panel screen, i.e. whiteboard, to virtual learners and now in person and virtual learners all see the same thing. It's really an amazing pairing between the panel and NUITEQ.
How has COVID-19 affected your work and that of the teachers in your district? What hasn't it affected?
We operate in a different world now. Students are not always in class, so helping to support them becomes difficult. Our priorities had to shift to ensure all students can work remotely seamlessly. We got extremely lucky that this year was a teacher laptop refresh year which allowed us to provide two devices for our teachers. In cases where they have Clear Touch panels, they actually have three devices as the panel is a PC.
Looking to use technology for better results in distance learning? Try NUITEQ Snowflake and gain access to the NUITEQ Snowflake lesson activities for FREE on Snowflake.live.
Not yet a Snowflake.live member? Sign up for the 60-day free trial!