Snowflake MultiTeach® ships with over thirty collaborative educational apps designed for use on touch screen displays. This post, along with the accompanying "how-two" video, provides an overview that will get you and your students up and running with the apps found in the Puzzles and Creative categories.


Puzzle apps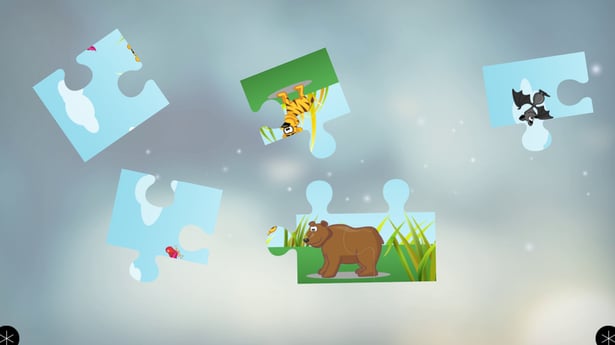 Students can select puzzles from a menu of pre-loaded images, and then put it together. Two or more students can work at a puzzle at the same time, fostering collaboration and visual-problem solving skills. Images and videos related to instructional content can be imported into the Jigsaw app for customization.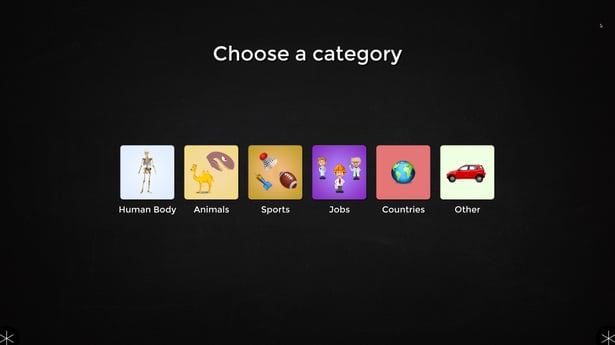 The Puzzles app provides a wide range of puzzle categories, making it easy to guide students to the ones that correspond with specific instructional topics. The Puzzles app supports visual problem-solving skills as well as collaboration between two or more students. For example, students studying Europe can select the Countries puzzle and work together to drag the puzzle pieces to the correct location on a map. On a large screen or tabletop display, the Zones feature can be used with two or more students to solve different puzzles at the same time, or in combination with related apps or teacher-created lessons.
Below is an example of the Countries puzzle, running in Zones with related Snowflake MultiTeach® apps.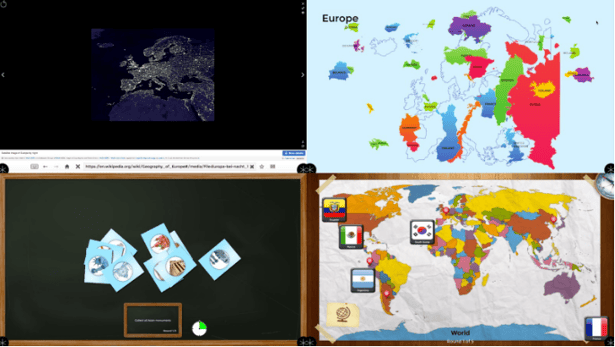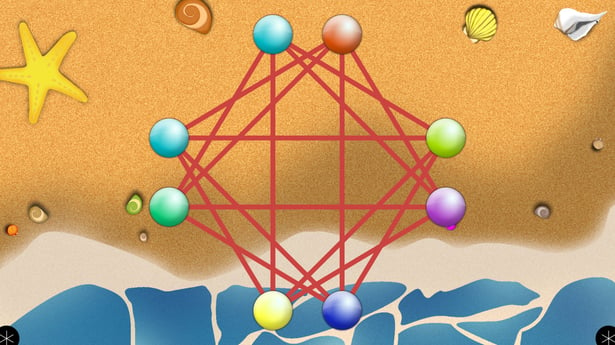 In this game, two or more students work together to untangle lines by moving connection point and make sure that none of the lines cross each other. The students can choose from nine levels of difficulty. The Untangle app supports visual problem-solving skills. It is also good for teaching collaborative skills that can then be applied to academic lessons that require students to work together.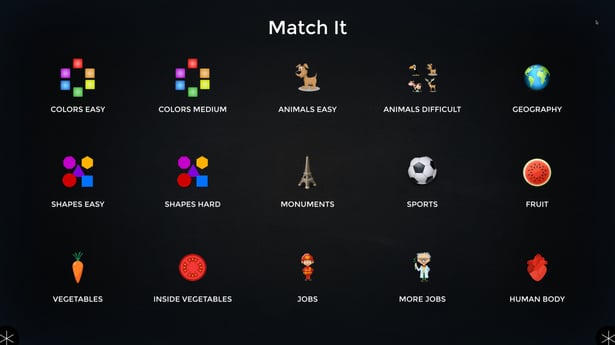 The Match It app is a suite of fifteen memory games that can be played individually or by two students at the same time. Students tap on two tiles to see if they match, the tiles are placed at the bottom of the screen, if not, the tiles turn over. Match-it is good for use with more than one student as a fun way to preview or review content that relates to instruction. Match It can also be used with other apps or lesson types, using the Zones feature. This is ideal for tabletop displays for small groups of students.
Creative apps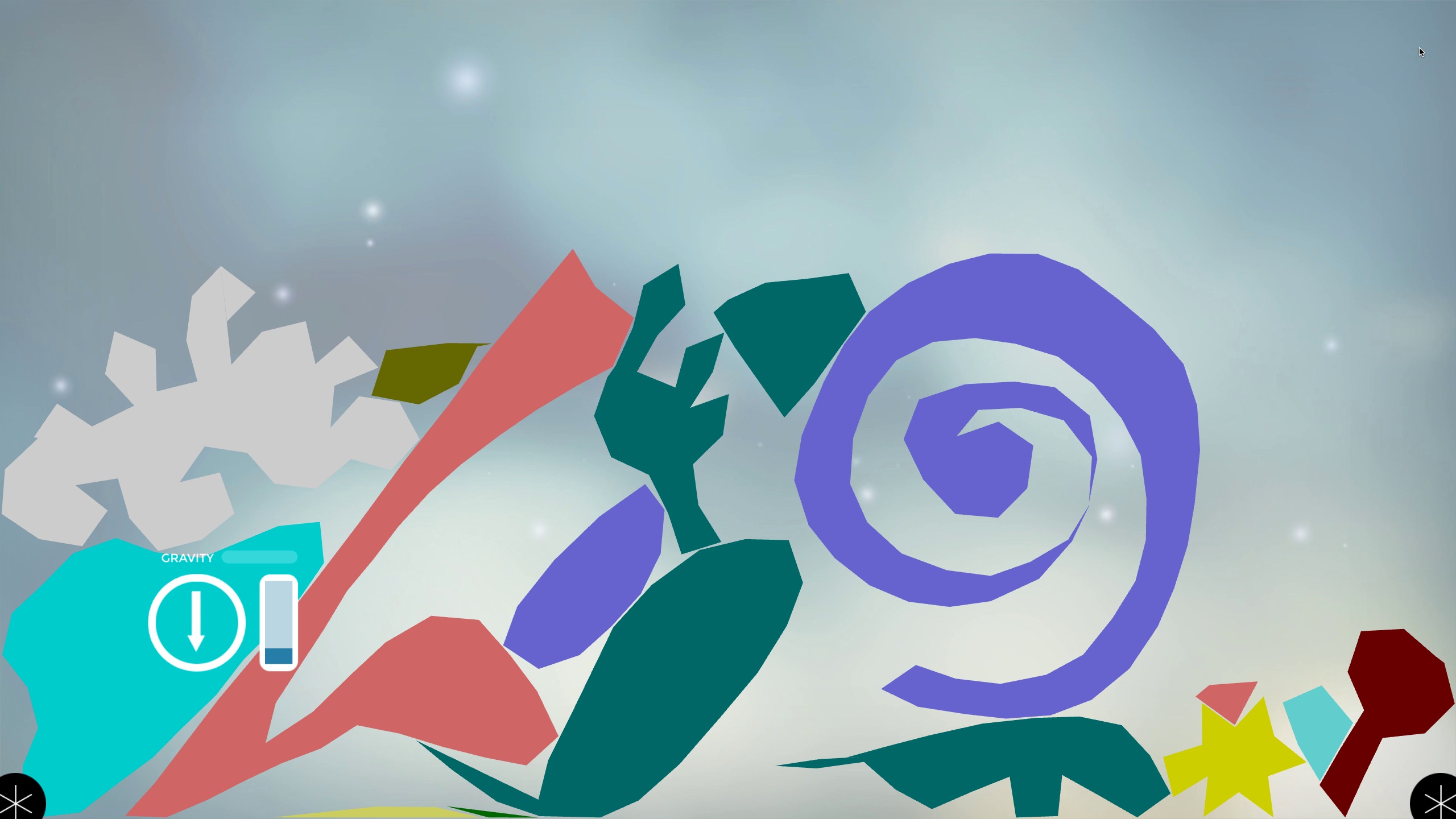 Gravitoy is a physics sandbox game. Students draw on the screen to create various shapes. Shapes can be connected by joints, and moved about the screen. Students can change gravity and directional settings through a widget and explore the outcome of changing the variables. This app supports visual problem solving skills. When explored by two or more students, this app supports collaboration skills.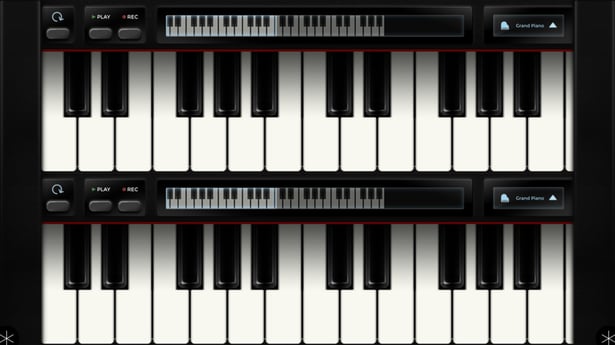 The Piano app is a virtual synthesizer that provides a choice grand piano, bass, and guitar sounds. The piano comes with two rows of keys that can be individually set, recorded, and played. The keyboards can be rotated, making this app ideal for two or more students working on tabletop displays. If the screen is divided into sections using the Zones feature, multiple instances of the Piano app can be accessed at once, or in combination with the Drums app. Students can use the Browser app in one of the zone sections to simultaneously an interactive music website.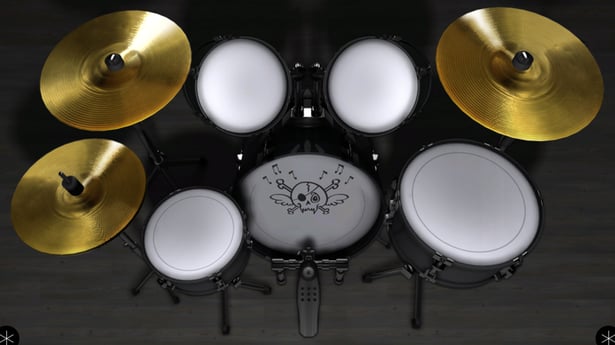 Students can experiment with different rhythms and drum kit sounds using the Drums app. It is ideal for groups of students collaborating on tabletop or large vertical displays using the Zones feature along with the Piano app. An interactive music website can run in one of the Zones sections, via the Snowflake MultiTeach® Browser app.
Want to use the Puzzles and Creative apps in your classroom? Download now the FREE 14 days trial by clicking the button below:

For more information about Snowflake MultiTeach®, please visit the NUITEQ® website.