Skellefteå, Sweden, 21 December 2018 – NUITEQ®, a collaborative software company that enables teams, organizations, educational institutions, and businesses to add value through smarter human interaction, announced today an update to Lessons Online, its cloud-based Online Learning Suite for the interactive classroom and on the go.
Added a Standards browser
Standard- and curriculum-aligned lessons are an essential part of teaching and learning today. For teachers that want to easily access the right standard they need, Lessons Online now comes with a Standards search option.
The Explore page is the first thing teachers and students see when they arrive on Lessons Online. It contains different categories of lessons that inspire educators and help them in their lessons research while working on a lesson plan. Regularly, fresh new lessons will be available via the Explore page as NUITEQ's Content Team is creating fun and exciting lessons every single day, 7 days a week.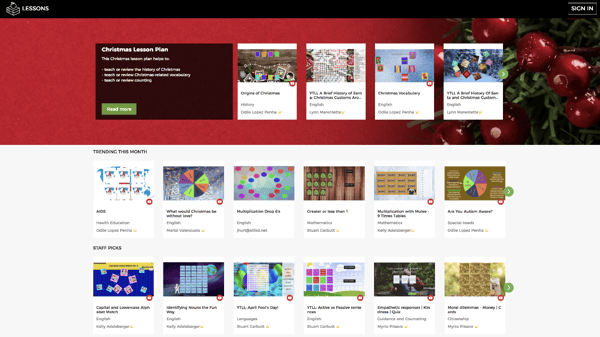 Added support for Microsoft OneDrive cloud storage
In addition to cloud storage service Google Drive, Lessons Online now offers teachers the option to use Microsoft OneDrive to store their favourite content and lessons.
Added My Polls in the top navigation bar
Student Response System Poll is now accessible in the top navigation bar.
Added support to the Tags lesson type to have different color options
Added a YouTube search, so that YouTube videos can be more easily associated with lessons
Teachers can now more easily select the desired YouTube video that they want to associate with their lesson without leaving the Lessons app. This saves them time and allows them to focus on the lesson content.
Added the option to play a list of lessons randomly
This feature is great to give students the possibility drill down into the lesson content again, but without it being in a too repetitive and similar fashion.
Added XXL & XXXL font options for the different lesson templates
Added CREATE NEW LESSON in the hamburger menu in the top left
Added to the Sentences lesson type the option to lock words per row
Added Literature/literacy as a category to Lessons Online and MultiTeach Lessons Community
Added Chromebook keyboard support for Lessons Online:
Guess: Answer the question by just typing the letter on the keyboard
Spinner: Press a key to spin the spinner

Added Support for specifying standards for lessons
Added a free 30-day trial option that is no longer linked to Snowflake MultiTeach
Improved the Lessons Online sign-up process
Improved the UX for the Tags, Match, Guess, Arrange and Cards lesson types
Improved the graphics in different areas
Removed the audio from the Underwater theme for consistency with other themes
General improvements and fixes to Lessons Online and the MultiTeach Lessons
Improved the community as well as user experience and graphics
Poll
Poll is a Student Response System that can be accessed through Lessons Online. With Poll teachers can ask their students open- or closed-ended questions and have them answer them anonymously, to get feedback on your lessons, get their opinions on different topics or to show them how voting works.
With this update of Lessons Online, Poll has also been further enhanced.
New in Poll:
Added export Poll results to CSV
Added bad word filtering notification/feedback when users enter a word that is not allowed
Added a drop down to select a font (because of Dyslexia) Comic Sans, Verdana
Added an option to delete a poll
Added Spanish blacklist curse words to the forbidden list
Fixed Poll in Android browser
Fixed bug: With many questions, things become a bit squashed
Fixed bug: multiple choice and two options.
About NUITEQ
NUITEQ® is a collaborative software company that enables educational institutions to add value through smarter human interaction. NUITEQ maximizes the use of any multitouch touchscreen with fully independent zones that can be used simultaneously. Its educational software empowers expressive learning through memorable digital storytelling. NUITEQ provides a safe environment for providing authentic feedback in collaborative settings. Its award-winning Snowflake software is used in over 70 countries.
For more information, visit www.nuiteq.com.
NUITEQ®, MultiTeach®, and Natural User Interface® are registered trademarks of Natural User Interface Technologies AB in Sweden, EU, and the USA.