Remote education poses challenges that are very different from the ones in-classroom education poses. One of the most important differences between online and in-classroom instruction is the ability for teachers to interact directly with each student and gauge their understanding of concepts quickly by observing visual cues or by asking questions on the spot. This interaction is an important step in laying the groundwork for differentiation: adapting the educational material each student works with to make sure that they all reach their learning goals and grow according to their specific needs.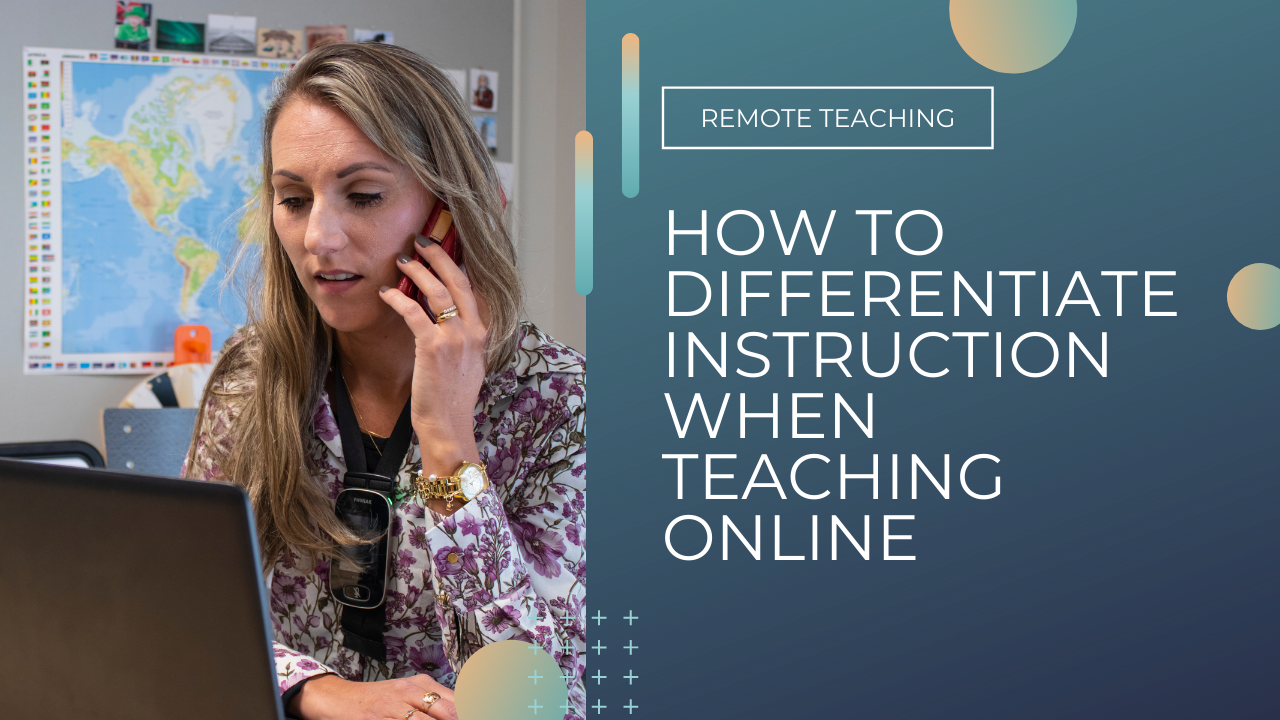 Without the ability to check for students' understanding in person, teachers have to come up with new ways to ensure that all student needs are met. Educational technology plays a crucial role in this. For example, video conferencing tools have been widely used in lieu of in-person communication. Digital assignments have been used instead of paper ones. Collaboration has been taking place on shared, digital workspaces instead of in study rooms.
So the technological advances of the last few years have made it possible for teachers to adapt their methods to a remote teaching environment. But how exactly do the tools that are available assist teachers in one of the most important aspects of their work, namely differentiation?
According to Universal Design for Learning's guidelines, teachers should, among other things, provide students with multiple means of expression and representation of knowledge. The goal is to make sure teachers reach all students. Students have different learning styles, preferences, communication ways and needs, which can be hard to address successfully even in the classroom, using traditional methods. Yet by using EdTech, teachers can provide these means of expression and representation in a very simple and efficient way that rivals, if not exceeds, the more traditional ways' success, and removes some of the barriers remote teaching entails.
The ability to use video, audio and images in addition to or instead of text is an excellent way to provide scaffolding for activities that students might otherwise struggle with or that might need additional reinforcement. Instructional videos can be watched several times and/or paused so that students can move at their own pace. Audio is helpful for all students but particularly those that need support reading. Similarly, images can be used to reach visual learners more efficiently.
When it comes to the students themselves, it is just as important to let them express their thoughts and opinions and show their understanding in a similar manner. Tools that allow students to do that will help them relay that information in a way that suits them.
So what could differentiation using EdTech look like in a remote teaching situation? Let's use NUITEQ Snowflake as an example:
A teacher creates a lesson activity using one of the 16 different templates on the online version of Snowflake. This activity's purpose is to help students work through a certain subject and it aligns with a specific standard in the curriculum. This teacher can record an instruction video themselves or use an existing one from YouTube and attach it to the beginning of the lesson activity. Students can then watch and re-watch that video as needed. The teacher can then customize the activity depending on their students' needs, and similarly send this activity to some or all of the students' accounts. So a group of visual learners might get an activity that provides a lot of visual scaffolding, whereas a group of students who learn more efficiently by listening or who need auditory reinforcement get an activity that provides that kind of content. No matter where these students are, these easily customizable activities are delivered to them instantly.
Teachers can also create lists that include both activities and audio and pdf files to allow for further individualization. As is the case with lesson activities, lists can be sent to one or more students. So one list might include a sound file containing audio instructions and activities that provide auditory support, whereas another might include a pdf with written instructions and activities that provide visual support.
Students, on their end, can show their understanding of a subject either by completing the activities sent to them by the teacher, or by answering a quick Poll. Poll is a student response system on the online version of Snowflake that allows students to display their knowledge in a wide variety of ways: by answering open-ended, multiple-choice or yes/no questions, by sending images and even by drawing. Giving students the opportunity to express themselves in so many different ways is not only in accordance with the Universal Design for Learning's guidelines, it also gives teachers the opportunity to bridge the gap between themselves and their students that remote instruction creates and which can otherwise make it difficult for teachers to assess students' understanding on a day-to-day basis.
For more tips on how Snowflake can help you differentiate your instruction in a quick and simple way, watch this webinar:
Sign up for a free trial today to find out how Snowflake can simplify your work and activate your students in a remote teaching scenario.