Skellefteå, Sweden, 12 July 2018 – NUITEQ®, the award-winning pioneer in collaborative touchscreen software solutions, announced today the release of Snowflake MultiTeach® 6.0, the Arctic Fox edition of its collaborative solution for fun and interactive classrooms.
Upgrade to Snowflake MultiTeach 6.0
Here's the list of the new features for Snowflake MultiTeach 6.0 Arctic Fox:
Graphical improvement
Graphical and UX improvements to the main menu
Snowflake MultiTeach 6.0 comes with a new and improved user interface that makes it even more attractive and easy to use for students and teachers. Teachers can quickly access relevant content such as their favorite lessons and they can use the Quick Search, to reduce lesson planning time.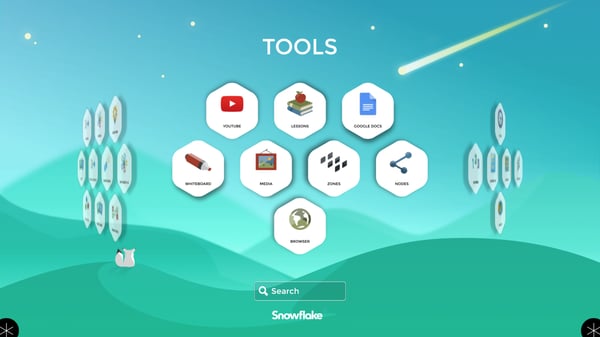 Quick Search enhancement
Added YouTube to Quick Search in the main menu
In previous versions of Snowflake MultiTeach, Quick Search was used to easily access lesson content from the MultiTeach Lessons Community within the software. In addition to that capability, in the 6.0 version, the search results will also give access to educational YouTube video content. Filtering the search results is also available. On the Quick Search results page, users can choose between lessons or YouTube videos. They can even filter their search by date added (newest/oldest), alphabetical order, age group, subject, lesson type, and country.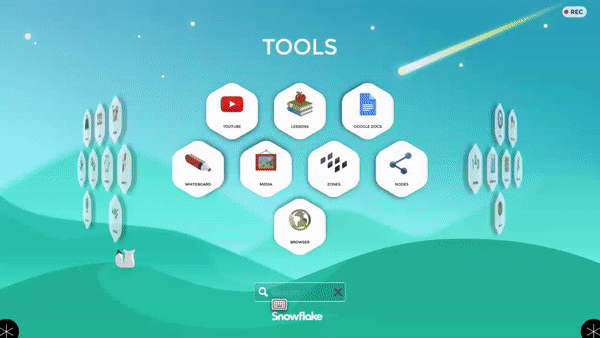 Lessons developments
Play a favorited list of lessons from the main menu
In the Lessons app, teachers can organize their lessons into lists and make those lists favorites. With Snowflake MultiTeach 6.0, favorite lesson lists can be added to the main menu and they can directly be played from the main menu, avoiding unnecessary and time-consuming steps before starting an instruction.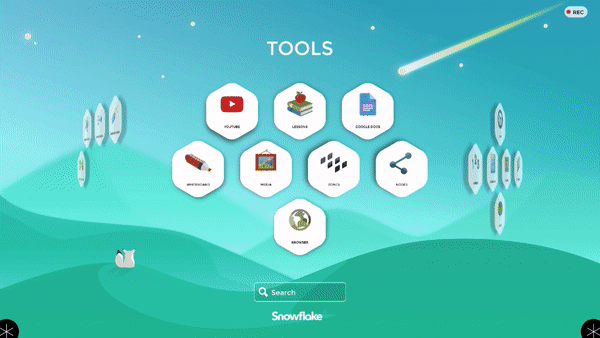 Replaced the Math Bugs app with the Bugs lesson type, so that users can customize the content
Because of popular demand, the Math Bugs app is now a lesson type (named Bugs). Teachers can thus create a Bugs lesson where they can edit the "bugs "content with text, numbers or even images.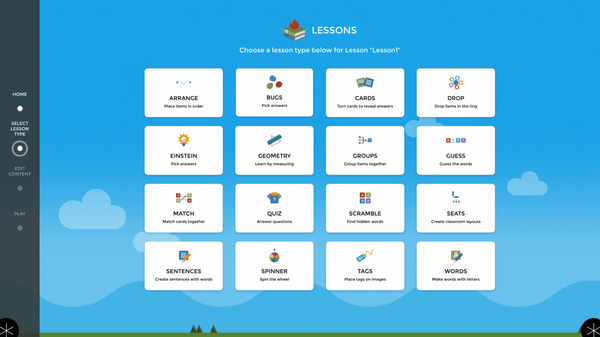 Added the ability to add a description text to a lesson, which can be accessed from the corner menu when playing the lesson
As per teachers' request, there is now the possibility to add a description to each lesson. When creating or editing a lesson, simply tap the Lesson Information tab and add the desired text in the description box.
The description will be available anytime and can be checked while playing the lesson, through the corner menu.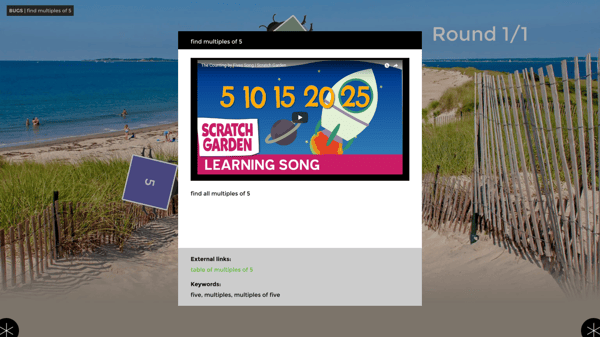 Added the ability to play a YouTube video prior to starting a lesson, for example as an instruction, and the ability to start and stop the YouTube video, at a particular time, in order to only pick the relevant content from the video.
When a user creates or edits a lesson, she or he can add a YouTube video to a lesson via the Lesson Information tab. Add the link to the YouTube video in the YouTube video field and choose Yes or No, to indicate if a video should be shown prior to the lesson starts or not.
Decide if you want to play the entire video or a selection, by entering the start point and end point.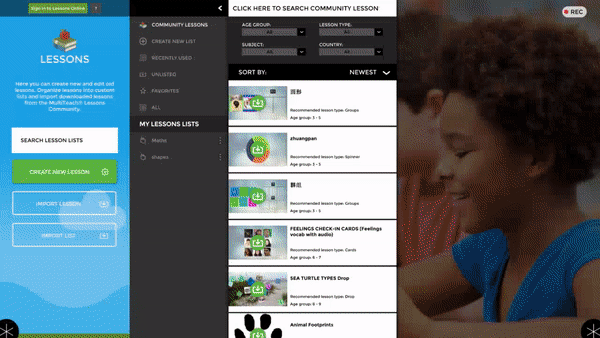 Added keywords to Lessons, so that lessons can be more easily found on the MultiTeach Lessons Community, for example, related to specific state standards
Another feature requested by teachers was the possibility to add keywords. For each lesson, while creating or editing it, you can now add up to 30 keywords, separated by a comma, in the Keywords field that can be found under the Lesson Information tab.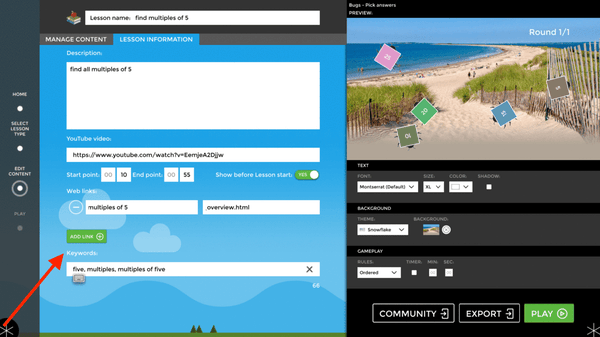 Added the ability to link websites (URLs) to a lesson that can be opened in the browser, which is accessible via the lesson description in the corner menu
Adding resources and useful links is now even easier. Add the links by clicking the "Add link" button, that can be found under the Lesson Information tab. The added links can easily be accessed via the description in the corner menu.
Added a text explaining the benefits of logging into Lessons Online (syncing lessons and lists and uploading lessons)
Added support for multiple rounds in Arrange and Match
Education level switcher
Switch between elementary and secondary education mode in the corner menu, no primary education content will be shown if secondary education is selected and vice versa
A big leap forward in Snowflake MultiTeach 6.0, is that elementary and secondary education are now separate modes. The graphics are different per mode and the content in each mode is more suitable for the respective education level.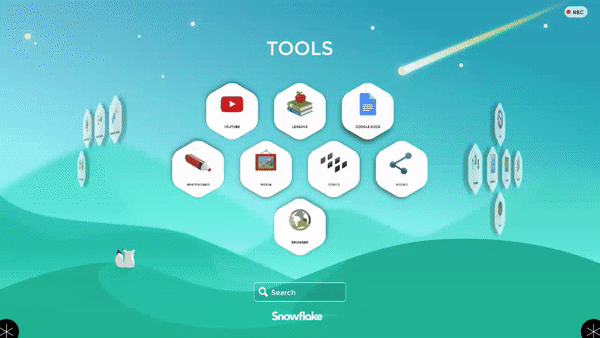 Added new bookmarks for elementary and secondary education to the Browser app
Added new favorite content in the main menu specific to elementary and secondary education, depending on which mode is selected in the corner menu
Misc
Added support for GIFs in any app that uses video, including Media, Nodes, Lessons, and Whiteboard
Added tabbed browsing in the Browser app
The Browser app is now even more user-friendly, as it offers tabbed browsing. Tabbed browsing allows busy teachers to prepare web pages in advance in a more time-efficient manner so that they can get started quickly with their instruction when it is go time.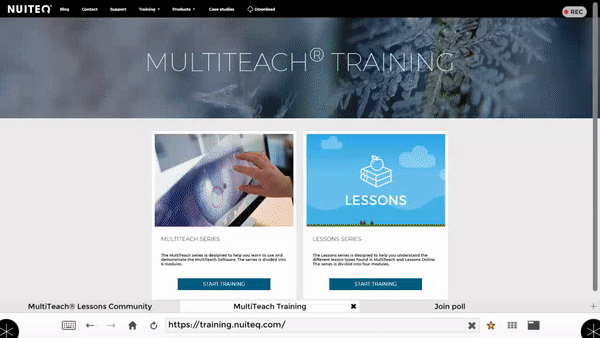 Graphical redesign of the Lessons app and new backgrounds in the main menu and Jigsaw
Individual zones are now rotatable if they are in menu mode
Ability to export a list of lessons as a single file and import from a single file
Updated translations for all 33 languages the software supports (Arabic, American English, British English, Czech, Welsh, Danish, German, Greek, Spanish, Finnish, French, Hebrew, Croatian, Hungarian, Indonesian, Icelandic, Italian, Japanese, Korean, Malaysian, Norwegian, Dutch, Polish, Brazilian Portuguese, Portuguese, Romanian, Russian, Slovak, Swedish, Turkish, Vietnamese, Simplified Chinese and Traditional Chinese)
Updated content in the Jigsaw app
General improvements and fixes
You can check the history of all the Snowflake release notes here.
For more information check out our Support Page.
About NUITEQ
NUITEQ is the pioneer of multitouch software solutions for education, enterprise, and entertainment. NUITEQ maximizes the use of any multitouch touchscreen with fully independent zones that can be used simultaneously. Its educational software empowers expressive learning through memorable digital storytelling. NUITEQ provides a safe environment for providing authentic feedback in collaborative settings. Its award-winning Snowflake software is used in over 70 countries.
For more information, visit www.nuiteq.com.