Lynn Marentette, M.A., Sp.A.K-12 Technology Specialist at NUITEQ®
October is National Bullying Prevention Month, a campaign developed by PACER's National Bullying Prevention Center. The purpose of Bully Prevention Month is to raise awareness of the impact of bullying and promote ways that communities, schools, teachers, students, and parents can work together to prevent it.
So what is bullying?
"Bullying is unwanted, repetitive, and aggressive behavior marked by an imbalance of power. It can take on multiple forms, including physical (e.g.,hitting), verbal (e.g. name calling or making threats), relational (e.g. spreading rumors), and electronic (e.g. texting, social networking)."
- National Association of School Psychologists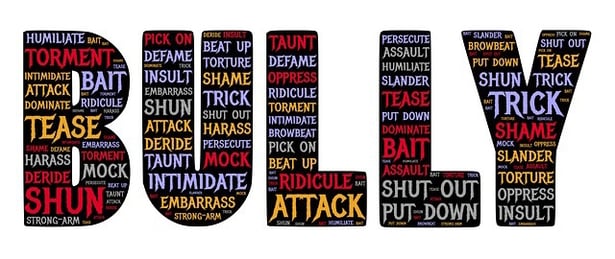 Image Source: Pixabay
Bullying does not take place in a vacuum, and is no longer viewed as a childhood "rite of passage". Bullying has a negative impact on the child exhibiting bullying behavior, on the child being bullied, and those who are bystanders. As you can see from the infographic below, bullying behaviors are a common occurrence in schools: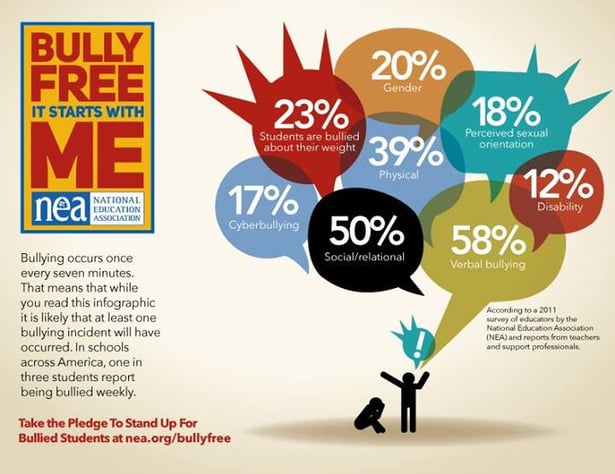 Image Source: NEA Bullyfree
What do we need to know about young people impacted by bullying?
A child who demonstrates bullying behavior is often motivated about having power and control over others, and may feel as if they have little control over other areas of their life. They are likely to be impulsive and disregard parental and school rules. They act without thinking about the impact of their actions on others, or even the consequence of their own actions. Although some children who bully others easily show their anger, others have a flat affect and can hide their behaviors from adults. Bullying for some is like a game.
Children who bully others are often likely to engage in other risky behaviors, such as early alcohol and drug use, fighting, and vandalizing. If they do not learn positive ways of interacting with others, they are more likely to have altercations with authority figures, such as the police, and are also likely to become abusive in their relationships with people who close to them.
Passive victims of bullies tend to be sensitive and cry easily. Many have not developed positive or assertive social skills. They may have a disability or special needs that impacts their ability to communicate well with their peers, so they can't speak up when bullied. Many students do not feel comfortable telling an adult what happened to them as a result of a bullying encounter. Others are afraid to speak up because they don't want to be viewed as a "tattle tale".
If a child who is the target of bullies experiences repeated bullying, they are likely to have increased feeling of sadness, loneliness, and anxiety. Some may complain of health issues and ask to stay home from school. Many experience a decline in academic achievement.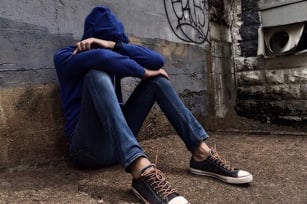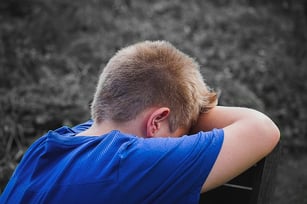 Images Source: L Pixabay R Pixabay
Not all targets of children who bully are passive. Some are quick-tempered and are viewed by other children as pestering or annoying. Other victims of bullying include children who have many strengths and can relate well to adults and many peers.They are sometimes targeted because they have characteristics that set them apart from others, for example, self-expressive attire, or special talents.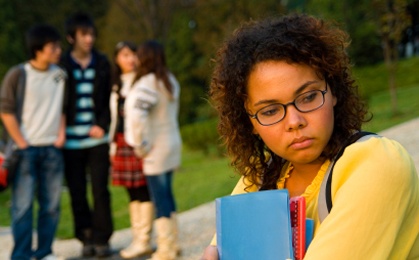 Image Source: Stop Bulling.gov
In recent years, bully prevention research has focused attention to students who do not bully and are not bullying targets. These are young people who experience bullying behaviors as onlookers or bystanders. On the surface, they may not appear to be affected by onlooking, but the related stress of witnessing repeated bullying events can lead to other problems, including missing school, depression, and anxiety.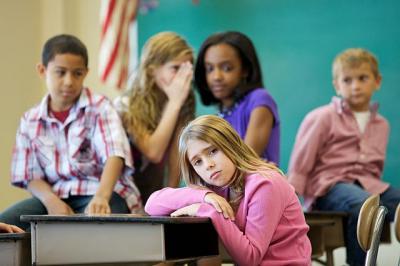 Image Source: Stop Bullying.gov
What about cyberbullying?
In today's digital age, another form of bullying has taken hold. Young people with unsupervised access to the internet may be tempted to use messaging, email, and other forms of social media to tease, harass, belittle, and threaten others. This can happen even when the parents are in proximity. Cyberbullying behaviors can start out as "fun", but can quickly escalate because with a push of a "send" button, the teasing words or embarrassing photos can be spread to thousands of people.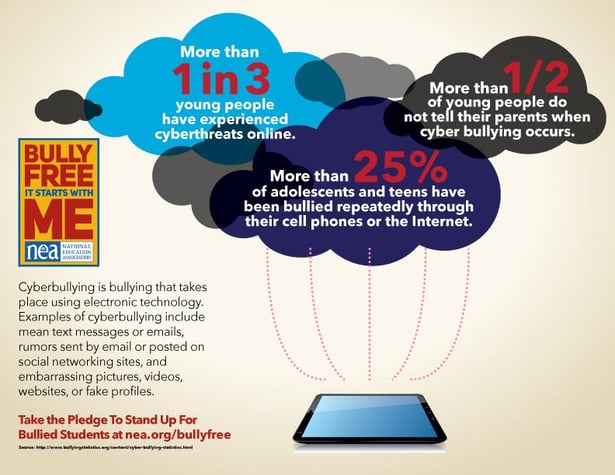 Image Source: NEA
What can we do to prevent bullying?
In the school setting, a research-based, effective social-emotional learning and bullying education program, integrated into the curriculum throughout each school year, is central to a successful bully prevention program. If you are an educator, take a look at your school district's bully prevention program. It is important that the effectiveness of the policies and procedures that are in place are periodically reviewed. Changes known to promote a healthy and positive school climate can then be implemented. On-going professional development for teachers and staff is recommended, so that all adults are able to promote positive social-emotional relationships within the school.
If you are a parent, learn all you can about bully prevention and make a plan to discuss the issue with your family and your family's support network. Ask if your child's school has a social-emotional learning component and if bully prevention is part of the program, and if there are resources for parents.
The following resources are great places to start!
RESOURCES
PACER: National Bullying Prevention Center
PACER: Bullying Statistics
PACER: Kids Against Bullying Videos
National Education Association (NEA) Bully Free: It Starts with Me
2012 Committee for Children: Committee for Children: Second Step
Effects of Bullying
Ways to be an Upstander
Stop Bullying.Gov
Bully Prevention Resources