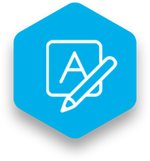 What it does
The Words lesson type provides students with rows of words that can be presented in order or in a mixed up order.
Students manipulate letters and words to explore their structure and how they are spelled.
Students can move letters to or form words, and then split them into syllable groups.
Words and letters can be can be color coded.
The level of difficulty can be increased by selecting to randomize the order of letters in each word.
An icon located at the bottom of the screen can be pressed to highlight specific letter combinations.
Good for
Presentation of letter-word concepts during whole group or small-group instruction
Exploration of letter-word relationships, wordplay
Preview and review of content-related vocabulary and key terms
Supports language learning and word structure, spelling
Exploration of phonetic concepts.
Also supports
Collaborative word-work
Preview and review of phonetic concepts.

Works well with
In Zones:
Presenter
Nodes
Educational video clips
Educational PDFs.
Other lesson types that represent the same or similar educational content/concepts:
Cards
Match
Group
Guess (for content-related vocabulary development and review)
Scramble (for content-related vocabulary development and review)
Conversions
A Words lesson type can be easily converted into the following lesson types:
Find out more
You can learn more about the Words lesson type in the Snowflake MultiTeach user manual. Access the dedicated Words page here.
Alternatively, check out the Words lesson type video.
Ready to use Words to create touchscreen lessons that can be used in your classroom? Download the FREE 14 days Snowflake MultiTeach trial by clicking the button below.