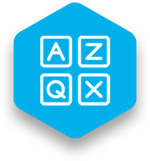 What it does
Scramble is a lesson type that makes it easy for teachers to provide word searches based on curriculum-based vocabulary.
Students are presented with a list of words on the right side of the screen, and a grid of letters that contain hidden words, located in the main screen area. Letters within the targeted words are presented in the grid horizontally, vertically, diagonally, and in reverse order.
Students can find the correct responses by toggling an icon in the upper right hand corner of the screen.
Good for
Quick preview and review of content-related vocabulary words
Vocabulary/spelling fluency.
Also supports
Vocabulary development
Visual identification of word patterns
Academic fluency
Students can work individually or in small groups to create their own Scramble lessons, based on the content they are studying, and then share their lessons with their peers.
Works well with
In Zones:
Presenter
Nodes
Educational video clips
Educational PDFs.
Other lesson types that represent the same or similar educational content/concepts:
Cards
Match
Guess (for content-related vocabulary development and review)
Scramble (for content-related vocabulary development and review).
Conversions
A Scramble lesson type can be easily converted into the following lesson types:
Find out more
You can learn more about the Scramble lesson type in the Snowflake MultiTeach user manual. Access the dedicated Scramble page here.
Alternatively, check out the Scramble lesson type video.
Ready to use Scramble to create touchscreen lessons that can be used in your classroom? Download the FREE 14 days Snowflake MultiTeach trial by clicking the button below.