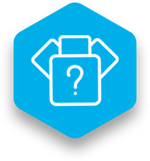 What it does
The Quiz lesson type provides a simple way for teachers (and students) to create quizzes that are in True-False and Multiple Choice format.
Students respond to quiz items by selecting the correct response. Items are represented in True/False or multiple-choice format.
Pictures can be imported into the Quiz app for the larger screen background as well as the cards.
Good for
Customized probes to check for understanding
Teacher can use other SFMT apps in Zones with multimedia content, such as educational videos, and have the students answer quiz questions as they watch the videos.
Also supports
Supports paired and group cooperative and collaborative learning
Students can create work in pairs or small groups to create their own quizzes, as part of a project-based/problem-based learning assignment.
Works well with
In Zones:
Presenter
Nodes
Educational video clips
Educational PDFs.
Other lesson types that represent the same or similar educational content/concepts:
Cards
Match
Guess (for content-related vocabulary development and review)
Scramble (for content-related vocabulary development and review).
Conversions
A Quiz lesson type can be easily converted into the following lesson types:
Find out more
You can learn more about the Quiz lesson type in the Snowflake MultiTeach user manual. Access the dedicated Quiz page here.
Alternatively, check out the Quiz lesson type video.
Ready to use Quiz to create touchscreen lessons that can be used in your classroom? Download the FREE 14 days Snowflake MultiTeach trial by clicking the button below.