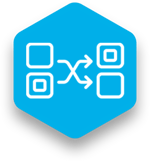 What it does
The Match lesson type provides a way for students to demonstrate understanding of basic concepts.
Students drag content related photos and/or word cards from a row in the middle of the screen to a corresponding place-holder in a row near the bottom of the screen.
Good for
Previewing and reviewing subject matter content, facts
Classification, categorization
Subject-matter vocabulary development.
Representing detailed visual topic-related content
Supports self-correction
Quick check for understanding; supports self-correction.
Also supports
Associative learning, recall, visual thinking
On a large display, Match allows for student movement; good for students who require kinesthetic learning opportunities
Teachers can align questions/tasks and content to specific curriculum standards and objectives
Match items can be arranged to support teaching of various sequences, life cycles, etc.
The Match lesson type can be used by students to create basic lessons to share with their classmates or use during presentations.
Works well with
In Zones:
Presenter
Nodes
Educational video clips
Educational PDFs.
Other lesson types that represent the same or similar educational content/concepts:
Cards
Match
Guess (for content-related vocabulary development and review)
Scramble (for content-related vocabulary development and review).
Conversions
A Match lesson type can be easily converted into the following lesson types:
Cards
Spinner
Drop (change the title of the round from "Default" to match the topic of the lesson)
Arrange (with modification to order items in the timeline)
When photos are labeled with text:
Guess
Words
Sentences
Scramble
Find out more
You can learn more about the Match lesson type in the Snowflake MultiTeach user manual. Access the dedicated Match page here.
Alternatively, check out the Match lesson type video.
Ready to use Match to create touchscreen lessons that can be used in your classroom? Download the FREE 14 days Snowflake MultiTeach trial by clicking the button below.