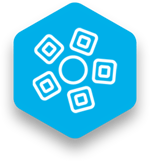 What it does
Drop is a lesson type that supports individual, paired, or small group interaction.
Students drag content-related photos and/or word cards scattered about the screen to the corresponding spot on a rotating circle.
After one round is completed, students advance to the next round.
Good for
Explore, preview, and review a wide range of concepts
Matching, classification, categorization
Academic fluency
Sequencing events in a story, life cycle phases, when set to "ordered".
Ideal for 2 or more students, whole-class presentation
Self-correction.
Also supports
Associative learning, recall, visual thinking
On a large display, Drop allows for student movement, good for students who require kinesthetic learning opportunities
Teachers can align questions/tasks and content to specific curriculum standards and objectives
Good for front-of-class presentation involving students
Good for pairs and small group instruction.
Works well with
In Zones:
Presenter
Nodes
Educational video clips
Educational PDFs.
Other lesson types that represent the same or similar educational content/concepts:
Cards
Match
Guess (for content-related vocabulary development and review)
Scramble (for content-related vocabulary development and review).
Conversions
A Drop lesson type can be easily converted into the following lesson types:
Match: converts without modification if text is entered in the right column in the Manage Content section. If a Drop lesson is set up with the target photos in the ring, with no text, text must be entered in the right column in the Match conversion.
Words
Sentences
Guess
Spinner
Scramble
Find out more
You can learn more about the Drop lesson type in the Snowflake MultiTeach user manual. Access the dedicated Drop page here.
Alternatively, check out the Drop lesson type video.
Ready to use Drop to create touchscreen lessons that can be used in your classroom? Download the FREE 14 days Snowflake MultiTeach trial by clicking the button below.