What makes people say "This meeting should have been an email!" even after meeting organizers work hard for days preparing slides? Businesses of all sizes are adapting to new environments of hybrid work, yet the process of meetings remains resistant to change. Non-interactive presentations are leaving attendees wishing it had been recorded.
The original definition of the word "meet" shows how it was intended to be a process of co-discovery. The word 'meet' itself comes from the Germanic 'mētan' which meant to 'come upon'. The Roman Forum of the 1st Century BCE was the center of daily life in Rome; it was a celebrated meeting place for new ideas, commerce, and philosophy.
Today, live events are still the norm for people's personal and professional lives. Here are 5 interactive frameworks that help you avoid "this meeting should have been an email" without taking more preparation time.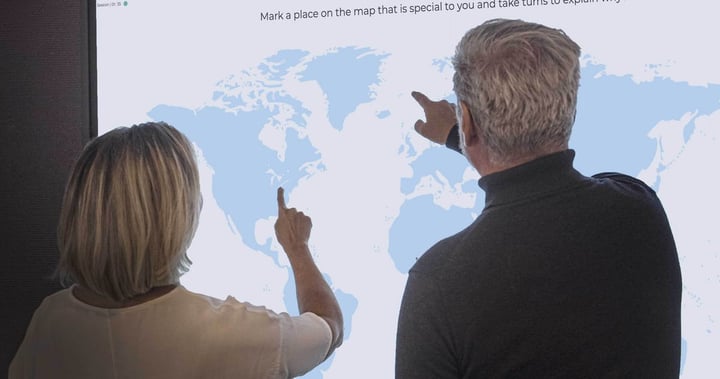 1. World Map
The World map template is an interactive ice-breaking activity to start meetings with energy. It also helps to stimulate intuition, emotions, creativity, and holistic thinking. Asking easy questions helps participants feel comfortable sharing in the group.

Questions that can be asked include
Where in the world are you located?
Introduce yourself by name, role, and company.
Which place of the world has impressed you the most?
Introduce yourself to the group.
Examples of other ice-breaking questions can be
A place or event in the world that has had a significant impact on your life.
Favorite country/city in your country/the world.
Dream vacation or destination you want to visit.
Place(s) in the world you want to live in after retirement.
Each person gives details about their life, and the results are marked on a map. In NUITEQ Stage the exercise can be adapted to explore topics that fit with the theme of your meeting.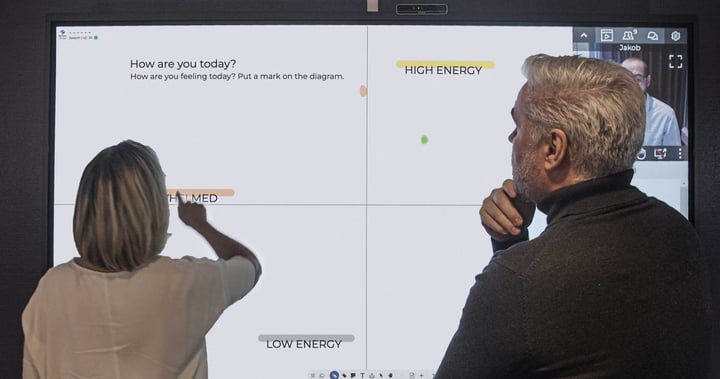 2. Feeling Today
Co-creation requires that everyone in the team is vulnerable to the feedback of their peers. This is why it is good to create a foundation of safety at the start of your meeting.
The Feeling today template is a check-in exercise focused on participants' feelings coming into the meeting. After introducing the purpose of the meeting, a feeling today template can ask participants to draw a mark of where they would position themselves against two questions. One axis could show their motivation level, while another could show the amount of impact they feel they have.
The Feeling today template can be used with other questions and can be asked at different times. For example, the Feeling Today template in NUITEQ Stage can be adjusted to different times. This opens up the possibility of adapting the exercise to activities at the beginning, middle, or end of a meeting.
NUITEQ Stage is a very powerful platform for communication and collaboration, yet very simple to use. No installation needed, no learning curve, and it fits all types of meetings or distance learning. In short, NUITEQ Stage is brilliant!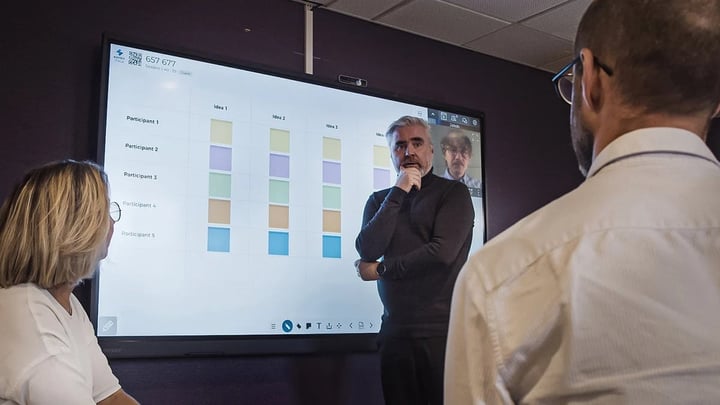 3. Brain Writing
Like brainstorming, brainwriting is a great way to develop and share new ideas, encourage creativity, and develop innovative ideas. Everyone can simultaneously write down their thoughts and inspire each other.

Brainwriting works well in small groups, remote meetings, or in-person meetings. If you know in advance that some tend to take over the meeting discussions, this structured exercise provides a structure for everyone to participate. It is suited for online meetings, for example, at the beginning of an innovation process or when you plan to facilitate a physical meeting to develop the best ideas for a problem.

In traditional brainstorming practices, the ideas that come from the loudest and most charismatic people often get written down. Brainwriting is an exercise that helps introverts be heard. It allows the whole group to find inspiration from even the quietest team members.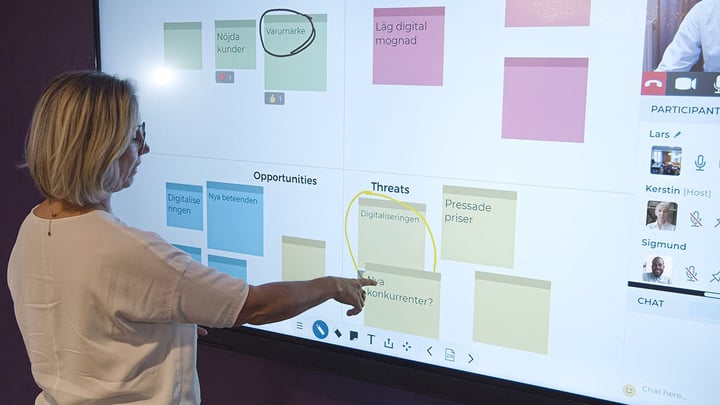 4. SWOT
SWOT is an abbreviation that stands for strengths, weaknesses, opportunities, and threats. SWOT analysis is a powerful management, product, and marketing tool to identify unique sales propositions, and to see how a product or solution fits within the competitive landscape.

Let's say you've been asked to lead a discussion to explore new business development opportunities for a new software as a service (SAAS) product. By quickly writing down SWOT you can build a strategy around areas where the company is most likely to succeed against the competition.
SWOT analysis is widely recognized in workshops and digital meetings. It is popular among management, business, and marketing professionals. SWOT is holistic yet simple to use.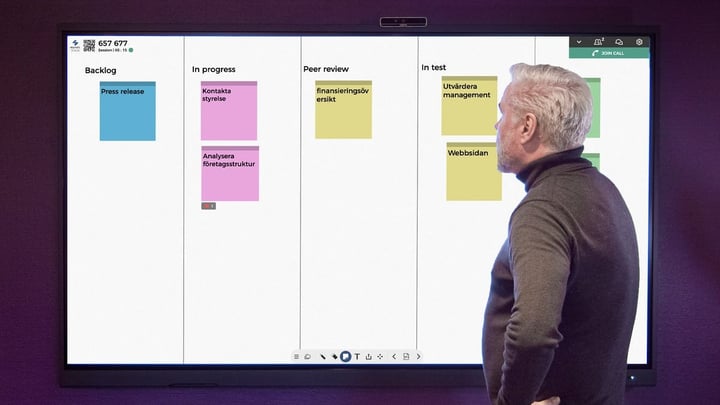 5. Kanban
Kanban was originally a scheduling system for lean and just-in-time production. Today, it is widely used to support the Agile methodology, primarily in software development and the digital industry. However, it is also used as support in product and project management. In product management, Kanban functions as a series of visual workflows. This visualization helps product managers and consultants make decisions. Kanban supports prioritizing work in organizations so that what matters most is developed first.

The Kanban method follows a set of lean principles and practices for managing and improving workflows. Project leaders and team leaders use Kanban to create an overview of all work and as a powerful way to show cross-functional partners and other stakeholders how the project is progressing.

It is an intuitive and visual collaboration tool that clarifies the current state of a project. In addition, it helps improve the team's and organization's processes and can easily be used in several different projects and departments. In NUITEQ Stage, the Kanban template allows each task to be written on a sticky note with a different colour background for each project.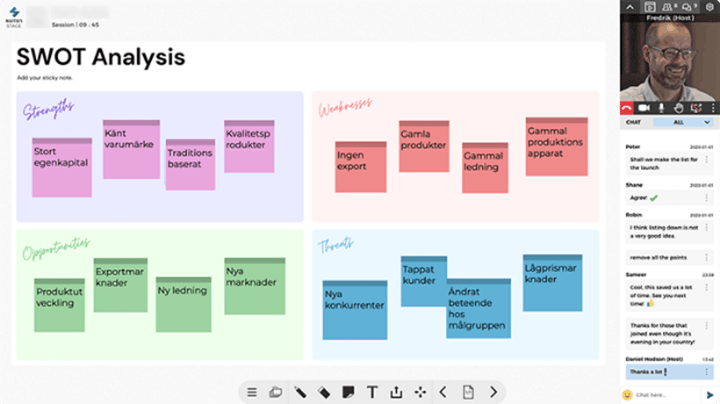 6. Bonus: Create your own template
If you want to create your own templates in NUITEQ Stage or if you would like us to make a template for you, do not hesitate to contact us, so that we can scope out your idea together.
NUITEQ Stage is a fabulous product! We use it and our customers love its simplicity; it has no fuss and you can connect immediately. Well done to you all at NUITEQ for producing such a great product.
These are just some of the best practices built into our innovative digital workshop solution NUITEQ Stage. Learn more about NUITEQ Stage below.
Contact us, if you're interested in NUITEQ Stage for your organization.