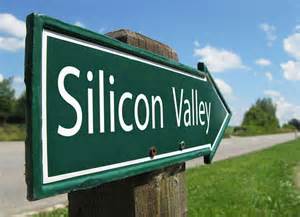 Its already been three weeks since I arrived here in Silicon Valley. Time is flying by, as it is an amazing experience to be part of the Tech Incubator (TINC) program.
We're learning something new every day and every day is exciting.
I have about a week left here in Palo Alto, before heading back to good ol' Sweden. Despite the fact that it is great out here, I'm also looking forward to meet my colleagues face to face again and put the things we learned into practice.
In this blog post I'm recapping last week and a good week it was :)
You can find my 4 previous Silicon Valley related blog posts here:
http://nuiteq.com/2015/05/some-insights-into-living-in-palo-alto-silicon-valley/
http://nuiteq.com/2015/04/nuiteq-participates-in-tech-incubator-program-in-silicon-valley/
http://nuiteq.com/2015/04/nuiteq-learning-about-sales-strategy-marketing-and-other-topics-from-world-class-mentors-in-silicon-valley/
http://nuiteq.com/2015/05/the-life-of-an-entrepreneur-in-silicon-valley/
San Francisco
On Monday, we headed back to San Francisco again for our second 2 hour workshop, with our inspirational mentor Julie Hanna.
We talked about all the good stuff, where we left off the last time, such as:
- paranoia vs open sharing
- scaling your market (niche vs initial market)
- ideas are a commodity in the valley
- mediocre products with great distribution/business models
- b2b
- competition
- advisors
- team dynamics
After the workshop we headed back to Palo Alto for a founders dinner.
At the founders dinner, Espen Sivertsen, CEO at Type A Machines talked about his interesting journey as a company in the red hot 3d printing space.
Facebook
On Tuesday I requested an Uber to go to the address 1 Facebook way. (One day our office will be located on a street, that will be renamed to Snowflake road ;) )
I was on my way to visit a friend, that is working at the newly built Facebook office.
Outside at the entrance of the main building, there were loads of bikes that people can just grab, to bike from one building to another. Thinking about it, giving employees these free bikes, to bike on between the buildings, probably saves the company a lot of money that is normally wasted on people walking, plus it is more fun :)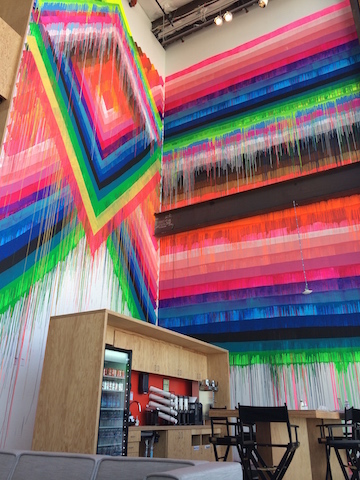 After checking in with a touchscreen (yeah baby ;) ), I picked up my visitor badge and was received with a friendly "Hi, welcome to Facebook, you can chill in our lounge. We have notified your host that you have arrived."
I love the paint job they had done in the lobby.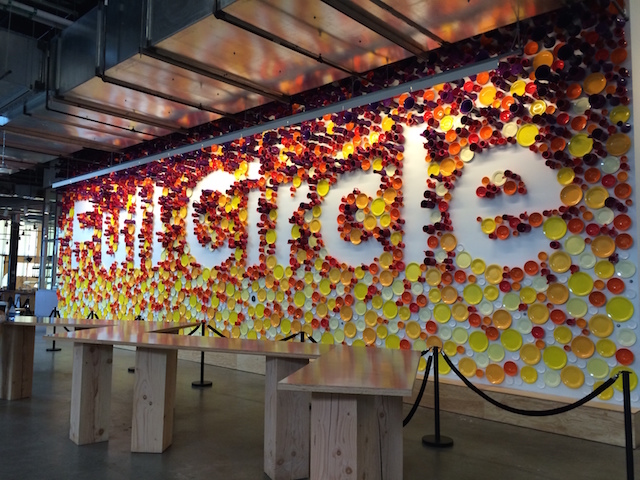 After a free lunch, thanks Facebook ;), I got a tour through the building.
It is quite the interesting place. It is supposedly the worlds largest open work space.
One of the things that I like about the office space is, that Mark Zuckerbergs glass wall office space is in the middle of the building, which makes him easily accessible.
They also have some cool artwork throughout the building and you see number balloons above people's desks, indicating how long they have been working at Facebook.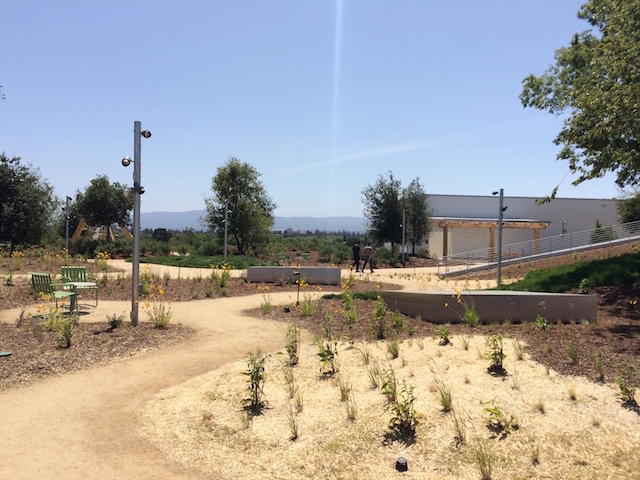 On the roof of the building there's a park where people can relax and take a walk, whiel enjoying a great view.
After grabbing a free snack and drink, I headed back to the Nordic Innovation house for a workshop with our awesome mentor and demo coach Nathan Gold.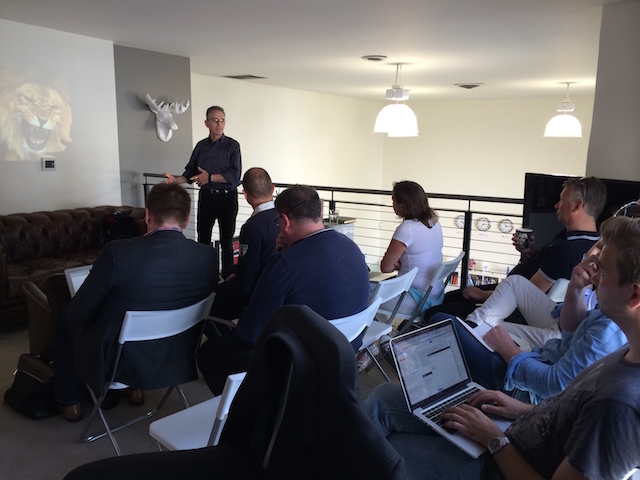 Nathan is helping us to prepare for our investor pitch next week.
Mentor meetings
On Wednesday I had meetings with Scott and Victor, two of my mentors.
These sessions were very insightful and were a validation that we are on the right track and are thinking in the right way.
In the evening our friend Ebba, who is also an entrepreneur on the TINC program, invited us over to her house for some wine, beer and snacks. Plus points for Ebba :). It was great to hang out with the entire crew and do some socializing.
Sales workshop
On Thursday, I had an interesting 1-1 workshop with Scott, another mentor.
About half way into our session, we got interrupted by Åse from Innovation Norway, because it was time for champagne and photos. The TINC program had just won the award for Best Norwegian Accelerator program at the Nordic Startup Awards. W000h000 ;P TINC rightfully deserves this recognition, as it is really an amazing program with great workshops, mentors, content, travels and events. On top of that, they really take good care of us at the Nordic Innovation House.

In the afternoon I had another mentor meeting with Rashmi to discuss..., well that is confidential ;)
Accelerator day
Friday was Accelerator day. Two accelerators visited the Nordic Innovation House to talk about how they help startups.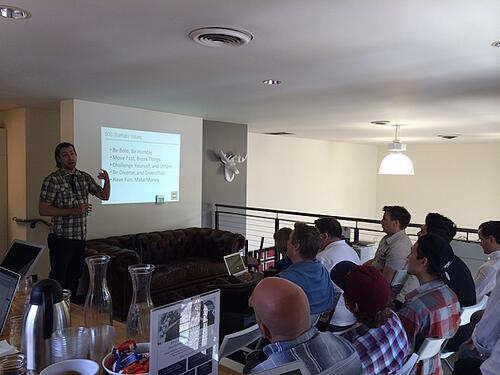 First up was 500 startups, a renowned and well respected accelerator. Sean Percival gave insight into what is it like, working with 500. One of the more interesting aspects of this presentation was, that they will actually soon open a hub in Oslo, Norway. So there were a lot of happy faces in the room.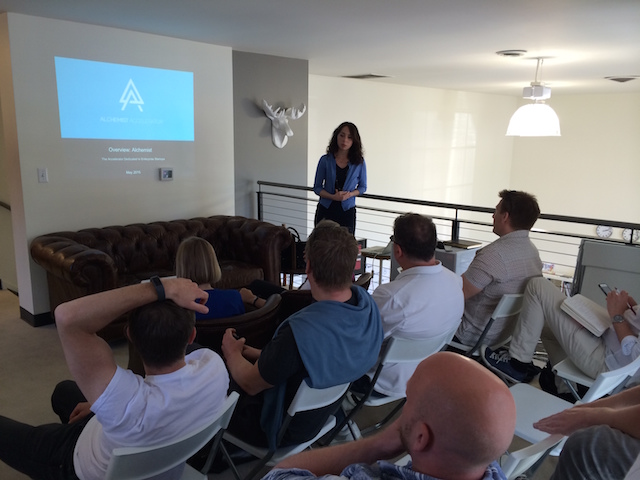 Next up was award-winning accelerator the Alchemist (on a side note, what a cool name ;) ). Danielle D'Agostaro, a partner in Alchemist, talked about the benefits of working with them.
All in all, it has been a very interesting week with a workshop trip to San Francisco with Julie Hanna, mentor meetings in Palo Alto, a trip to Facebook, inspiration, celebration, learning and laughing. Just another day at the office in Silicon Valley :)
Next week will be our last week and it will be full of excitement as well :)
Stay tuned...
Harry
PS: If you have any questions, drop 'em below in the comments section :)