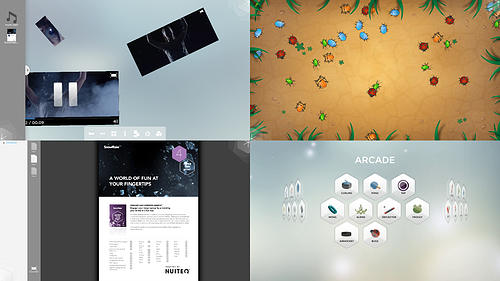 In the world of interactive touch screens, does size matter?

Go Big or Go Home! Seems to be the war cry in 2015. Just make sure you have the software to back you up.
Over the past two years, anyone in Audio Visual (AV) will have noticed the increasing selection of interactive touch screens now on the market. Anyone who is anyone, has touch technology as part of their offering. The increase in touch technology from Infocomm Florida, two years ago and this years show in June, will be extraordinary.
Companies are looking to distinguish their touch screens from each other in what is becoming a classic "bake off". They all look and feel pretty tasty and telling them apart without really biting into them is getting very tricky.
One aspect that has become the focus of many brands is, the size offering, 55, 65, 75 now 84".
"to infinity and beyond" will no doubt be the marketing tag applied by someone soon.
More than once at this years ISE show, I had the pleasure of hearing all about the manufacturers latest and LARGEST touch screens. "ideal for collaboration" they all tell me, with real and believable enthusiasm. With most of the screens offering similar spec, the number of touch points and touch speeds (speeds beyond which the human eye can actually discern it has to be said), it struck me that when I stepped back to watch how people interact with an 84" Interactive canvas, it was astounding to see that often a line of people will form. The first individual to launch an application will "control the entire canvas" with others in line eagerly awaiting their turn to get at the helm. Most of us would not dare to interact on a screen that is being occupied by another user but this is EXACTLY what should be possible on these "walls of wonder". One by one people eventually moved away, tight on time, without ever getting to experience the screen.
I mentioned this to one of the sales people on the stand, who was quick to point out that this was a limitation of the software they were using and I have to fully agree. Any large format display has to surely offer users the ability to split the screen into multiple surfaces? The users need to be able to open different tools/applications simultaneously in order to even consider true collaboration.
In a real life corporate scenario, it must be valuable to be in a position to allocate the giant 84" screen into work areas allowing for example one user pull up a web browser, another to allocate part of the screen as a whiteboard and a potentially another window to go through PDF or media content in order to really maximize the "collaborative aspect" of the overall canvas. In this way fully utilizing the screens 6, 10 or 20 points of touch and "blistering fast" response time.
Now I am of course biased and there is a point to my tale. At NUITEQ, we see the size trend and it makes perfect sense to us that larger touch screens are becoming prevalent in corporate and education environments. Our Multitouch software "Snowflake" allows users to split the screen using a tool called "Zones", launch multiple applications and in doing so highlight the very reason for the size focus we are witnessing in the industry, that is to say multi-user collaboration.
The sales person mentioned above, will not be making that mistake at this years Infocomm as "Snowflake" will be used at the show to reinforce their message of collaboration. Don't mention it, our pleasure :-)
Going a step further, many of the screens can now be set in table-top format, just make sure you get to stand on the "correct" side of the table as if the wrong software is being deployed there is little fun to be had craning your neck trying to read something "upside down".
The video below is a short demo of our Zones feature (in this case demonstrated on our education suite "MultiTeach". It is a standard feature throughout our "Snowflake" suites.
To learn more about NUITEQ and our award winning "Snowflake Suite", feel free to get in contact with us here.
- Brian Collins
NUITEQ Business Development Manager