Åre/Östersund/Skellefteå, Sweden – March 26, 2015 – NUITEQ® the award-winning multitouch software developer, announced today, that it has raised a 7,8 MSEK (920 000 USD) seed round of financing, led by Swedish venture capital firm Inlandsinnovation.
In addition to Inlandsinnovation, business angels from Sweden and Holland participated in the venture financing round.
The investment will be utilised to accelerate NUITEQ's growth worldwide, support its global partner network, as well as further develop its software innovations.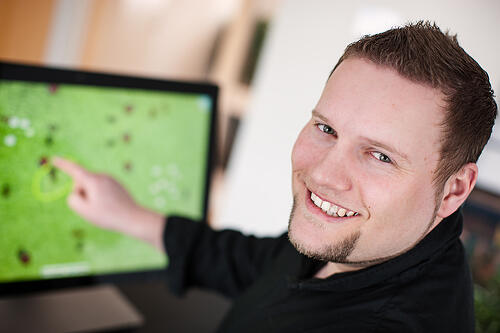 Image: NUITEQ's CEO and co-founder Harry van der Veen
"We are very excited about this investment, as it validates the potential of our company and products." said Harry van der Veen, CEO at NUITEQ. "Our software solutions for interactive touchscreens are making a significant impact within classrooms and corporate meeting rooms. Leveraging our interactive technology, our customers are improving the way they communicate and learn. This investment will assist us to further drive growth in these areas."
Andrej Kledzik, Investment Manager at Inlandsinnovation comments: "The interest in interactive technologies is big in education, retail and "infotainment". NUITEQ is a leading edge company, that we believe has great growth potential both nationally as well as internationally."
"NUITEQ has a solid and loyal partner network around the globe. Our goal has always been to grow the business of our partners alongside our own, which is key to any long term relationship.", said Dennis Mohi, NUITEQ's Global Business Development Manager. "With this additional funding, we are able to invest even more into strengthening existing relationships and develop new business partnerships."
NUITEQ's customers and partners include Lenovo, 3M, NEC, Sahara Presentation Systems, Ericsson, Accenture and General Electric.
The company's software product Snowflake Suite, which comes in three editions, namely Business, Entertainment and Education (MultiTeach), is used in over 70 countries around the world.
About NUITEQ®
NUITEQ® is an award-winning developer of multitouch software solutions for interactive touch displays in classrooms and corporate meeting rooms. Its multi-user collaborative software product Snowflake Suite, is globally known for its high level of performance and stability. NUITEQ's customers include OEMs, Fortune 100 companies, system integrators and VARs. Its vision is to improve the way people interact with information and each other, by creating rich engaging user interfaces for multitouch displays.
Contact
Andrej Kledzik, Investment Manager Inlandsinnovation 073-363 86 26
Harry van der Veen, CEO NUITEQ® 070-286 59 75