As mentioned in the blog post here, NUITEQ was selected as one of only 11 promising Swedish tech companies, to participate in the Born Global program, an international development program for Swedish technology based companies.
As part of this program, there was a trip to Silicon Valley on the menu, for us to learn from and get inspired by successful entrepreneurs, mentors and investors.
On Friday the 9th of January, NUITEQ's Global Business Development Manager Dennis Mohi and myself hopped onto a plane from our city Skellefteå, up in the North of Sweden, to travel to San Francisco with pit stops in Stockholm and London.
The weather gods (or should I say good fortune gods?) however had other plans for us, as heavy winds delayed our flight to London, resulting in us missing our connection to San Francisco. Honestly it felt like a blessing in disguise, as by the time we had arrived in London, we had already been traveling/in transit for half a day. We felt that having a pint in a pub in London with a feed at KFC was outweighing sitting on a plane for 11 hours to San Francisco at that point.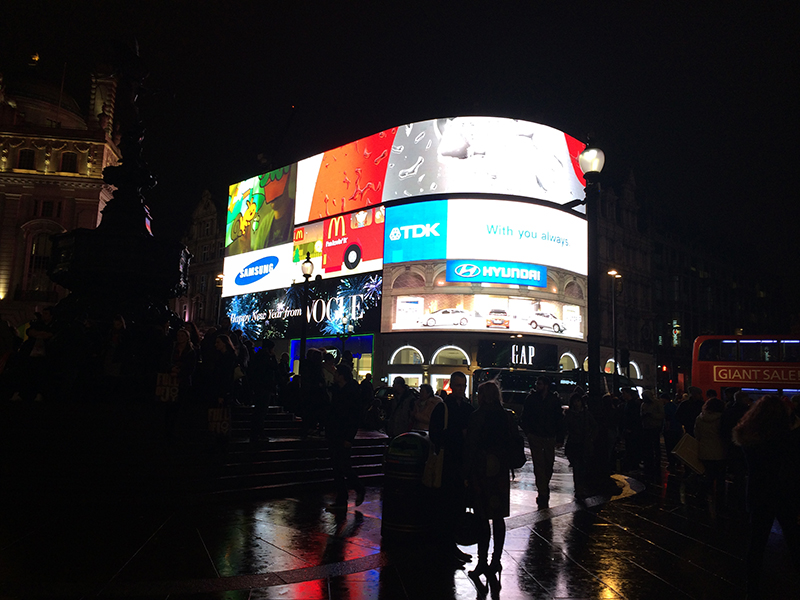 We also dropped by the always vibrant Piccadilly Circus in London. It is amazing to see such large displays with such crisp image.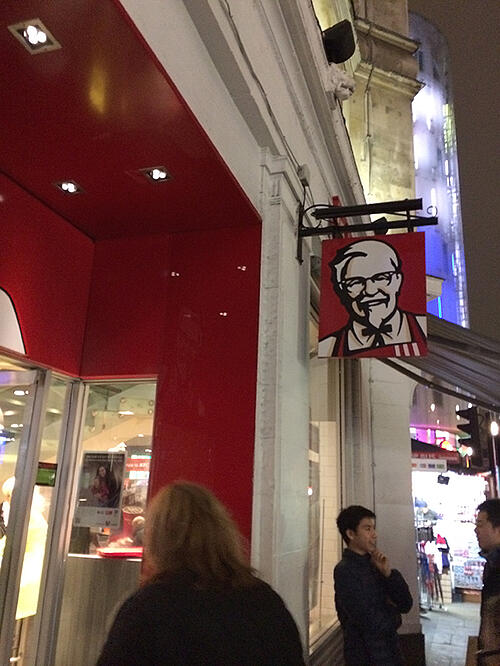 Our favourite Colonel, Colonel Sanders. We of course had to drop in here for a bucket of our favorite animal on two legs ;)
The next day on Saturday, after a good night sleep, we were on our way again to San Fran, via LA.
Then the fortune gods ensured that Dennis his luggage was lost, so instead of heading down to Palo Alto that same day of arrival, we had the pleasure to stay one night in San Francisco to enjoy some fine Irish beverages and have a great all American feed.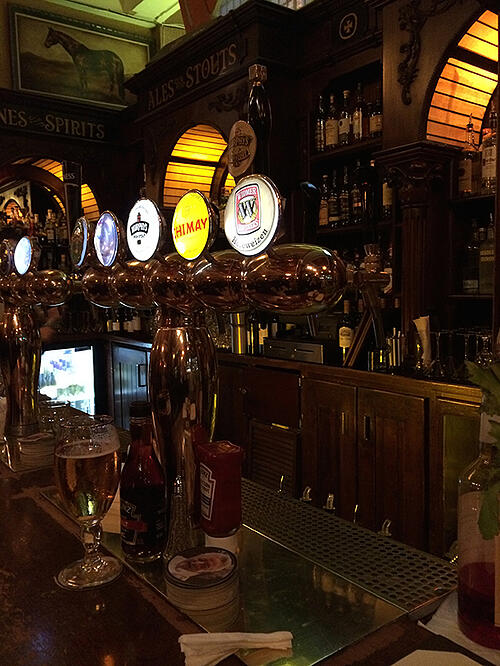 Fowleys in San Francisco, a fun Irish bar, where we ended up going to several times during our 1,5 week stay in the Valley, because we heard many great startup ideas started on the back of a napkin in a bar ;)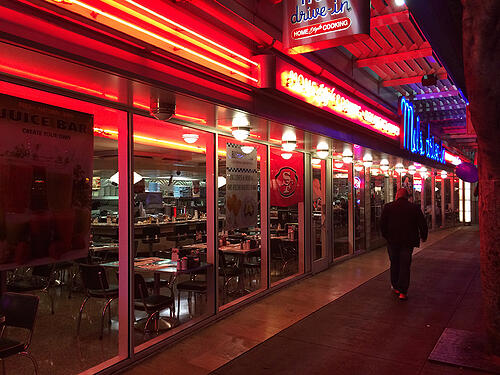 Dennis on a recon mission for a great American diner. Mission accomplished :) Mel's diner, became our to go to for several breakfasts, lunches and dinners :)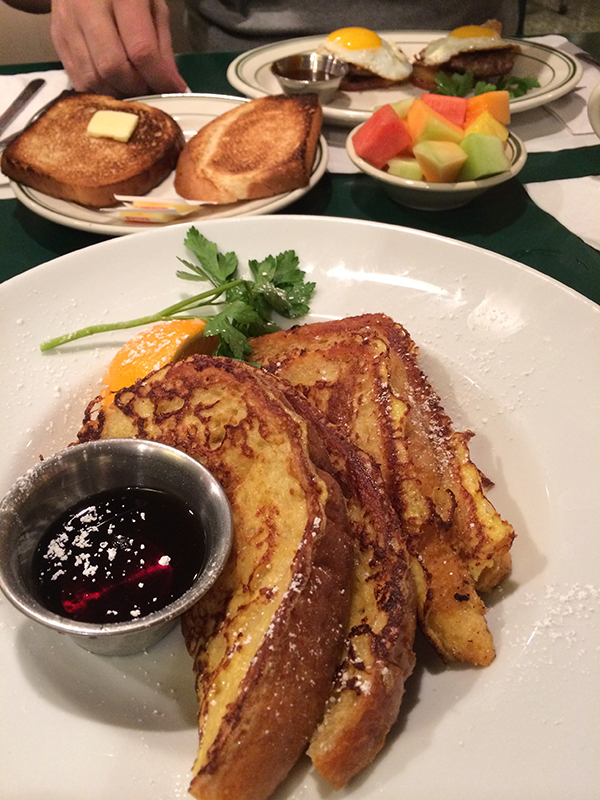 Surprisingly I barely gained any weight during this US trip.
Monday
Stanford University
Monday morning we all met at Stanford University, (or should I write STANFORD?) which would be our base for the next 2 days. Wow was Stanford impressive. It is somewhat different than Campus Skellefeå ;). The architecture is breath taking. It is simply incredible. The people are great, the atmosphere is vibrant, the food is amazing. This place smells like opportunity/possibilities.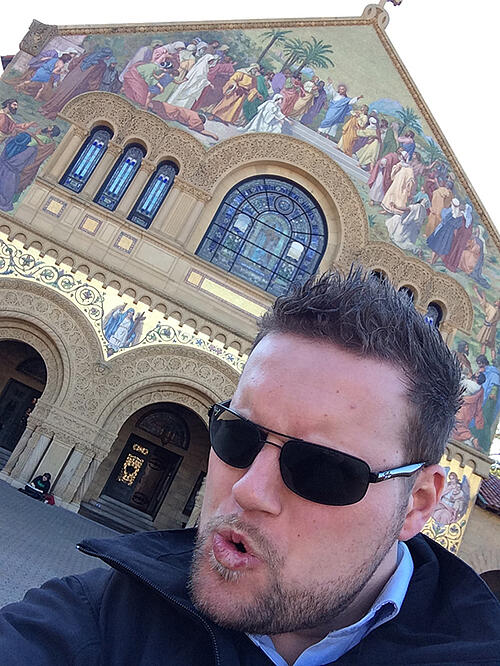 Wow, I personally think it is stunning to find such a building on a campus.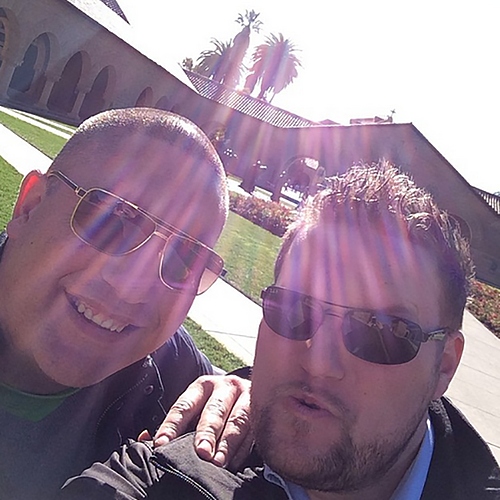 At least Dennis and I can say that we "studied at Stanford", no need to mention that it was only for 2 days ;) Our parents would be so proud :)
In the morning we got briefed about what was on the menu for the week. After the companies and the business coaches introduced themselves, we did some internal lean startup related work.
Tesla
On Monday afternoon, we visited the Tesla factory in Fremont. After an interesting presentation about the company and its main products, their electric cars, we had a guided tour through the factory. It was amazing to see all the robots and the automation taking place. Tesla is one of the hottest companies currently in the Valley.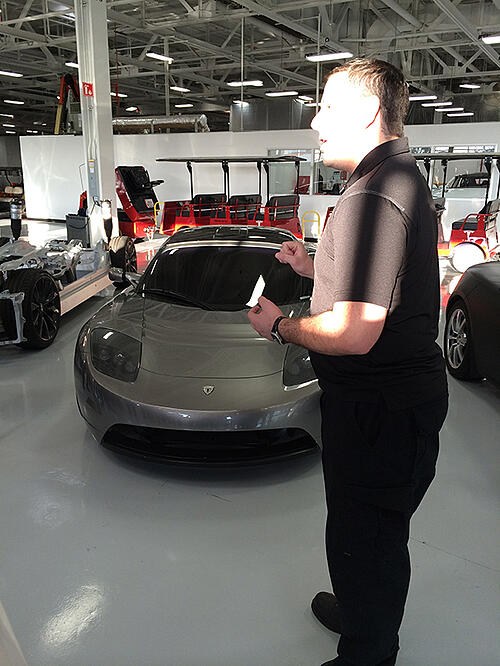 The Tesla from the movie Iron man.
Tuesday
On Tuesday morning, we headed back to Stanford to attend a workshop on Customer Development in Action, by Cindy Alvarez from Yammer/Microsoft.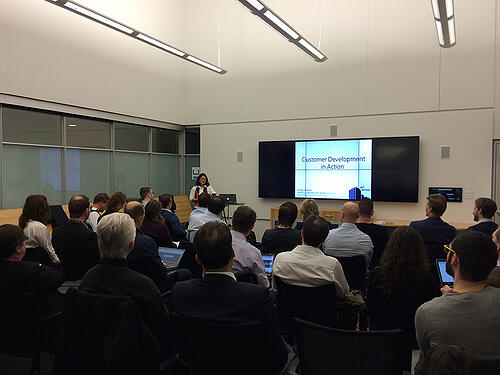 Cindy Alvarez in action. Boy did we learn a lot. Very inspiring.
In the afternoon, we visited investor Andreessen Horowitz on the in the investor & entrepreneurial world famous Sand Hill Road in Menlo Park. They have invested in a couple of companies you might know ;) such as Groupon, Skype, Instagram, Zynga, Oculus, Airbnb, Jawbone, Foursquare, Twitter, Facebook. So yeah, they are a decently successful firm ;) The interesting part for me was to hear their strategy on how they try to make the companies they invest in, successful.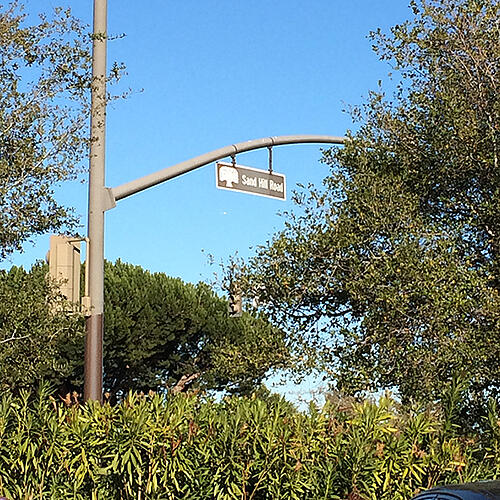 Sand Hill Road baby. This is where the big boy investors play :) The nature here is also amazing.
After the Andreessen Horowitz visit, all companies were tasked to finalize their business pitch, as in the evening, we would all pitch our business at an event called Venture Lab - "The Shark Tank". This event was held by the Swedish American Chamber of Commerce San Francisco / Silicon Valley (SACC-SF/SV). The tank featured 11 promising Swedish start-ups pitching their ideas to a panel of prominent Bay Area entrepreneurs & venture capitalists (VCs). NUITEQ won the pitch for Best Business Model and our friends from the Codemill in Umeå won Best Pitch.
Wednesday
Wednesday we travelled up to San Francisco (yeah baby :) ) to visit highly successful internet tech company Airbnb. It was very insightful to learn about their journey and in specific about their sales funnel.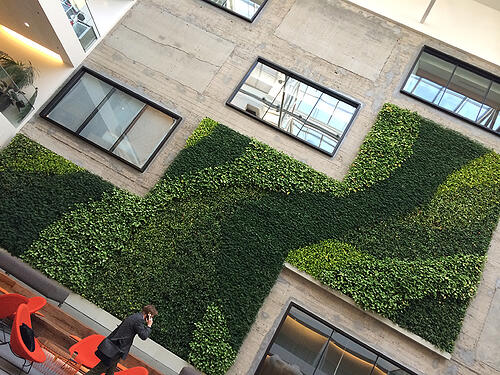 An amazing real plants wall inside the building where Airbnb is located. Beautiful. Pinterest is located in the very same building.
After the Airbnb visit, we had a couple of hours of spare time till our next session, so Dennis and I went to Chinatown for some award-winning fried chicken.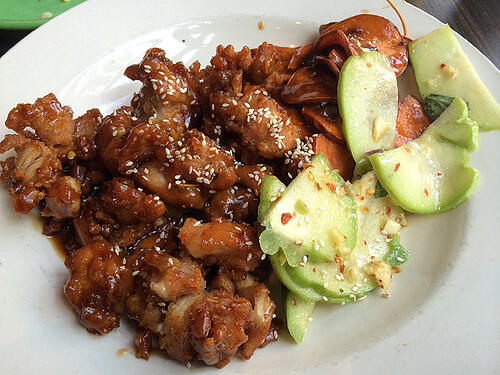 Award-winning fried chicken in China town in San Fran.
The workshop in the afternoon was held by Tristan Kromer at Geekdom San Francisco. Geekdom is a co-working space sponsored by Rackspace, that gives companies easy access to industry partners, mentors, investors and events. Tristan is a lean startup coach. The workshop was in my opinion the best one. It was educational, fun and very engaging and Tristan is a very pleasant speaker to listen to.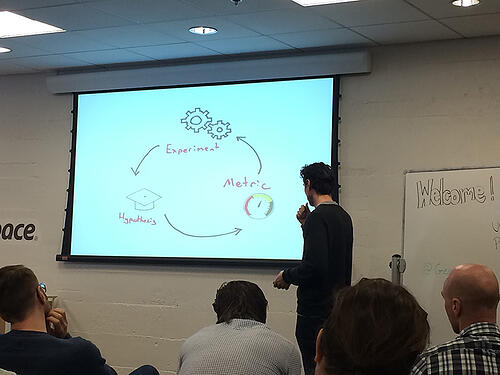 Tristan in action in his engaging workshop. A great guy and teacher.
Thursday
We spent the Thursday in Redwood, at NestGSV. NestGSV facilitates office space, mentoring and networking in Silicon Valley.
We started the day off with a workshop by Lilia Shirman, in which she covered TRU value. After the session, Dennis and I both bought a signed version of her book 42 Rules for Growing Enterprise Revenue, which is a very interesting read this far.
Zerply
In the afternoon, the CEO and Co-founder of Zerply, Christofer Karltorp talked about the rollercoaster journey of Zerply, a Silicon Valley based company. It was really amazing and fun to hear about the massive ups and downs this company underwent. He also covered a story of another company in the Valley that was only 2 weeks away from bankruptcy and was last minute saved by a Swedish investment and is currently one of the most successful and valuable companies in the Valley.
Creandum
Johan Brenner and Joel Eriksson talked about Creandum, one of the top investment firms in Scandinavia, which now also has a foothold in the Valley as well. Their most famous investment is Spotify.
Friday
On the Friday we only had one meeting left and boy was that an interesting one. Rohit Sharma from investment firm True Ventures welcomed us in his office to talk about their firm, their investments as well as innovation and technology in general. This visit was awesome. You could really tell that Rohit is on point and knows what he is talking about.
So with that meeting at True Ventures, we officially wrapped up the Born Global Silicon Valley trip.
Of course during this trip to San Francisco, Fremont, Palo Alto, Redwood and Menlo Park, we learned a lot, got inspired and strengthened our network.
Two main takeaways for us were:
- Talk more to your customers (we of course already talk to our customers, but this is really key to being a successful company, so you can never talk enough to your customers, it was good to get this re-emphasised)
- Everything is possible. Silicon Valley really is an area of opportunities and possibilities, that if played right, could really help boost a company.
Before heading back to Sweden, we had to do some final touristing.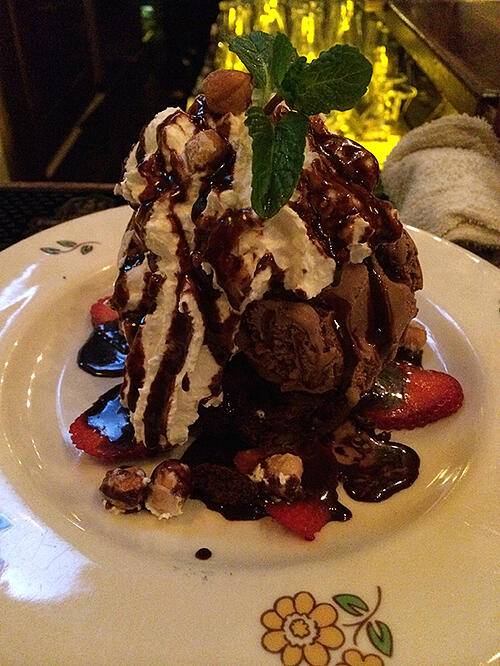 Chocolate hangover at Fowleys.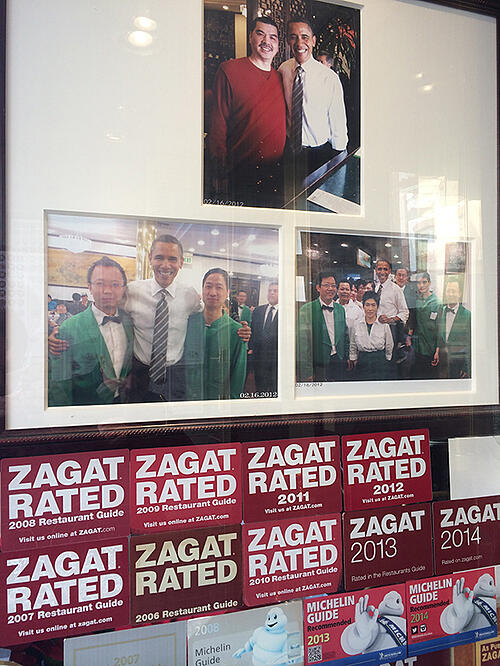 More Asian food in China town. If Obama has eaten here twice, it should be good enough for us as well ;) We had an amazing dumpling session at this place.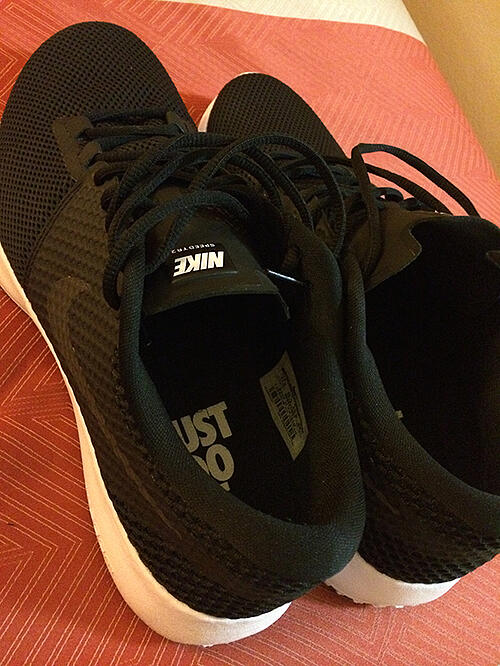 Had to do a bit of shopping as well ;)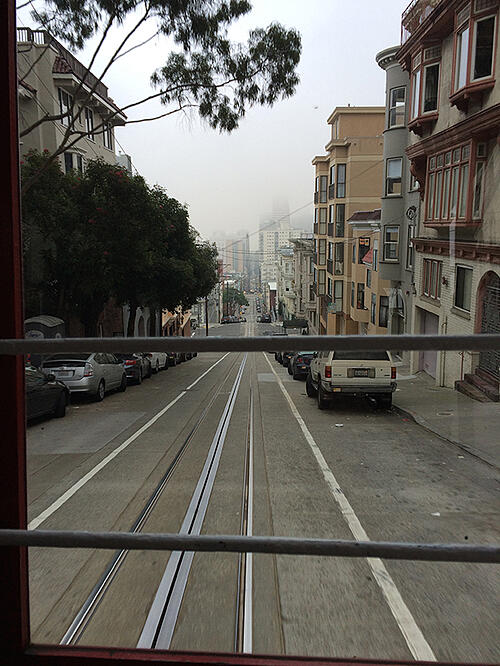 If you go to San Fran, of course you have to do this ;)
All in all it was a great trip, experience and a memory for life.