Award-winning Athens International Airport (AIA), which won amongst others Europe's Best Airport for 2014, collaborated with NUITEQ's long time Greek partner iDiA, to create an engaging interactive solution, in order to gauge international and domestic opinion on a matter of historical and cultural importance.
iDiA deployed four multitouch displays with a by NUITEQ custom developed version of Snowflake, throughout the arrival and departure halls at the airport, which gives travelers a possibility to vote on the return of the Parthenon Marbles to Greece, after they have solved a puzzle.
After voting, the user can choose to receive additional info by email.
The Snowflake solution, which is presented in Greek and English, is networked across the four multitouch displays, allowing users to see the real time results of the voting.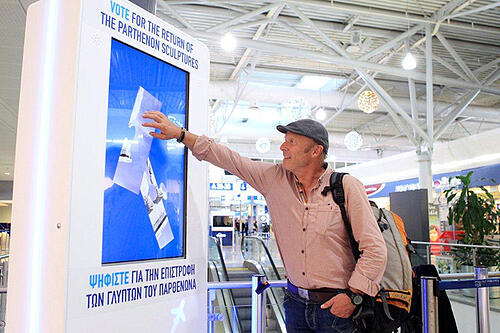 "We're excited to have delivered this Snowflake based solution with our Greek partner iDiA, to Athens International Airport, as its a high foot traffic public environment, where the 24/7 stability of our product shines like no other.", says NUITEQ's Business Development Manager Brian Collins. He continues: "Snowflake is the natural choice when it comes to quality, stability and performance. It is great that our technology is used to engage with audiences in such an international scenario, to gauge the public opinion on such interesting and important topics."
"We believe that the airport, as the crossroad of cultures, is an ideal location to properly reflect the views of the Athens visitors, on a broader issue concerning the world cultural heritage.", said Ioanna Papadopoulou, Director of Communications and Marketing Athens airport.
Several media covered this news, which can be found on different websites, here, here, here, here and here.
Interested to know how you can apply Snowflake to your or your customers' business? Get in touch with us today and we'll gladly explain how we can help.