On March 8th we reached a massive milestone in our 7 years of development of Snowflake, namely the launch of Snowflake 4.
We released the below video at the launch of Snowflake 4.
It has already been 4 months, since we launched that 4.0 version.
During these 4 months, we haven't been sitting still.
In those 4 months, we created 10 new public releases (4.0.1, 4.0.2, 4.0.3, 4.0.4, 4.0.5, 4.0.6, 4.1, 4.1.1, 4.2 and 4.3.).
We have invested sweat and tears (no blood yet;) ), into making Snowflake even better than what it already was.
In this blogpost, I want to share my top 10 favourite additions/improvements we added to Snowflake, after the 4.0 launch.
1- Upgraded FFmpeg to 2.1.3
We upgraded the external FFmpeg library from version 0.8 to 2.1.3, increasing the stability of video and music content across the entire suite, as well as extended support for video and music formats. This results in an even smoother multimedia experience.
2- Widgets
We created powerful new widgets for Snowflake, which can easily be customised via the Configurator that comes pre-installed with Snowflake.
Supported widgets include:
- Twitter
- Stock market
- MyFeed (customisable text and RSS support)
- Time/date
- Weather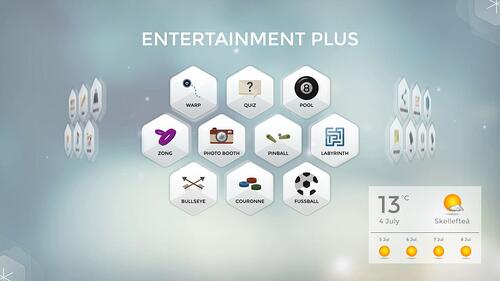 3- Snowflake Entertainment Plus 12 app add-on pack:
Snowflake Entertainment Plus is a newly developed add-on pack with 12 apps. This add-on pack includes the following apps: Bullseye, Couronne, Fussball, Labyrinth, Photobooth, Pinball, Pool, which contains Snooker, 8-ball, 9-ball, Quiz, Warp and Zong.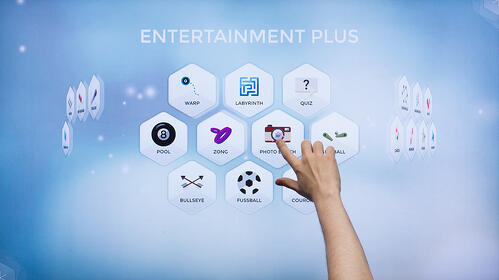 Read more about the Snowflake Entertainment Plus 12 app add-on pack here.
4- Configurator
We've made great improvements to the Configurator, since the Snowflake 4 launch. What is really unique about the Configurator, is that Snowflake is running inside of the Configurator. So content changes that you wish to make when it comes to backgrounds, logos, colours and settings are shown on the fly in a live view.
We even created several Configurator video tutorials for you to check out here.
5- Custom menu layout
Snowflake at the launch of version 4.0 supported several menu layouts including:
- Carbon menu (default)
- Grid menu
- Rotating menu
- Win8 menu
- Horizontal menu
In the last couple of months, we've added a Custom menu layout system, where you can layout your applications across the canvas however you want. Simply drag the app icons around the canvas via the easy to use Configurator and create your preferred custom menu layout.
6- Quit apps via corner menu in exclusive mode
We have this great option in Snowflake to be able to launch apps in exclusive mode. This means that you are able to launch an app directly from the operating system, rather than via the Snowflake interface.
We've now added the capability to close such apps in exclusive mode, via the corner menu.
7- Upgraded to QT 5.3
The stability and performance of Snowflake across the entire suite has been increased with the upgrade from QT 5.2.1 to QT 5.3.
Qt is a cross-platform C++ application framework that we use for Snowflake, which offers blazing fast performance, quality and performance, knocking any competing solutions that are for example built on Adobe products, out of the water.
8- Whiteboard file browser
Whiteboard, my favourite app for making annotations and highlights during brain storm sessions and workgroup discussions, now has a file browser. This allows you to import images onto the canvas. This is ideal when you want to discuss any kind of image content within your company or in class rooms.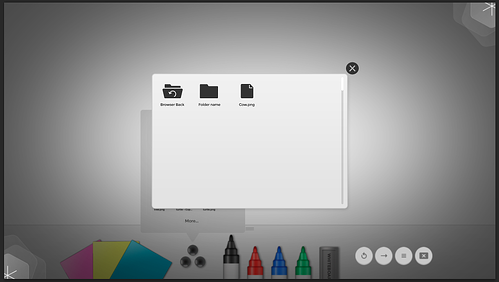 9- Screensaver and welcome app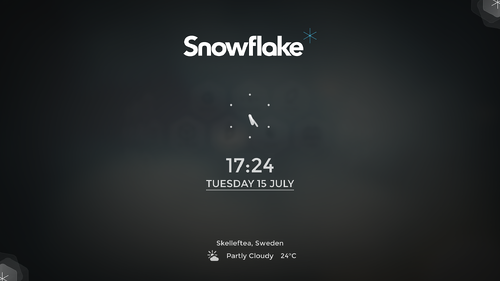 In Snowflake you can set a video or an image or even an app as a screensaver.
We've also included a Welcome app, which is the default screensaver app. So instead of launching an image or a video as your screensaver, you can even select an app to automatically start after a certain time interval of no screen interaction.
10- Rotate windows individually
With Snowflake 4 and even earlier versions, it was already possible to rotate the entire interface 180 degrees inside the software. However as per popular request, it is now also possible to rotate individual apps, ideal for multi-user collaborative environments, such as table top solution. As far as we know, there is no other solution in the market today that offers this capability.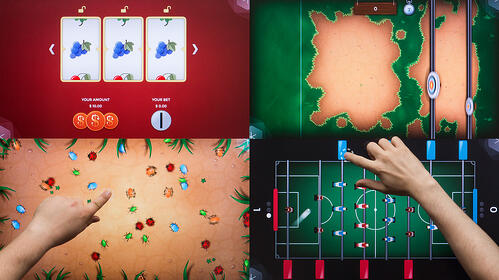 Final thoughts
Snowflake is more than just an award-winning multitouch software product. It has 70+ apps across its 3 product lines (Entertainment, Business and ABC (edutainment)) and it has seen over 45 public releases in over 7 years of development.
When you get Snowflake on board, you will work together with our passionate and dedicated support and development team, that has been creating multitouch software solutions, that are used in over 70 countries around the world.
Get on board with Snowflake and NUITEQ and you'll tap into our 7+ years of experience and expertise, offering your company its next edge in winning businesses in the interactive arena.
We are continuously striving to raise the bar for interactive multitouch solutions, so we are keen to hear your thoughts on what you'd like to see next for Snowflake.
Download Snowflake now and request a free temporary trial license today or contact us for any questions that you might have via mail@nuiteq.com or +46702865975.
- Harry van der Veen, CEO NUITEQ