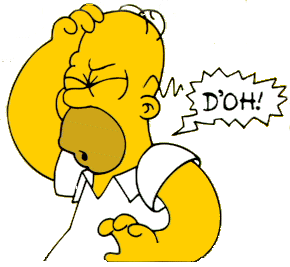 Want to make sure you don't feel like Homer after buying a multitouch software? Check my notes below.
As the interactive commercial multitouch industry is around 5 years young and companies like NUITEQ, 3M, visualplanet etcetera have educated the market for years on the benefits of multitouch technology, now more and more companies start to see the opportunities of using this amazing technology.
It is of course great that more and more companies are getting into this industry as it validates the demand for these solutions and it confirms its not just a hype but a technology/solution that offers companies benefits/ROI etc.
More companies started to manufacture and offer multitouch hardware solutions and at the same time a few new companies popped up that started to explore the multitouch software arena.
I was surprised to find out that some of these new and young startups that want to offer multitouch software are already at version 2.x or even at version 3.x of their software just several months after they started.
As a potential customer one would at a first glance think, "Ow this company's software product is already at version x, while another company their product is only at version y. Its probably far further in its development."
I think that one should consider asking him/herself a set of critical questions (of course in addition to what benefits do these products offer):
- How long has this company been around? Has it been around for 6 months or for many years?
- How long has this product been around? Just for a few months or for several years?
- Does the company also offer multitouch hardware and might it actually compete with our own business?
- But probably even more important, how many releases has there been of this product? Is it 3? Or more like 29, which is the case with NUITEQ. With the release of Snowflake 3.0 in Q2 we will release our 30th release.
So before you ask yourself which multitouch software product you should choose, make sure you ask your vendor a couple of simple questions like the ones above (or check their website), that will easily unveil, what really matters.
A version number doesn't say anything about a multitouch software product. Its a marketing tool. Rather the amount of releases provides you with the info that you really want to know.
Want to learn more about Snowflake? You can have a look at the Snowflake Suite product page here.
To have a look at the entire change log history of Snowflake Suite, since October 2008 go here.