Image: Screenshot of all the applications inside Snowflake Suite (apps range from games to creativity tools and media presentation solutions)
As the year 2011 is coming to an end, I want to reflect on our development of Snowflake Suite in 2011.
Of course throughout the year, we have made many new developments, added a large amount of applications, integrated a very wide range of features and made tons of improvements and fixes. This helped to ensure that Snowflake remained the #1 choice in the world when it comes to multi-touch software. Snowflake continues to be endorsed globally for its high performance, stability and high level of customizability.
As there are so many great additions, there are too many to mention here. Therefore I have highlighted below a small selection of my favorite apps, features and functionalities that are in my opinion the most useful, cool and powerful to our Customers and Partners round the world.
- Support for all languages / customize texts in Snowflake
- Annotation layer
- Mac OSX Lion and Snowleopard support
- Multi-touch web browser
- Content sorting
- Splitting TouchCore from Snowflake
- Configuration Editor improvements
- Graphics revamp
- Audio mute
- Portrait mode support
- Full QT integration
- 180 degree interface flip
- Mobile Mac iOS app
- Auto updater
- Proxy support
- Custom fonts
- Visualplanet TrueTwoTouch TUIO Sender
- Folder support in Media Viewer
- Menu icons as videos
I'll go into more detail on the above items down below.
Support for all languages / customize texts in Snowflake
Snowflake has support for every language in the world, from Arabic to Spanish and from Mandarin to Russian. In the Configuration Editor that comes pre-installed with Snowflake, you can easily replace the default texts inside Snowflake into the words of the language that you prefer.
Annotation layer
The annotation layer in Snowflake allows users to create, save and load annotations on top of every application inside Snowflake, interactive whiteboard style. Annotations can be created on top of applications and content, from websites to 3d models and from images to PDF brochures. The annotation layer is an ideal tool for analysis purposes, workgroup discussions and brainstorm sessions.

Image: Annotation layer (select colors, annotate, delete, save and load annotations)
Mac OSX Lion and Snowleopard support
In addition to having support of Snowflake for Windows XP, Vista and 7, were were very excited when we launched Snowflake compatibility with Mac OSX Lion and Snowleopard. This is ideal for companies that want to use small form factor Mac minis as their system of preference.

Image: Screenshot of Snowflake running on Mac OSX
Multi-touch web browser
This awesome app allows users to zoom in/out, pan around and tune into details on websites simply by using iPhone style finger gestures.
The multi-touch browser comes with an on-screen keyboard, supports e-mail, chat and popular websites such as Google, Facebook, Twitter, CNN, Youtubeand other Flash based content websites.

Image: Multi-touch web browser
Content sorting
This isn't necessarily a revolutionary new feature, however it was a much requested feature, that Partners and Customers wanted us to integrate inside the Media viewer.
Users can sort content in different setups.
Splitting TouchCore from Snowflake
We decided to split our image processing software product TouchCore from the Snowflake applications. TouchCore is often used for rear camera based interactive multi-touch tables, bars and floors. Now we offer customers the possibility to either only get the image processing software or bundled with the Snowflake applications, offering them more flexibility.
Configuration Editor improvements
Snowflake comes pre-installed with a Configuration Editor. Throughout the year we have made many improvements to the interaction design and added features so that Snowflake can be customized even more easily.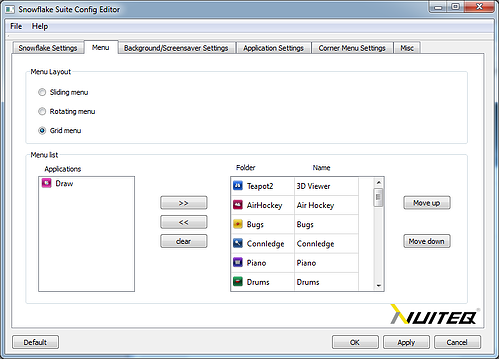 Image: Snowflake Suite Configuration Editor
Graphics revamp
With the launch of Snowflake Suite 2.0, we introduced a completely revamped fresh new look and feel to Snowflake that helped to create that wow factor.
Audio mute
We added an option in the corner menus to mute and unmute audio inside Snowflake to create that total media control experience, without the need of going back to the OS or manually muting the speaker system.
Portrait mode support
As our multi-touch software Snowflake Suite is more frequently being used the digital signage space, where portrait mode displays are popular, we ensured full compatibility of the entire Suite for this mode.
Full QT integration

For months we have worked on completely rebuilding the Snowflake framework so that it would be fully QT based.
This has allowed software developers to be more flexible and in addition to it having improved the performance of Snowflake, it lets you more easily create your own multi-touch software applications with the Snowflake SDK.
180 degree interface flip
A very cool and easy to use 180 degree interface flip functionality is integrated into Snowflake, giving people that use horizontal multi-user multi-touch systems such as tables, an easy to use solution to work more collaboratively.
Mobile Mac iOS app
We developed a cost free Apple iOS application named Snowflake Remote, which allows users to utilize their iPad, iPhone or iPod as a remote input device. Snowflake Remote can be downloaded from iTunes completely for free here.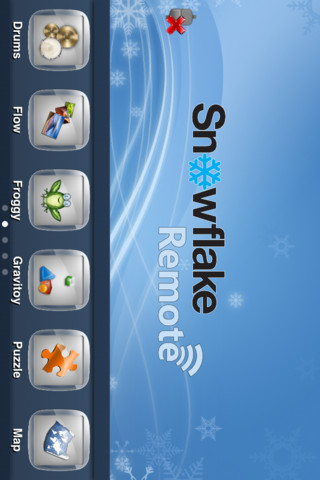 Auto updater
We have integrated an auto updating feature, which gives users the capability to easily upgrade Snowflake in the future, without having to unininstall and reinstall complete versions, offering a more user friendly approach. Updating the software when a new release is available will be a matter of a few mouse clicks.
Proxy support
Snowflake has proxy support integrated, allowing even companies and universities that are behind proxies to register their Snowflake licenses, offering them more flexibility.
Custom fonts
Users can easily customize the fonts that are used in Snowflake, to help create that unique feel that users want to achieve.
Visualplanet TrueTwoTouch TUIO Sender
We enhanced the experience of Snowflake on the visualplanet touchfoil™, so that it performs very well with its large format through glass touch technology.
Folder support in Media Viewer
Users can create their own folder structure in the Media Viewer, so that digital content is presented in line with their expectations.
Menu icons as videos
By popular demand, we integrated video support for the menu buttons, so that users instead of still graphics can choose dynamic video content for their buttons.
In 2011 we released the following versions:
1.9.4
2.0
2.0.1
2.0.2
2.0.3
2.0.4
2.0.5
2.0.6
2.0.7
2.1
2.1.1
If you want to read the entire history of apps, features, improvements and additions to Snowflake since its initial launch of version 1.0, you can have a look here.
Customizing Snowflake
Snowflake is easy to customize. You can change the entire look and feel of the software, simply by replacing content such as backgrounds, images, videos, PDFs etc, to make it look like your own branded solution. We recommend to use the search bar in the top right to find some examples on this blog.
Free evaluation/trial download
Can be downloaded here.
Purchase
You can purchase Snowflake online here or via some one of our Partners.
Snowflake is awesome
We think Snowflake is awesome, but don't take our word for it. Have a look here what our Customers and Partners have to say about Snowflake, NUITEQ and our dedicated, flexible and fast support.
Thanks
We would like to thank all our Customers and Partners that helped to improve Snowflake by having provided valuable feedback. We always strive to integrate good feedback to make Snowflake better.
We are wishing everybody a Merry Christmas and a healthy 2012. We are looking forward to continue to work with and add value to you next year.
Kind regards,
Harry, on behalf of the entire NUITEQ Team