One of the main benefits of NUITEQ's award-winning multi-touch software Snowflake Suite is the fact that it is highly customizable. You can change the default images, videos, 3d models, text, logos, backgrounds, audio etc to create your own uniquely branded multi-touch software solution.
The software however contains many hidden gems that you might not be aware of and I wanted to highlight 26 of them, as I hope that these features are valuable to you.
1 - Ability to launch external executables/applications from the Snowflake menu (supports Microsoft Touch Pack applications and Flash files)

One of the unique benefits of Snowflake is to use it as a nice clean and consistent interface to launch your own applications. Many of NUITEQ's Partners and Customers love most of the applications that standard come with Snowflake, however often they have their own applications as well that they want to utilize in addition to the Snowflake apps. So instead of closing Snowflake and run their apps via Windows, you can instead launch the apps from within Snowflake. I previously dedicated a separate blogpost to this topic, which can be found here.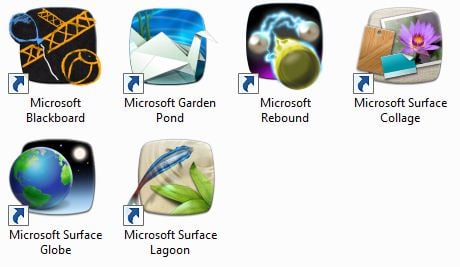 2 - Support to use background images in Draw
In addition to a white background, we added the capability to select your own background images in Draw, as this was a much requested feature.
3 - Clip art functionality in Draw
Instead of drawing everything yourself, we've added clip art to the latest version of Draw, for the creative ones under us.

4 - Printing support in Draw
You can print the drawings that you created.
5 - Saving drawings to the Media Viewer
You can save your drawings, so that they will appear in the Media Viewer.
6 - Support for having videos as menu icons
To create a more dynamic experience
7 - Support to play a wav sound when applications are started
Integrated as per request from one of our Partners.
8 - Settings for the Media Viewer to specify if the background should be interactable or not
Some people prefer an interactive background, some don't. We let you decide what you prefer.
9 - Support for hierarchical menus (menus opening other menus)
10 - Setting to enable/disable screen saver audio
You might not even know that Snowflake has a screen saver option. It has and you can even enable/disable the audio for that.
11 - Settings in the Configuration Editor to enable/disable USB copying in the Media Viewer
Interested to copy files from the Media Viewer to a USB key? This is possible now and you might want to use it to transfer product brochures to USB keys while showcasing your products at trade shows.
12 - Mouse support in Windows 7 version
Press M on the keyboard to enable/disable the mouse.
13 - Windows 7 WM_TOUCH events support to TouchCore
This feature is for rear camera based multi-touch systems.
14 - Support for automatic switch between Snowflake and mouse driver (TouchCore)
This feature is for rear camera based multi-touch systems.
15 - Support for portrait mode
16 - Video support in puzzle
In addition to images, you can now also load your own videos into the puzzle application.
17 - Old application menu icons and background
A couple of months ago we replaced the old Snowflake graphics with new ones. In case you preferred the old ones, they are still available.
They can be found in the folder "bin/data/Icons/Old Application Icons".
18 - Support for print screen in Windows 7
In case you'd like to make high resolution screen shots for your brochures to promote Snowflake.
19 - Stylus support for N-trig and Wacom platforms
20 - An optional "Exit Snowflake Suite" button in the top level menu
In most public scenarios, you don't want people to exit the software and let the screen return to Windows. We give an option to either have an exit button in the menu or not.
21 - True multi camera support (3, 4 and more cameras)
This relates to Snowflake Suite TouchCore for rear camera based systems. Some companies initially try alternative open source software for their image processing, however end of the day most of them would like to have a more stable solution and the security of getting dedicated support. Our software has been used in multi camera installations such as 5 meter interactive bars and even longer interactive walls.
22 - F1 Version numbering
Press F1 to see which version of Snowflake you are running.
23 - F2 Rendering FPS counter
Press F2 to see how smooth your system is running.
24 - Apps added
Initially Snowflake consisted out of only about 6 applications, which means that over time we have added a tremendous amount of new applications to the Suite (currently over 20 apps), offering our Customer and Partners more value for money over time.
25 - Exclusive application loading (double-click .nui files)
If you are not interested to launch the entire Snowflake menu interface, but only want to launch one application, for example Wong, then you can simply do that.
26 - Multiple Media Viewers
You can load multiple Media Viewers with different content.
Actually there's a 27th point that you might not know about. We custom develop multi-touch software applications to fit our Partners' and Customers' exact needs based on Snowflake. If you would like us to develop a multi-touch application for you, please contact us, tell us what you need and we'll advise you accordingly on how we'll make it happen.
Because of our four years of pioneering experience in developing customized multi-touch software applications and because of the fact that we are using Snowflake as our base to develop from, we're able to deliver new applications time efficiently.