Last week NUITEQ won the Connect Norr Årets Företag (Connect North Company of the Year) 2011 award.
NUITEQ was selected as the winner out of 57 companies that in the North of Sweden participated in spring board dragon den style events.
During these events companies presented themselves to panels of experts with strong knowhow in areas such as VC / angel funding, accounting, legal, entrepreneurship, marketing, sales and other areas of expertise.
These experts then provided feedback on the business ideas, strategies and presentations of these companies.
We received the award last week during the yearly Connect Norr meeting out of the hands of project leader Ulla Edler.
After I gave a presentation about NUITEQ at the meeting, we had a great dinner and went to the icehockey game Skellefteå AIK versus Modo (4-1), which was a great experience, as it was my first ice hockey game that I attended live in Sweden. Such a great atmosphere in that arena. I now understand why people up North here are so excited about icehockey.

Image: Courtesy of our friends at Norran (THE news paper of Västerbotten)
Arlanda dagen
A couple of months ago, in addition to the spring board in Skellefteå earlier that year, NUITEQ was selected to be one of few companies to participate in a spring board at the Arlanda dagen (Arlanda days) in Stockholm. There we received valuable feedback and made great connections with passionate entrepreneurs, VC's and business angels.
Sharing experience
A few weeks ago I was participating in a spring board event where I was on the other end of the table, as a panel member to share my experience with the presenting company, on what I learned within NUITEQ on what works and what doesn't and what to keep your eyes open for. This was very fun to do.
Åre
Connect Norr asked me to present NUITEQ on Wednesday and Thursday this week at Connect Norr Finans- och Kompetensforum / Capital Venture days 2011 (Kapital Marknads Dagar) in Åre.
In the morning I gave 3 x 8 minutes pitches to "dragon den" panels, the exact same approach as the spring boards in Skellefteå and Stockholm and later on together with 4 other entrepreneurs we gave a 3 minute pitch without slides, to a larger audience.
In the evening Connect Norr had arranged for the public to experience how such a spring board / dragon den event takes place.
There I presented NUITEQ in an 8 minute pitch to the public with participation of 6 panel members that gave feedback and asked questions to open up a dialog.
PS: Åre is a great and beautiful location, where today and tomorrow the World Cup skiing is being held.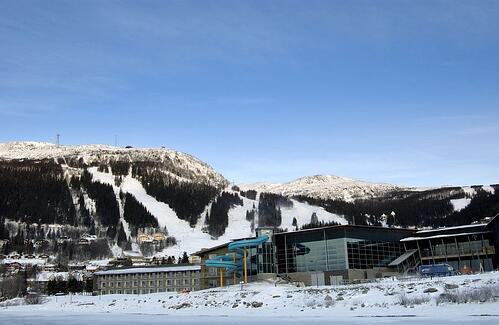 I'm very thankful for having been giving the opportunity to work with Connect Norr, as it has been a fun and great learning and networking experience.
I'm very much looking forward to work more with my friends of Connect Norr in the very near future.