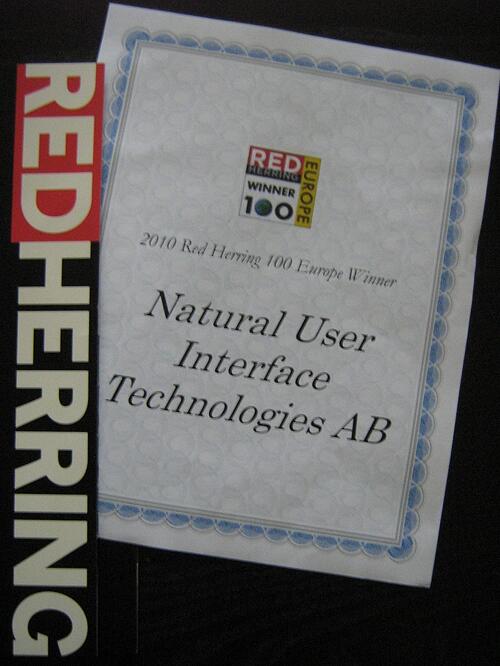 Earlier this week, I traveled to Paris, France to present Natural User Interface Technologies AB (NUITEQ) at the Red Herring 100 Europe 2010 Awards, a prestigious list, honoring the year's most promising private technology ventures from the world European business region.
The Red Herring editorial team selected the most innovative companies from a pool of hundreds from across Europe. The nominees are evaluated on both quantitative and qualitative criteria, such as financial performance, technology innovation, quality of management, execution of strategy, and integration into their respective industries.
This unique assessment of potential is complemented by a review of the actual track record and standing of a company, which allows Red Herring to see past the "buzz" and make the list an invaluable instrument for discovering and advocating the greatest business opportunities in the industry.
We were very excited that out of the around 900 companies from Europe, Middle East and Africa, that had submitted for the award program, that we were 1 of 200 finalists, that had the privilege to present their company during the finals in Paris. That in itself already felt like a great achievement. However we were even more excited that after our presentation, during the award gala dinner, we were honored as a Red Herring 100 Europe 2010 winner.
It was a great experience to meet and interact with other passionate entrepreneurs, investors and business angels and listen to their stories.
I would like to thank all our shareholders, board members, employees, clients, partners, interns and other people that have contributed to this success. It is a clear team effort and it would not have been possible without the help of so many people and other companies involved.
Furthermore I would like to thank the Red Herring organization for honoring NUITEQ with this amazing innovative technology award, as it is a great feeling of appreciation that we are recognized for our passion that we work so hard on, on a daily basis. This is one of the, if not the most beautiful awards a innovative technology company can receive.
Previous Red Herring winners include Google, Skype, Yahoo, Ebay and other well known global companies.