I'm excited to give a preview of what you can expect with the Snowflake Suite 1.9.1 upgrade, that NUITEQ will release next week.
In addition to the bug fixes and graphical enhancements, that we perform for each upgrade, you will find a massive amount of new features and functions, making Snowflake Suite even easier and more powerful to use.
Two complete new applications are included, Froggy and DrawOnVideo.
Froggy is a fun up to 4 person multiplayer game, where players have to jump from leaf to leaf and catch flies with their tongue.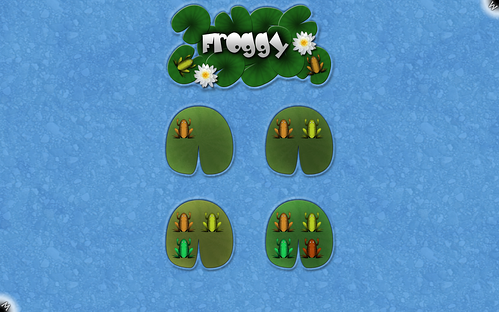 Select the amount of players

In-game Froggy
The DrawOnVideo application allows you to draw on videos, which makes the application ideal for sports analysis, weather forecasting and similar purposes.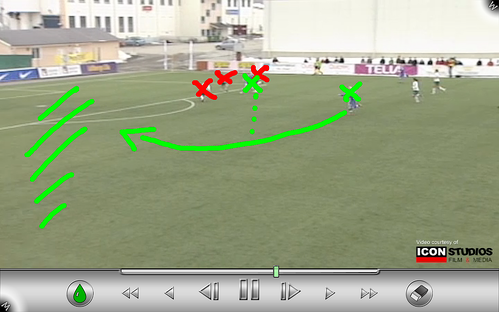 Snowflake Suite 1.9.1 has integrated stylus support for amongst others the N-trig (HP & Dell) and Wacom enabled platforms, which can be found in laptops and tablets. This feature allows users to for example navigate (pan and zoom) with their fingers in the Draw application and make annotations and drawings with the stylus/pen.
The new version of Snowflake also offers 3 different menu layouts (rotating, horizontal slide and grid) that can be switched easily with a corner menu.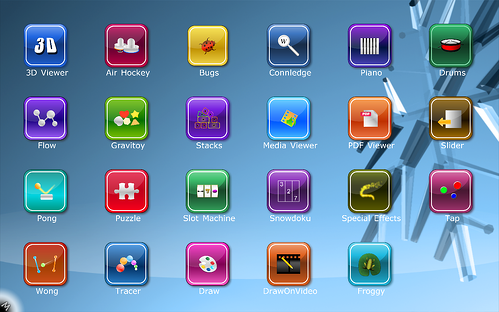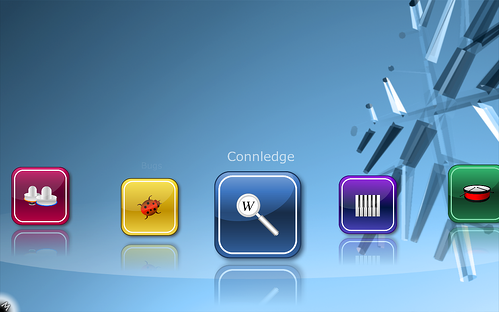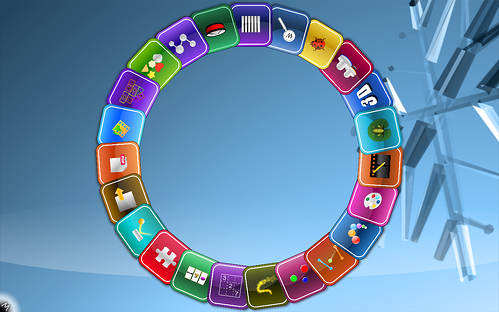 Several additional improvements for Snowflake Suite TouchCore, the image processing rear camera based version of the software are made as well, including:
* Added a grid to the TouchCore crop calibration step for easier crop setups
* Added downscale option for TouchCore camera streams
* Added max allowed number of inputs for TouchCore
* Added minimum and maximum blob size restriction for TouchCore
* Reduced the CPU usage for image processing with 80% on some systems, allowing users to easily run their CPU heavy Flash applications on top of Snowflake Suite TouchCore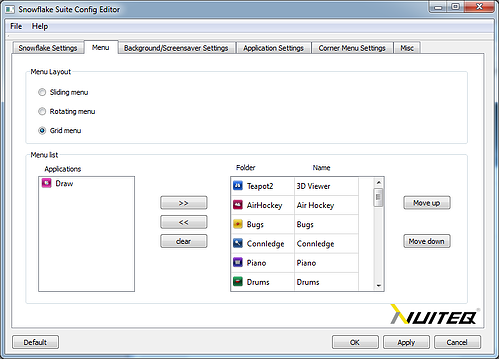 One of the new tools, that we are especially excited about, is the Snowflake Suite config editor, giving users a nice GUI configuration editor, to easily configure the settings of Snowflake Suite. The myriad of adjustable settings include:
* Specifying which application to include/exclude from the applications menu and their sorting
* In which corners the corner menu should appear
* Enabling/disabling input markers and their size
* Window size, resolution, render textures
* Default main menu (horizontal slide, grid or rotating)
* Backgrounds
* Application window aspects
* Audio volume
* and many more...
We have also added the much requested quit Snowflake option, which can easily be enabled/disabled via the Snowflake Suite config editor.
Snowflake Suite 1.9.1, will be released next week. A free evaluation version will be available for download from http://nuiteq.com/products/index.php.
Snowflake Suite is compatible with rear IR camera based systems, 3M, N-trig, Wacom, Nexio, IR Touch, Visual Planet, Lumio, PQ Labs, dreaMTouch and other multi-touch hardware technology platforms, making it platform agnostic and therefore the most flexible multi-touch software product in the industry.
Furthermore the benefits of Snowflake, include the high degree of flexibility in terms of customization. Users are easily able to give Snowflake their own custom look, by changing backgrounds, logos, images, 3d models, videos etc, to fit their exact own needs.
Below you find two examples of Snowflake customizations, that NUITEQ's Thai partner Windopluz performed for their clients: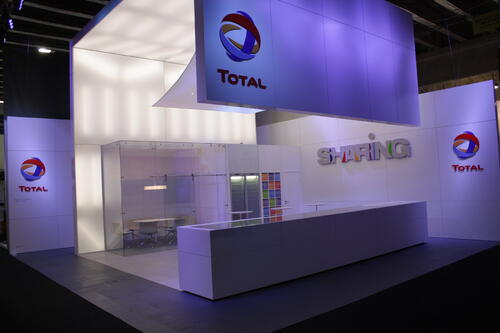 Snowflake customization for Lexus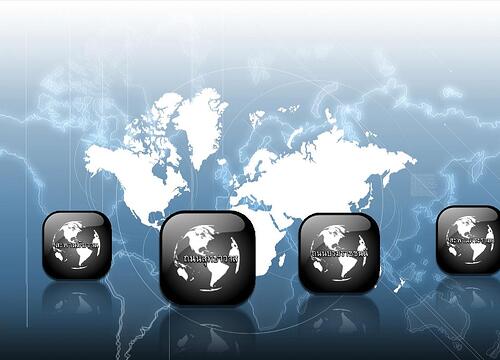 Snowflake customization for EGAT (Electricity Generating Authority of Thailand)
The Snowflake Suite API & SDK allows software developers to create their own multi-touch software applications on top of Snowflake.
Snowflake is available to end clients, software developers, system integrators, resellers and OEMs.
"In March 2010 at CeBIT in Germany, we saw Snowflake Suite on every exhibition stand which presented multi-touch displays."
- Stefanie Harnau CEO, data-touch GmbH (Germany)
For inquiries, please contact NUITEQ via the contact form here, or place your order through the NUITEQ online webstore, located here: http://www.nuiteq.com/catalog/.