Sometimes here at NUITEQ, we get the question: "What is unique about NUITEQ's multi-touch software product Snowflake Suite?", so I thought it would be good to share this with you.
Find below the 10 reasons why to use NUITEQ's multi-touch software product Snowflake Suite (in non specific order):
1 ) Compatible with every multi-touch hardware technology platform in the industry. No matter if you use N-trigs technology that is integrated in HP and Dell laptops or the latest 3M multi-touch systems, our software works out of the box.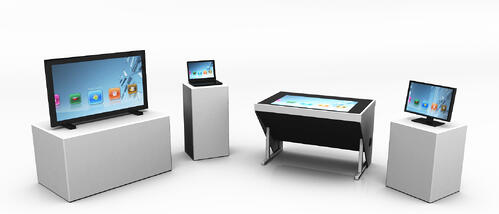 2 ) Snowflake comes with an API & SDK and over 20 different multi-touch applications, ranging from games to media viewers, that are suitable for different market verticals, including education, retail, public spaces, multi-touch kiosk information points and more.
3 ) Easy installation
4 ) Support Wiki located at wiki.nuiteq.com and additional dedicated and flexible assistance from our Support Team, to ensure that you get Snowflake successfully running on your multi-touch system, no matter if its a ViP Interactive foil installation from our partner Visual Planet or a Nextwindow multi-touch solution that is integrated into desktop pcs.
5 ) Snowflake is the industry leading multi-touch software product. Example: every company that presented a multi-touch hardware platform at CEBIT earlier this year in Germany, used Snowflake Suite to demonstrate the strength of their multi-touch hardware platform. With our software you have an edge and you stay ahead of your competition.
6 ) Highly customizable. You can easily change the entire look and feel of Snowflake, by replacing the existing content with your own images, videos, backgrounds, logos, 3d models etc, to create that unique theme for yourself or your client. Additionally Snowflake comes with an easy to use GUI Config Editor, allowing you to tweak your own settings, ranging from which applications you want to exclude to where corner menus should pop up.
7 ) In addition to being compatible with Windows XP and Vista, we offer Windows 7 compatibility, which is embraced by Microsoft (see here)
8 ) Developed for over 3 years, by having worked closely with clients and partners worldwide and listened to their feedback on how to improve the product.
9 ) Snowflake is an award winning solution that has been recognized internationally.
10 ) In addition to offering our off the shelf multi-touch software solution Snowflake, we also fully customize multi-touch software solutions, where we use Snowflake as the base framework to build from, allowing us to rapidly develop applications ranging from interactive multi-touch exploration maps to educational applications that children use, to assist them in their learning process.
I hope that this has given you a bit better insight into why to use NUITEQ's multi-touch software product Snowflake Suite.
You can download a free evaluation version of Snowflake Suite here.
For inquiries, please contact NUITEQ via the contact form here, or place your order through the NUITEQ online webstore, located here: http://www.nuiteq.com/catalog/.
PS: If you're going to SID 23-28 May 2010, Seattle, Washington, USA, make sure to visit booth #1519 of our partner N-trig, to test out Snowflake, as they will be demonstrating the stylus integration that we recently implemented.