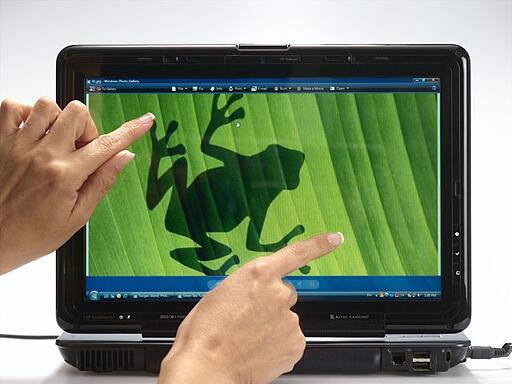 I visited SID Display week today, where Natural User Interface Europe AB's partner N-trig demonstrated NUI Suite Snowflake on their true multi-touch DuoSense platform, which is an integrated on amongst others HP (TouchSmart TX2) and Dell (Latitude XT and XT2) laptops, allowing people to interact with multiple fingers at the same time, as well as with a stylus.
Quote from the N-trig website:
N-trig and Partners New Full Multi-Touch Software
June 02, 2009
This video demonstrates a number of new multi-touch software applications, designed using N-trig's DuoSense® technology, in collaboration with some of N-trig's ISV partners, including FingerTapps, Natural User Interface Europe AB, and SpaceClaim. The applications show full multi-touch utilizing up to four fingers, and range across areas of interest from consumer gaming, multi-media management, retail shopping and high-end engineering applications.
Multi-touch software product NUI Suite Snowflake for the N-trig platform will be released shortly, feel free to contact us to inquire for purchase
I will be posting some pictures of the booth shortly.
Also visit the NUI website at www.natural-ui.com for more info about our company and products.