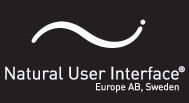 The Interactive Displays Conference, held last week in San Jose was according to me, a success.
I just arrived from a long trip from San Jose, to Los Angeles to Atlanta, in Stockholm, waiting over night to return to NUI's headquarter in Skelleftea tomorrow.
Despite not having an exhibition table at the event, due to last minute arrangements, Natural User Interface Europe AB was happy to have sponsored the event with wireless internet for everybody.
I hope everybody enjoyed our sponsorship efforts.
Here some of my thoughts:
* Big thumbs up for Pira tech for managing to get so many multi-touch industry professionals (Wacom, Mindstorm, NextWindow, 3M, Jeff Han (Perceptive Pixel), LG, Tyco Electronics, Stantum and more) and hobbyists together
* Great location in the heart of Silicon Valley
* Great to meet the partners from the industry
* Nice to play around with the several solutions in the different exhibition stand
The below speakers were the most noticeable to me, either because of the topic, the way it was presented or simply because I did not attend all talks:
* Brent Bushnell from Tapcode was very attractive to listen to, pleasant to hear, nice content and interesting research results for interactive applications in restaurants
* Andy Wilson and Steven Bathiche from Microsoft Research had very appealing stuff to demonstrate (unfortunately an epic Windows 7 beta crash fail during the presentation ;) ) - they gave a nice glimpse of the tech of the future and the projects they have been working on
* Jeff Han gave insight in his previous works and some of his current work (appealing to listen to and funny)
* Mark Fihn, Publisher from VERITAS ET VISUS, US showed several cool things that he has been covering over the last years as a publisher
* Lenny Engelhardt, Vice President for Business Development demonstrated the capabilities of N-Trig's solutions (funny and appealing to listen to)